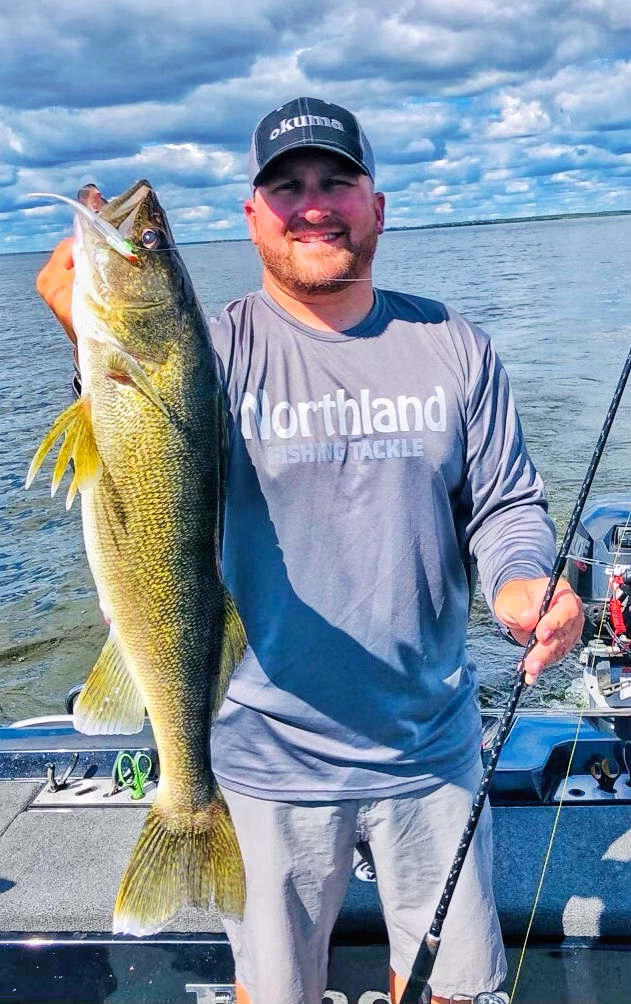 Dusty Minke is a decorated tournament angler with several top finishes on the NWT. Minke lives near Leech Lake and spends a tremendous amount of time on Leech Lake in search of walleye but these observations can be applied to several classic Minnesota walleye fisheries. In this article, he shares his top 5 Minnesota walleye tips to help you get prepared for spring fishing.
Water temperature is going to be big this year with the later ice out and later spawn. Spend some time to look over water with the temperature gauge and find the pockets of warmer water.
Expect some fish to be shallow. Prime locations include large flats coming off shorelines or near the mouths of bays. Current areas around bridges or where there is incoming current from a creek or tributary are also prime fish magnets early in the year.
When Minke is looking over the shallow sand flats on Leech Lake, he relies a lot on side imaging to look for pods of fish. One mistake Minke believes many anglers make is looking for too much. It is surprising at times how there are not nearly as many fish as we envision when we are catching fish. Walleyes often seem to set up in small pods. Look for the six packs of fish, the scattered pods. If there are too many fish, the fish are often suckers and many anglers make the mistake of driving by fish thinking they will find a place where there are fifty fish on the screen at one time… probably not happening on Leech Lake.
Fish the wind. Minke strongly believes in fishing the windiest areas of the lake and fish where the wind is blowing in. If you want to catch walleye on Leech, don't avoid the wind. If the wind changes, have confidence to just fish new water and don't die in spots that were good after the wind changes.
When the wind lays down, fish areas that were recently hit by the wind and lighten up. Minke has great success long lining 1/16th ounce or 1/8th ounce jigs way behind the boat. Crawl along at 0.6 to 0.8 miles per hour and get the jig a distance from the boat. Deadly when the wind lays flat.
If you are looking for additional spring Minnesota walleye tips be sure to checkout out more spring content here from Virtual Angling.