When it comes to searching for the right women's ice fishing suit, I have a lot of experience. I've been playing in the snow and on the ice since I could walk. In my earliest years, it was snowmobiling and spearing and then it turned into angling. One hundred fish days and a the choice of species turned my spearing habit into a passion for ice angling that has since taken over my life. I've ice fished from -40 to 40 above – all in the same week before – enjoying every moment of it.
Of course, all of these years of playing in the elements has made me critical of gear. When it comes to sub-zero apparel – I've worn every brand and every type of clothing out there. Snowmobiling, lifestyle, every ice suit on the market, and even Carhartts. I've given it all a fair chance and have come out with a strong sense of function from it.
Finding The RIGHT Women's Ice Suit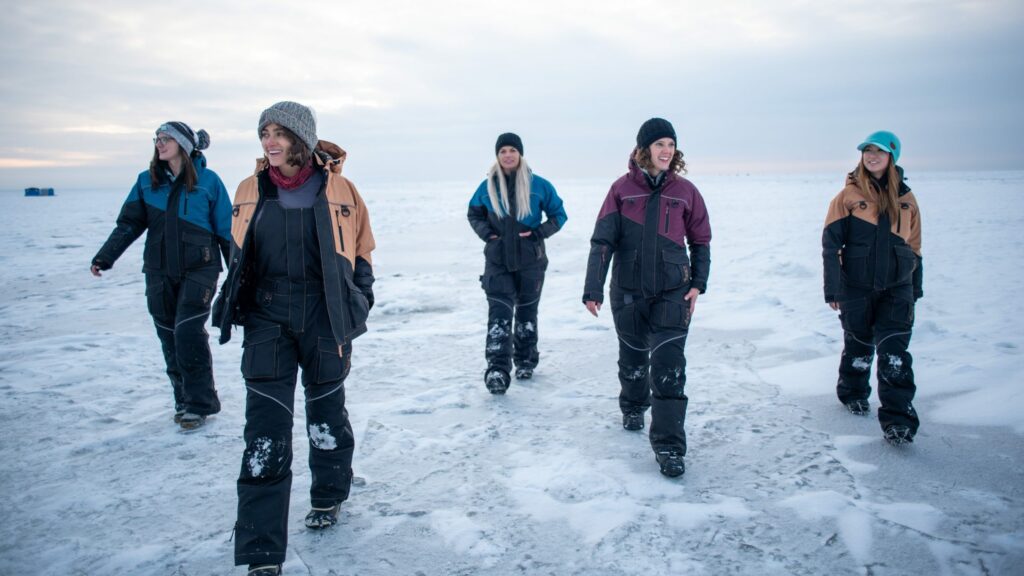 Talking about function… when it comes to a women's ice fishing suit, it IS a matter of function over fashion (but fashion is a big bonus, lets face it – we are ladies and we like to look good). In fact, it feels great that companies are finally competing for the female angling market – propelling technology, and essentially function, in a much-improved direction. This means providing gear that makes life on the ice much easier (and warmer) for us. There are finally some high-quality options out there – and it just keeps on getting better.
However, this year I was able to choose the brand that provides truly the best features in a suit – something that I've long waited for. These features will change your experience on the ice and include:
Thin (But Warm) Insulation
Float Technology in Case of an Emergency
Movability (The Only Way to Make Heat is to Move)
Water & Wind Proof Outer Layer
Snow Skirt (for Those Fluffy Rides Across the Lake)
Adjustability
A Variety of Sizes
The RIGHT Fit (Keep Drafts Out)
Drop Seat (The Best Invention in Women's iIe Gear)
Big Magentic Pockets
D Rings
Wrist Gators
Ventilation (To Avoiding Sweating)
This suit, my suit of choice, is the DSG Avid suit – and it's loaded with all the best features you can find on the market (plus I tested it out in the most extreme conditions last year).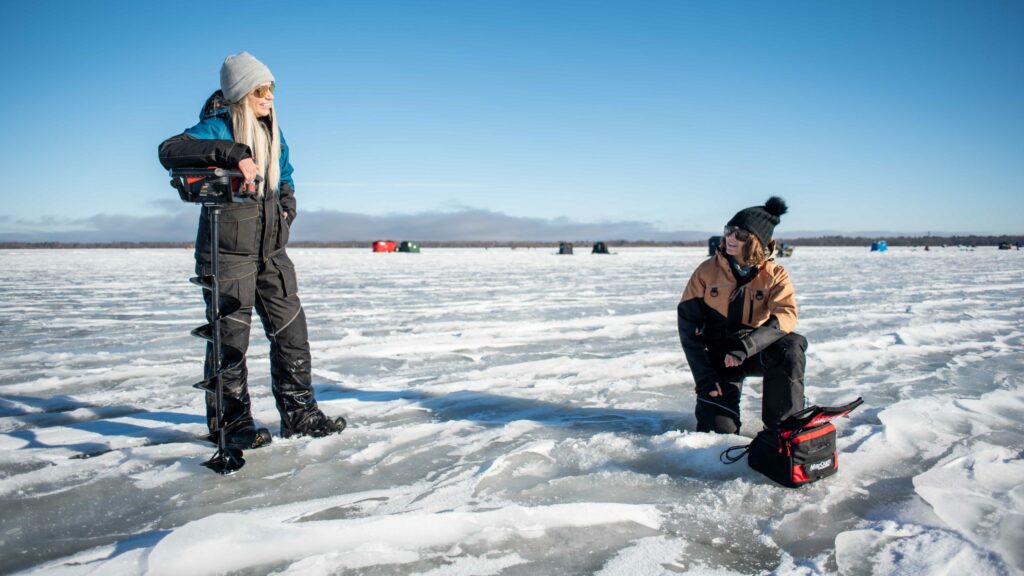 PREMIUM FEATURES OF THE AVID ICE SUIT
PRIMALOFT INSULATION (PREMIUM TECHNOLOGY)
There is plenty of competition in the insulation department – with not all technology being equal. However, one of the most praised insulation brands on the market is Primaloft – a premier insulation technology found in your favorite premium outdoor brands (Simm's, Patagonia, etc..). It's the ultra-fine structure of the fibers that proves the best in warmth retention and compressibility. This keeps you warm in one of the smallest and lightest packages possible. This is at the core of DSG's Avid Suit.
For us anglers, that means staying warm and having a thinner, lightweight suit that makes it easy to move. The more we move the MORE HEAT we can MAKE. Suits don't make heat, you do. That's why it's so important to have a blend of insulation and movability that allows you to stay warm during those long days out on the ice.
FLOTEX (Float Technology)
No ice suit is complete without flotation technology. DSG comes with FLOTEX, allowing you to float for 2 hours in the case of an emergency. Combine DSG's FLOTEX with the Primaloft insulation and you have the best combination of ice fishing technology on the market – in a women's ice suit.
ADJUSTABLE WAIST & INSEAM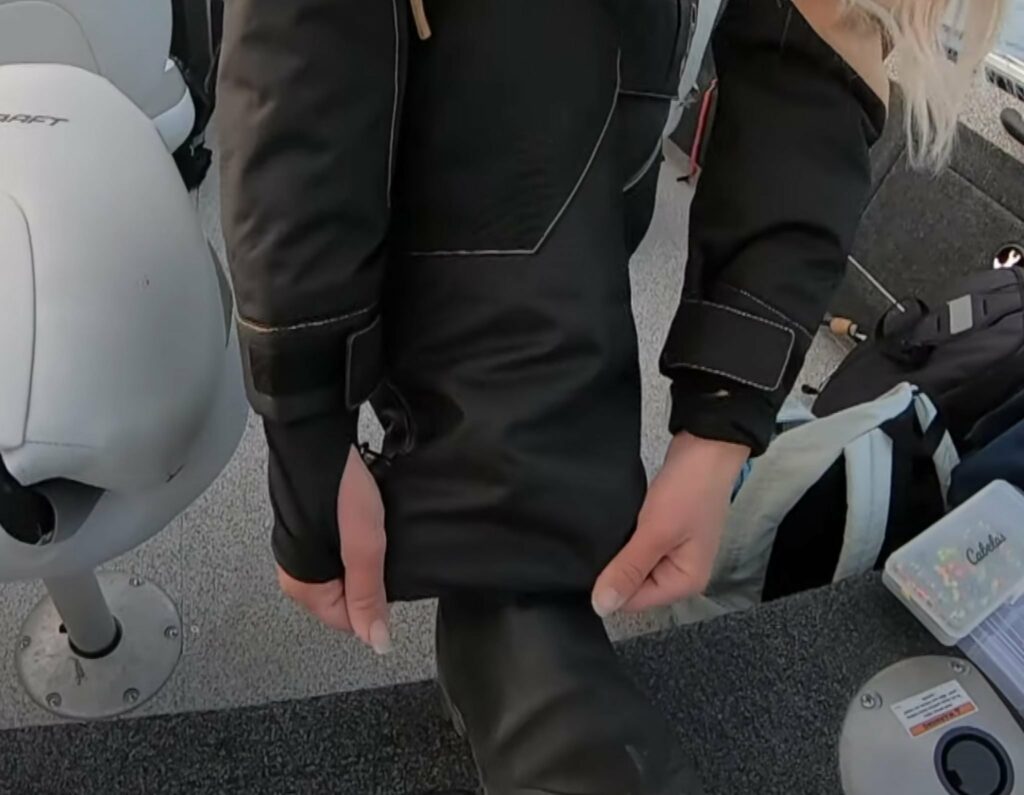 It's quite evident that the female physique is VERY variable. Take women of similar height and weight and they can have very different body structures. That's why adjustability is a must in every woman's ice suit. Some will say the answer to this is to get a men's suit – however, the biggest issue with this is that it opens up your back and sides to drafts, making you much colder than you would be if you had a traditional women's fit. Not to mention, oftentimes a men's suit falls short in insulation (because they simply don't need it as much).
That's why it's crucial to find a suit that not only fits you but allows adjustments where you need it. DSG did this by adding an adjustable waist and inseam. They took a women's fitted suit and gave you the flexibility to fit it to your particular figure.
To achieve this they have layered buttons across the bottom allowing you to shorten your bibs as needed. They also added an adjustable waistband – allowing you to adjust based on the layers you are wearing. This is huge when fishing in -40 compared to 40 (and everything in between!)
The more you can manipulate the suit to adjust to your needs – the better.
A SIZE FOR EVERY TYPE
Adjustability within each size is great, but a huge variety of sizes is even better. DSG offers just that. The Avid suit comes in sizes XS – 5XL. This is the widest range of sizes for any woman's apparel. Add in the flexibility that comes with an adjustable waist and inseam, and you have a suit that will fit anybody.

I'm 5'7 and just shy of 140 lbs, with a relatively wide build. The medium fits me perfectly. If you love to layer, you may want to jump a size on the jacket. However, I find that too much bulk interferes with my ability to move – so I choose to layer carefully.
Above is a snapshot of DSG's sizing chart to help you pick you pick the perfect size for you.
FEMALE FIT (IT'S ABOUT WARMTH – NOT JUST FASHION)
Next is fit. However, "feminine fit" has a lot more to do with practicality than it does looks (although that's a bonus). YES, looking and feeling like a woman in your ice suit is nice – especially when posing for those Instagram photos, BUT the practicality of the female fit is essential.
Having apparel that fits simply keeps you warmer. It keeps you from wind drafting through your back and sides, eliminating unnecessary heat loss – all of which help you stay warmer on the ice.
The most important part of an ice suit? Staying warm.
THE DROP SEAT – WHAT EVERY WOMAN ON THE ICE NEEDS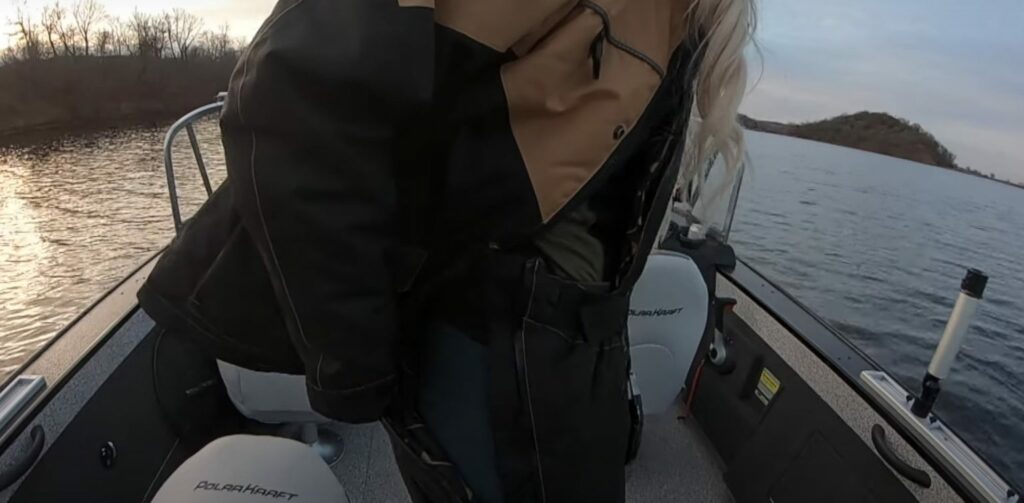 If you are a female angler and you don't understand the benefit of a drop seat then YOU ARE MISSING OUT. Drop seats have been around in snowmobile apparel since I can remember, but it's now finally picking up popularity with the ice world. Of course, this is another must-have feature that is available in the Avid suit.
The drop seat allows you to pee without having to remove all of your layers. Of course this means bathroom breaks are much more convenient, but it also means that you don't lose heat. The worst thing you can do when you are trying to retain heat on a chilly day, is take off THE clothes that are retaining it.
Also, for the record – and for the women who always ask me this question – no, you don't pee on yourself.
ICE SUIT ACCESSORIES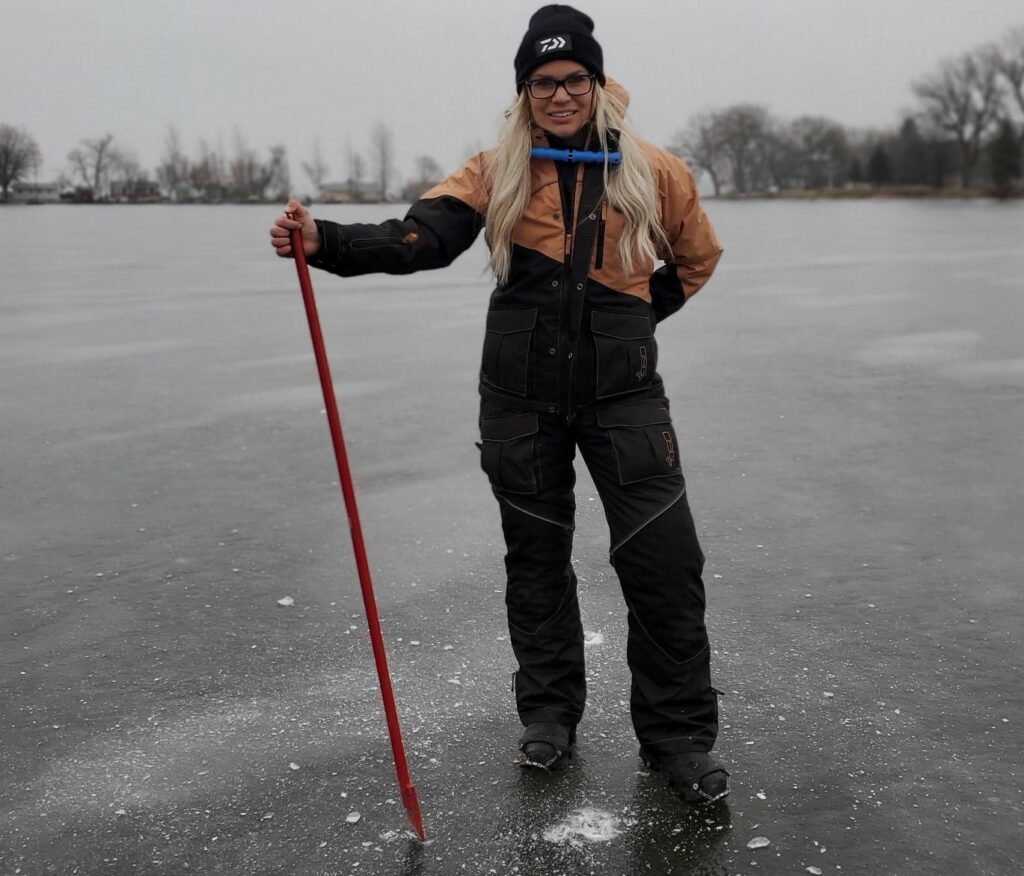 No ice suit is complete without the accessories. From pockets to knee pads, we talk about some of the DSG Avid's best accessories below.
BIG MAGNETIC POCKETS
If you actually plan on using this jacket for ice fishing, then pockets and D rings are a must. In the past, I've had to sacrifice these features for movability, a drop seat, and proper fit. However, now it's a must to have all of the above AND plenty of ice fishing accessories to be truly competitive in the women's ice apparel market.
The most important of these? Pockets.
Pockets will carry your gloves, bait pucks, clippers, panfish tackle, phone, and so much more. That's why having big and secure pockets are a must – and DSG has all of that.
PLENTY OF D-RINGS
If I don't hook things to me, I lose them. That's why D-Rings have become a must for my ice apparel. Luckily DSG has them on both the jacket and bibs, so those days when you are in your house with no jacket on – you don't have to go without.
REMOVABLE KNEE PADS
Every ice angler needs knee pads. So of course, the DSG Avid suit has thick and functional ones. Sliding across the ice on your knees will be NO problem with this suit. However, if you don't plan on kneeling, it's nice to know you can reduce some bulk and remove them if need be.
BUILT IN RAG
We all have released a fish just to wish we had a rag on hand. With DSG, they are built right in! Just one more thing you don't have to worry about when getting ready for this ice season.
WRIST GATORS
Wrist gators with a thumb hole means NO MORE freezing wrists and snow up the arm, a lesson every snowmobile rider has learned. For those long rides to that remote lake, or across the ice, this is a must have for those long days on the ice.
REMOVABLE HOOD
Every women's ice fishing suit needs a removable hood! Hoods are great for sitting out on the ice and protecting you from the wind. What they are not great for are the snowmobile and four wheel rides you go on to get to the lake. Being able to remove the hood for long trips on the machines will protect you from getting snow and drafts going down your back – and wrecking your day of fishing.
WHY HAVING THE RIGHT ICE FISHING SUIT IS IMPORTANT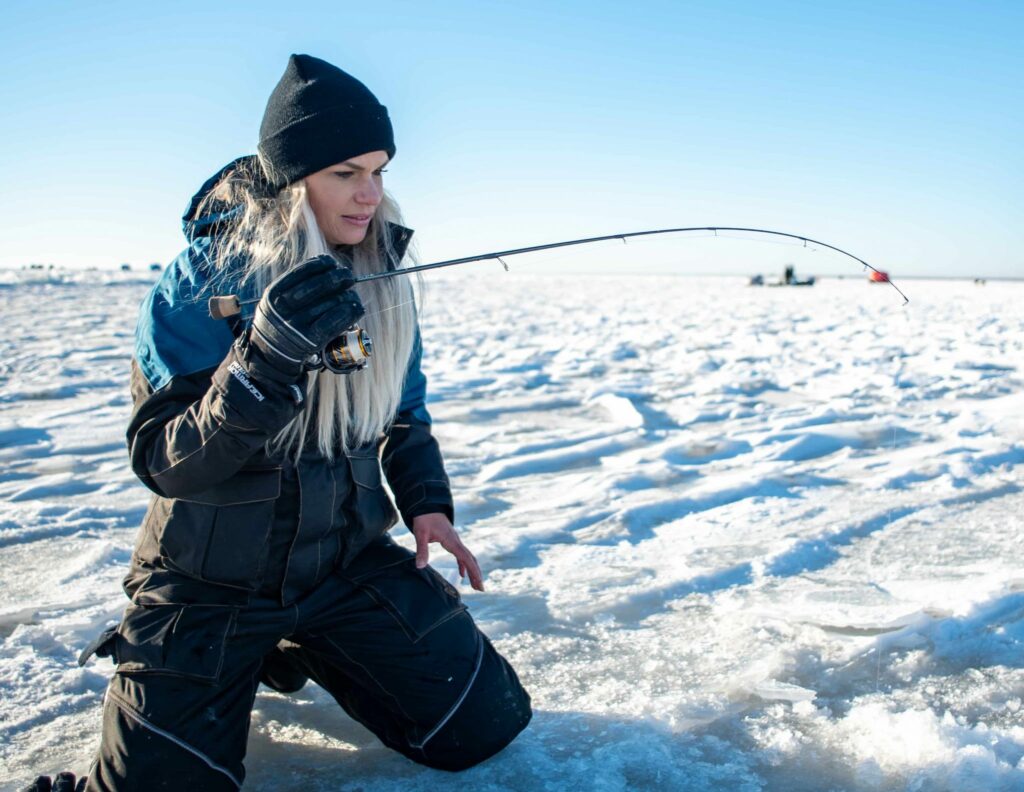 With modern technology there is no reason women can't enjoy a long day out on the ice. From augers to apparel, old school limitations have been eliminated and now all women can match men step for step in cold conditions. A revolution in gear is here and DSG is at the forefront of it.
You can find the DSG Avid suit at Fleet Farm, Up North Sports, or grab it online right here.