Ice fishing for crappie doesn't have to be difficult. With a little extra research and dedication, even the most novice anglers can find success. The key is to simply be strategic. Be strategic with where you plan on fishing, how you plan on finding fish, and the presentations you decide to bring with. When perfecting a hobby that is full of complexity, sometimes simplicity is key.
Below I break down 5 simple strategies to find, target, catch more crappie through the ice, so even the most novice angler can find success.
Recommended Gear:
A Light or an Ultra Light Rod (My Favorite is the Tuned Up Custom Bullwhip)
6 LB Monofilament Line
Barrel Swivel (Eliminate Line Twists)
Mo Glo Jig (use code NICOLE15 for a discount)
Bobby Garland Plastics (use code NICOLE15 for a discount)
Crappie Minnows
All of Your Ice Fishing Essentials (Auger, Flasher, House, etc..)
1. Do Your Research: Find Small Bodies of Water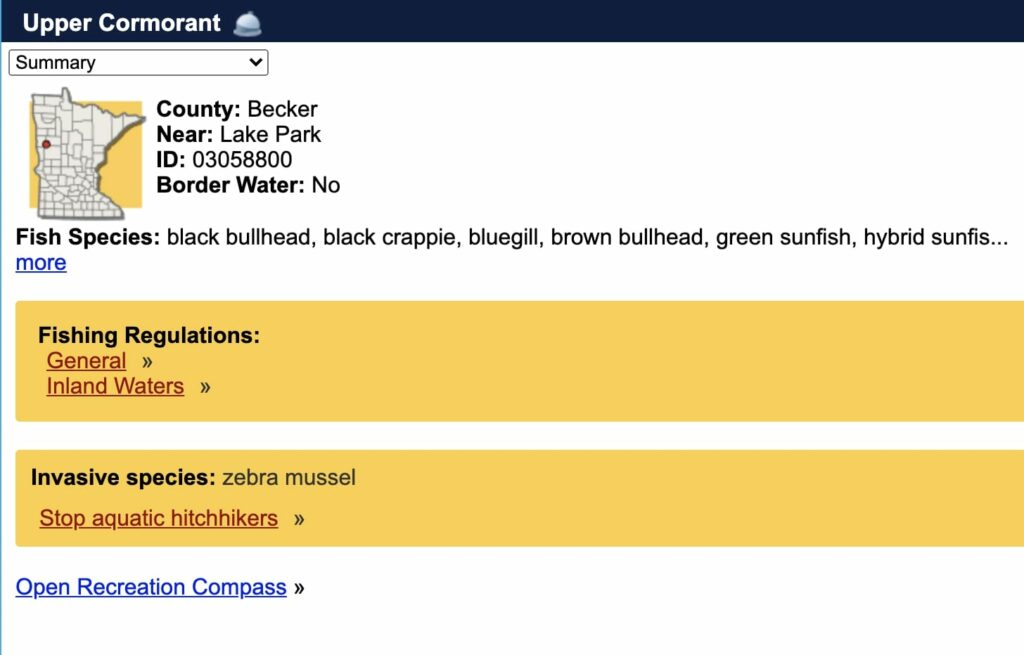 My first tip is to be selective. This means doing your research. If you are just starting out, or want to guarantee yourself a chance of at least marking crappie, you are going to have to plan wisely. Many big bodies of water contain some impressive fish but can also be the toughest bodies of water to break down, especially for beginners. That's why finding smaller bodies of water with one large basin can be key.
Thankfully you can identify this before ever stepping foot outside your house. In fact, the internet provides immense information from the comforts of your own home. This includes:
Google Maps
Survey/Stocking Reports
Navionics/LakeMaster Mapping
Facebook Forums
and more!
All it takes is a little research from your keyboard.
A. Use Google Maps to Determine the Body of Water You Want to Research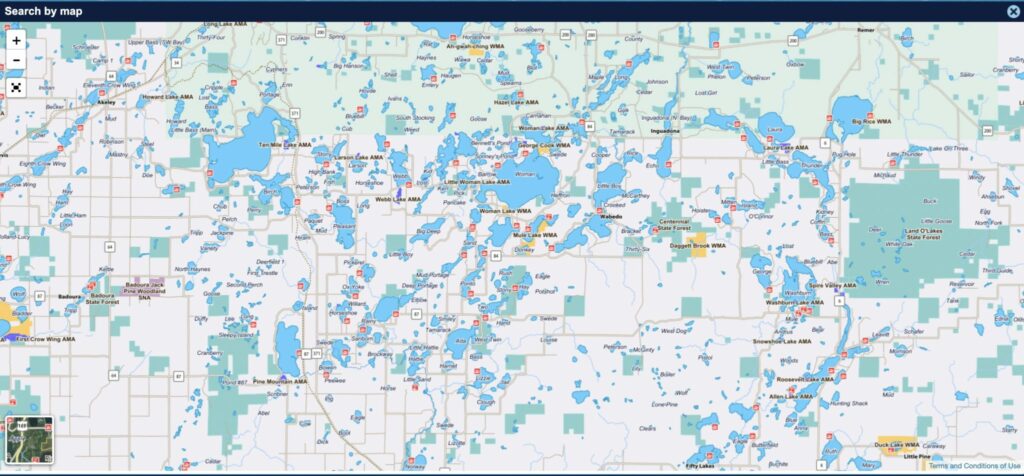 Look for small lakes in the areas you want to fish. Some resources, such as Minnesota LakeFinder, have some of the contours built right into the mapping. This helps you find small, but deep, lakes that often hold healthy populations of crappie.
B. Identify Small Lakes With Little Structure
Identify a few smaller bodies of water with a single basin or "hole". This will make it much easier for you to find fish. With limited space and structure, there are only so many places fish can hide. This makes finding fish so much easier.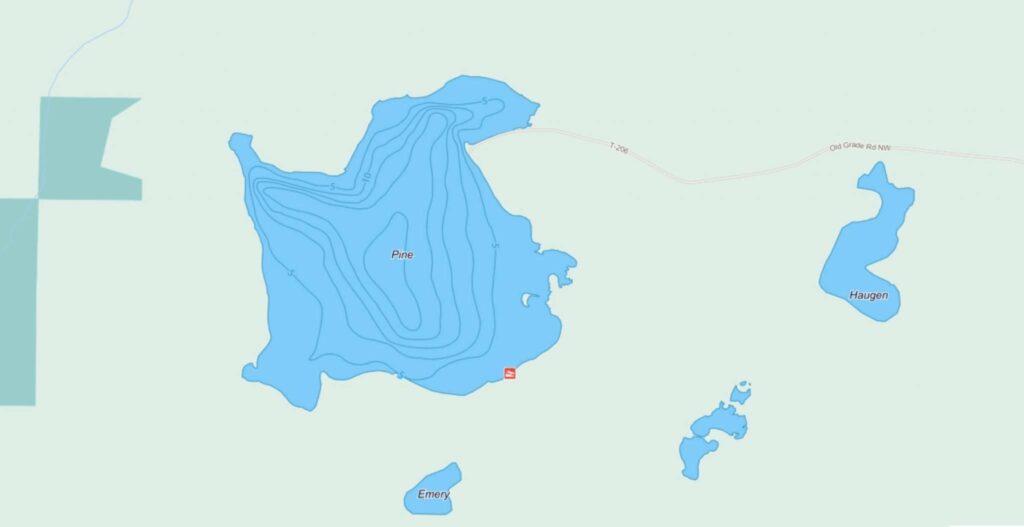 C. Analyze the Reports
Your next task is to check which species have been found in the lake. Although many small lakes have crappie, many do not. You can find this by checking survey reports (even older ones will work), stocking reports, or even searching forums. Minnesota makes it easy by having an all in one place called LakeFinder where the survey reports are built in. Many states have something similar.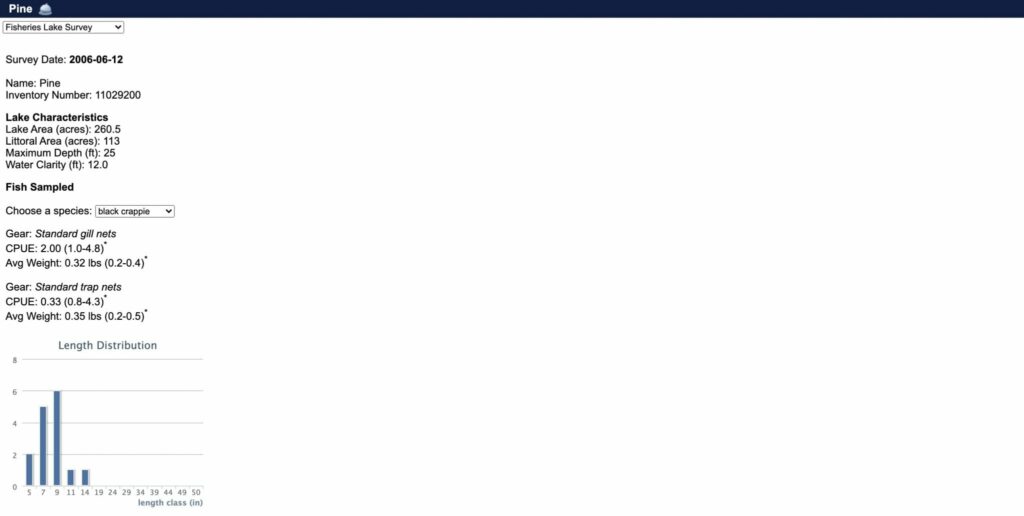 D. Take Notes
Pay attention to the location, directions, and access. Some lakes have public access points, some are walk-in only, and some are private. It's important that you do this research before embarking on your trip and driving to a lake you can't actually get to.

In summary, find and utilize survey reports, stocking reports, and maps before you go. This allows you to focus on small bodies of water with a guaranteed population of fish that you can target.
A quick Google search can tell you everything you need to know.
2. Evaluate the Conditions: Basin or Weedline for Crappie?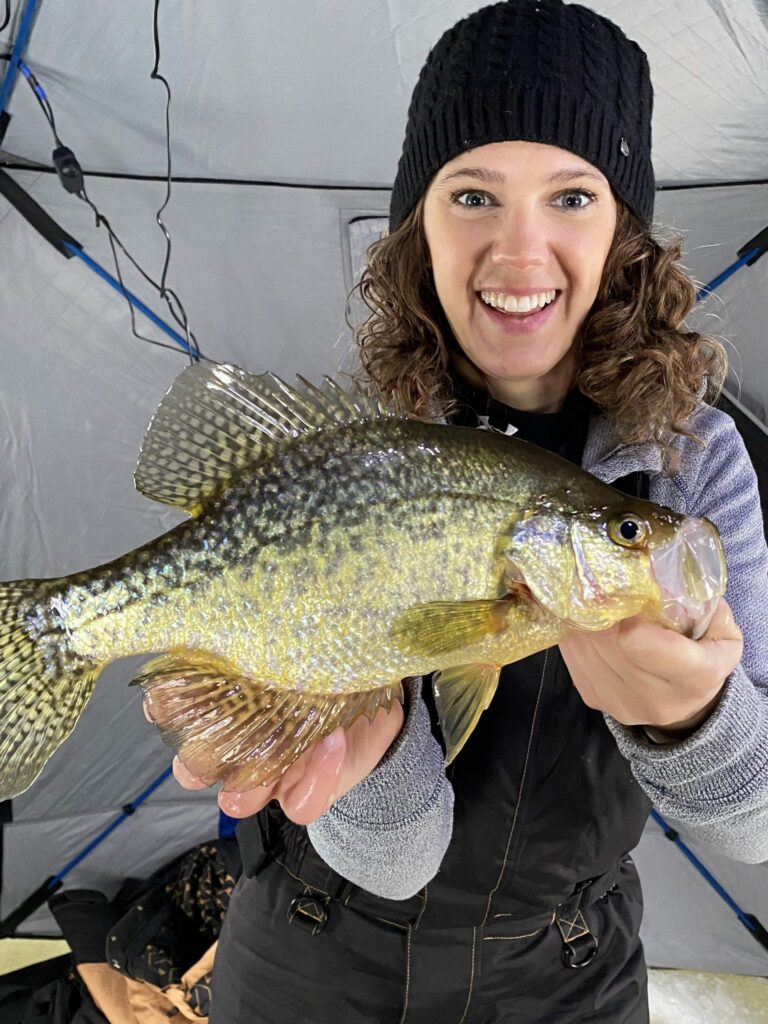 Small bodies of water make finding fish simple.
First, check the conditions.
Are the weeds dead? Laying on the bottom?
If this is the case, then the crappie likely won't be spending much time there. Dead weeds lead to oxygen depletion. Instead, go check one of the holes/basins. If it's one big bowl, then you have it easy. If it's more complex than that, you are going to have to do some work. During the heart of both summer and winter, fish are often found in the basin. However, during early ice they can be suspended in the basin, hiding in the shallow weeds or in-between.
3. Search for Crappie By Drilling Holes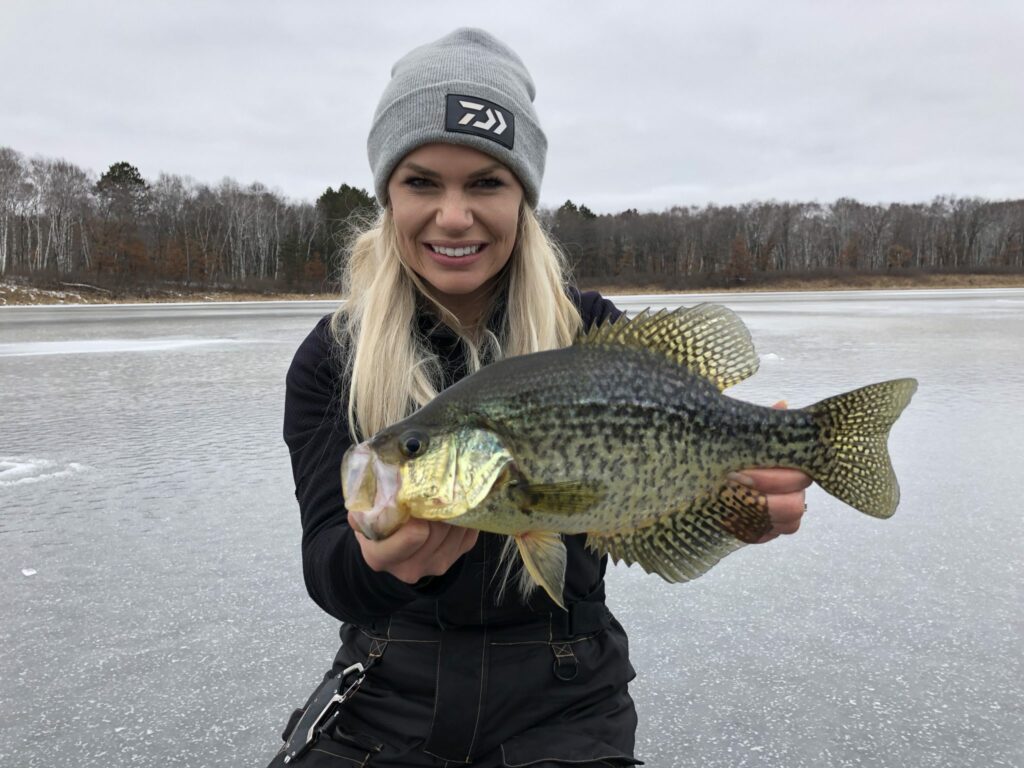 In many cases, small lakes will lose their weeds first. In this case, be ready to drill holes and cover ground. I will often times do a large "X" across the basin, covering both ridges and the center.
Then grab your flasher and look for suspended marks. Identifying crappie is pretty simple, especially when targeting fish in the deepest parts of the lake. They are typically found in large numbers and suspended off of the bottom.
If you are struggling to find them, try to find a point leading into the basin and drill between. You can often find them migrating between the two.
Go to each hole and search for fish. When you see signs of life, drop your line down quickly and check. If it's crappie, you could very well hookup right away.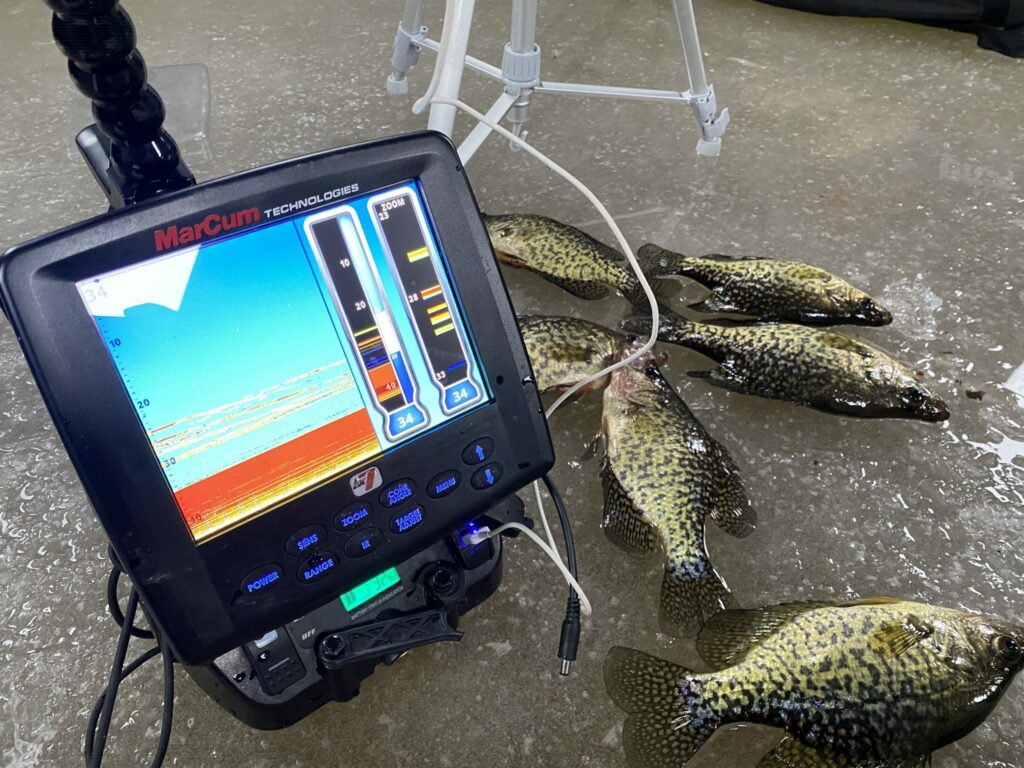 As for electronics, one of my favorite tools to use is the Lithium Shuttle and LX-7 by MarCum. Not only does it power your flasher, but it has two-rod holders in the back making hole hopping for crappie a breeze!
4. Trophy Crappie Require the Right Presentation
There are plenty of options when it comes to crappie jigs, but there are three things I pay particular attention to:
Fall Rate: Although tungsten can be great, it isn't always the key. Sometimes a slower fall over lead can be the ticket to turning over more fish.
Horizontal Presentation: Whether you are using a minnow body or a plastic, having the jig lay horizontal is key in the presentation. This replicates an actual minnow, and allows for a more realistic presentation during the slow raise.
Larger Size: I'm a big advocate for upsizing when trying to pick out the giant. It helps weed out the smaller fish.
When it comes to the trophy fish, presentation is key. When it comes to jigs, there are plenty of options. However, the particular jig we used to score our 15's and 16's from last trip was the Crappie Pro Mo Glo' jig. It is definitely a "summer style" jig, but it sure works well in the winter too, especially when you are trying to weed out the smaller fish. This jig has the perfect horizontal presentation, allowing for realistic movement when working a fish upward during a slow raise.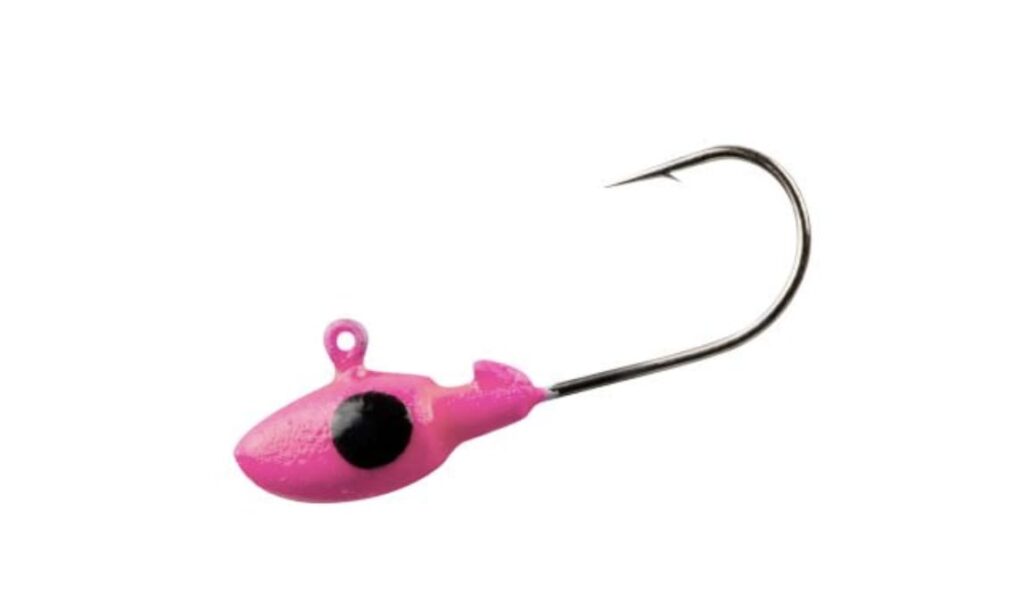 5. Execution is Key: The Slow Steady Raise
Most of the time, ice fishing crappie calls for a finesse technique requiring a slow and consistent raise. This can make all of the difference when hooking up to more fish. It's a bit of a contrast to the more jerky shake I often use in front of walleye, but by taking your time to raise your rod slowly to the top you can exponentially turn over more fish, more often.
Final Ice Fishing Crappie Tips
The more time you put on the water, the better you will get at it. The key is to find lakes that you can manage, especially in the beginning. Do a little research, stay consistent and you will be able to turn over more fish in no time.
Are you looking for a way to store your jigs? Be sure to check out my Stone Tackle Organization solutions at stonetackle.com
*This post may contain affiliate links – meaning products I recommend to you at a discount may lead to a small commission to help support this site. All products I recommend I personally use.