One of the coolest things about ice fishing is tricking out gear for better efficiency on the ice.
Here's a unique product that's made it easier for many pro NAIFC ice panfish competitors to fish faster – a "speed fishing" system developed by former ice fishing pro and Michigan-based Sportsmen's Direct owner John Bacarella. It makes an especially great system for fishing on foot early- or late-ice when you don't want to carry a lot of extra weighty gear.
We first saw the system called the Sonic Ice Hopper Pro System at an NAIFC ice fishing tournament some 10 years ago now. What amazed us was how quickly ice pros moved across the ice with electronics attached to the bucket-within-a-bucket system, while slipping crappies and bluegills inside for weigh-in.
In a nutshell, the Sonic Ice Hopper integrates a 1/8" anodized aluminum bracket for mounting your Vexilar, Humminbird, MarCum, Garmin, or Lowrance ice fishing electronics, and also features high-density styrofoam dry battery storage battery holder and power cables below the top bucket. Rod holders attached to electronics bracket a two of your favorite ice sticks for quick access. The system features an ergonomic handle to make one-handed transport easy.
Besides consolidating gear into one easy-to-carry unit, the system also makes a suitable seat. And for those days when you want to keep a mess of panfish — but keep the bite away from prying eyes — fish are easily slid into the top bucket (and away from the battery and wiring) through a slot in the cover.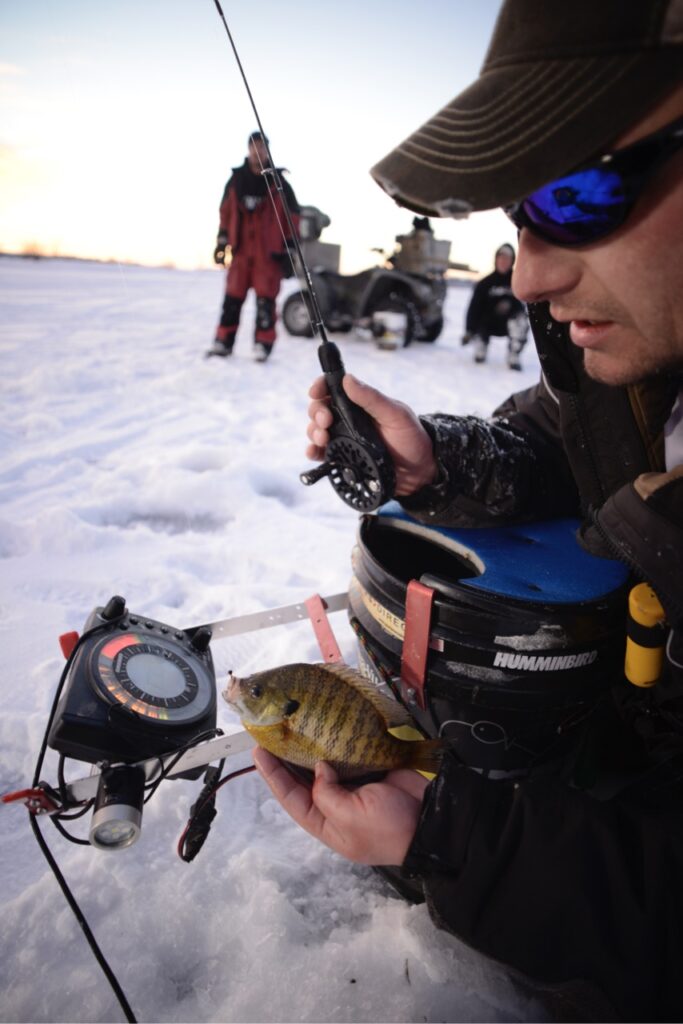 It also adapts well to speed-scouting via ATV. With the bucket bungee'd into a milk crate on the back of a wheeler, you can simply drive around, drill and drop the transducer of your sonar without moving any gear from the ATV. Give each hole a couple of minutes to produce and then move on.
And if you're using forward-facing sonar like LiveScope, MEGA Live, or Active Target 1 or 2, the Sonic Hopper makes a super-smart addition to the effort. Drill your hole – shine your forward-facing 100 feet out, mark fish, then grab the Sonic Hopper bucket/flasher combo (with rods in holders, tackle, and everything contained) and your auger—and pace off the distance to the fish—and attack. Rinse and then repeat.
We're big fans and have been using the 'Hopper for almost 10 years. Highly recommended. Super fast. Super cool.