Hubs have become popular with ice anglers because they are fairly portable and set up quickly while giving ice anglers a lot of fishing space. Some hubs like the Jason Mitchell Series are also amazingly warm with 900 denier heavy duty fabric with 90 grams of insulation. The thermal bonding process distributes the insulation without having to use traditional stitching. This added insulation not only creates a warmer shelter but also has much less condensation. This line up of shelters is also built with the heaviest hub assembly and thickest 11-millimeter poles on the market. The size JM X-400 and JM X-600 are available exclusively at Scheels. Now, this heavy-duty construction does add more weight to the overall shelter and that is a consideration for choosing the perfect shelter. If you are in a situation where you have to pack in or drag a sled on foot for considerable distances or if you not planning on facing severe weather, Clam also offers the C Series of Hub Shelters that are constructed from 600 denier fabric that will lighten up the weight of the shelter.
Below will be some explanations of when, where and why I sometimes pick a hub shelter. Also note that when you are planning your purchase, you will have to look at your own unique situation in regard to how much room you need with what you plan to do and how many anglers you plan to fish with. Because of portability and heating the shelter, I often advise anglers to get a shelter that is just big enough. Don't buy more shelter than what you need because the larger and heavier the shelter is, the more effort required to move and heat.
When, Where, and Why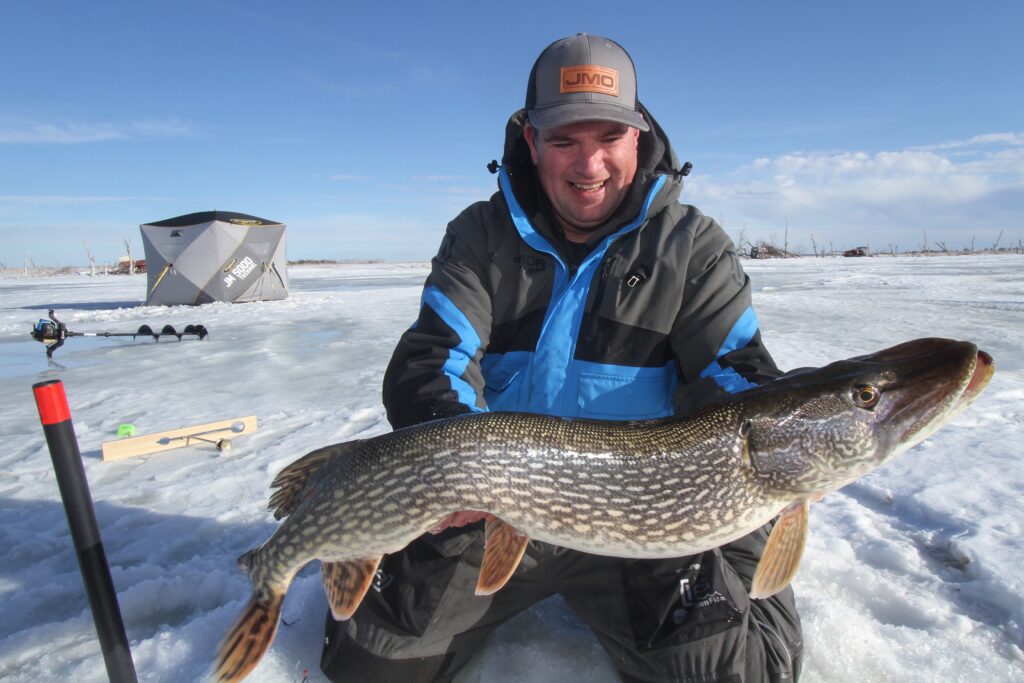 Base Camp and Tip Ups
I love using a hub shelter whenever I need to set up a base camp with a group of anglers. I love a large hub to serve as the center of activity when I am running tip up spreads for pike and walleye, for example. The extra room gives us a place to eat, relax and tend to gear. Whenever we are planning on preparing a meal on the ice, a hub shelter gives us a comfortable working area to prepare food.
Lake Trout
I also prefer to use a hub shelter whenever I am fishing for lake trout where I need to use a longer rod and set the hook hard and high. I also like the room where I can back up from the hole when I set the hook. A hub shelter will give you that room and a larger hub can even provide enough room for a few anglers to fish for lake trout by enabling you to spread your holes apart.
Dead Sticks, Specific Spots and Big Fish
I love using a hub shelter whenever I am serious about a spot and serious about dead sticking. When I am committed to a specific spot and plan on focusing a big portion of time there, I like the idea of using as many lines as legally possible. In many states and provinces where you can use multiple lines, I like the room a hub provides so I can spread the extra lines out so that fish are not as likely to tangle up with other lines. I also like to use a hub if I want to target big fish and fish with another angler. Big fish are going to tangle lines if people are fishing close together and the room of a hub enables anglers to spread out to keep out of each other's way.
Ice Camping
Hubs are also the ideal if you plan on ice camping. I have slept in a flip-over by curling up in the fetal position in the tub, but it wasn't very comfortable. The room a hub provides can allow room for cots, tables and an area to prepare meals while giving you the base station to explore or fish out of. Many anglers get creative by using rubber mats and flooring remnants on the ice to provide a floor. Accessories like the new ClamLock hub system enable you to mount items like lights, rod holders and rattle reels to the hubs. Note that these will fit on any brand of hub shelter. Other items to include would be a battery powered fan and a carbon monoxide detector.
Staying Legit in Tough Conditions
To keep the hub comfortable, fans can be beneficial for distributing heat and it is also important to bank up the house with snow if possible. One of things I specifically asked for in our Jason Mitchell Series of hub shelters is an oversized skirt for banking and a door that was oversized but still high enough above the skirt where I can bank snow or slush all around the shelter. Note, however, in extreme cold, using slush to bank a shelter can be dangerous in that your shelter can freeze to the ice where your skirt could tear when trying to remove it. If you don't have snow and you are dealing with extreme cold that is well below zero Fahrenheit, use a chain to hold down your skirt and block the wind.
Affordable
Hubs are also affordable. When you look at the cost per square foot on the ice, hubs are a bargain compared to a hard sided permanent shelter and also allow you to get to places you could never pull a wheelhouse. Hub shelters are also more affordable than flip-over shelters because there isn't the expanse of a frame and tub.
Disadvantages
Cons of hub shelters would include the fact that since there isn't a tub, you have to either haul out on the ice with some type of sled or put the shelter in your vehicle and your equipment isn't as contained as it would be in a flip-over style shelter. Other draw backs include mobility. These shelters only take minutes to pop up and tear down, but this process isn't nearly as quick as the running and gunning you can do with a flip-over style house. Hub shelters can also be more challenging to set up in strong winds especially if you are by yourself. If you use ice anchors, however, and tie down straps, hub shelters are surprisingly durable in strong winds once erected.
Tips for Setting Up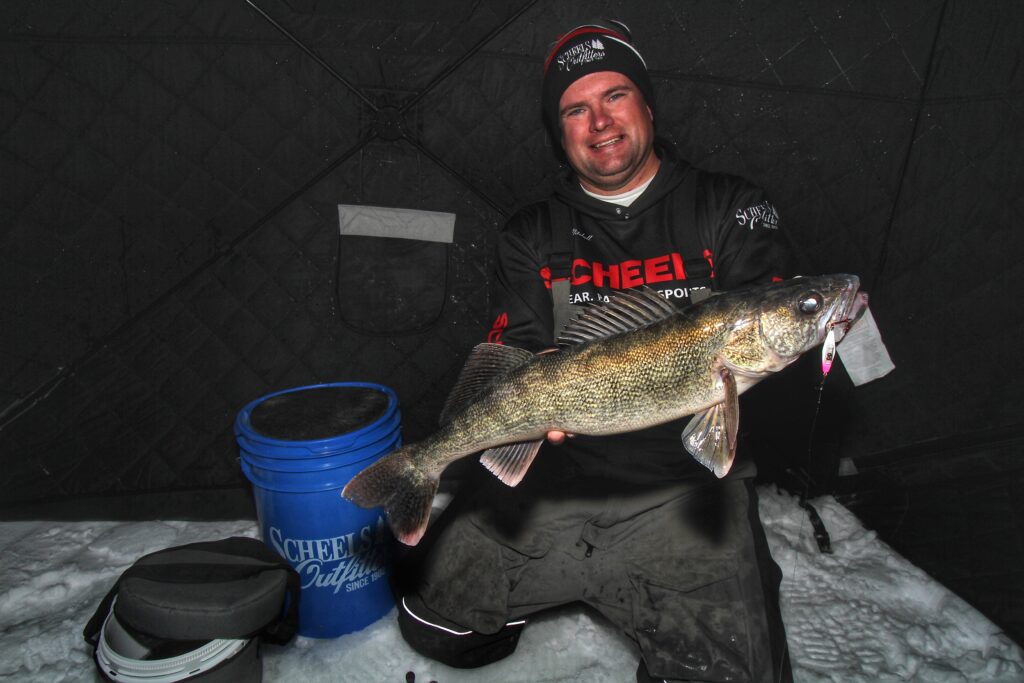 Some tips for setting up and tearing down a hub shelter. When setting up, always have the roof on top facing up. Start on the side that is on the windward side and pull out that side wall first. Tie down that side by using the anchor and ice strap. Once tied down, work your way around the hub by pulling out the side walls. Walk inside the shelter and push up the roof last. To tear down, repeat the process backwards. In extreme wind, use the tie down straps on all sides and anchor down. We also include grommets on the inside of the shelter where you can also use ice anchors to secure the shelter even further from the inside of the shelter. If you use the ice anchors and straps, your shelter is not going anywhere.
Shop the JM Series Hubs Exclusively at Scheels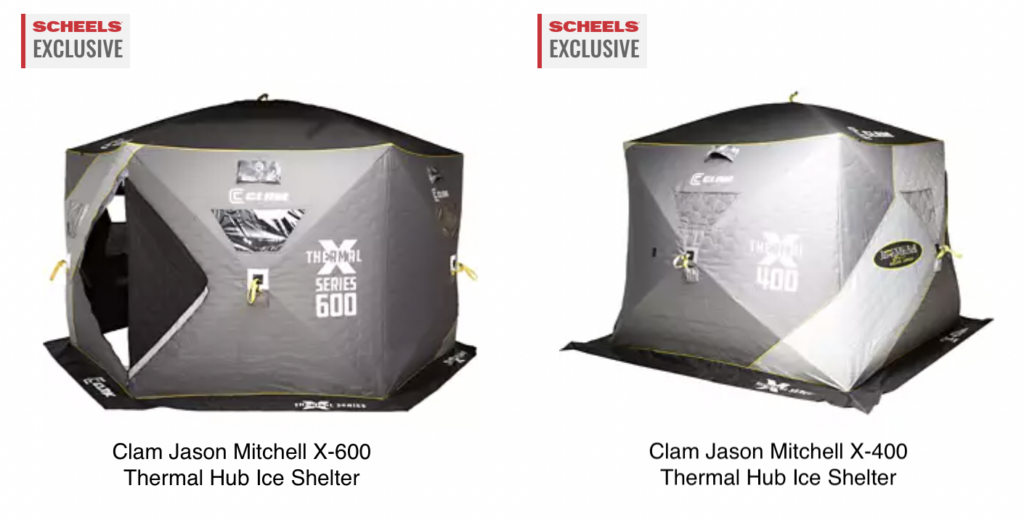 Shop all JM Scheels Exclusive Hubs: https://jasonmitchelloutdoors.link/ice-shelter
Shop the Clam Lock System: https://jasonmitchelloutdoors.link/clamlock