There's nothing more frustrating than arriving to your fishing spot only to discover that your ice rods are all tangled up… Add frozen fingers or a hot bite to the mix and it's just not a fun situation.
Sure, five-gallon buckets will hold ice rods, but they easily bang around during transit. And even if your rods stay tangle-free, the friction of gear rubbing together can compromise line strength. Resulting nicks in main line or leader material have sacrificed many a fish.
Kind of funny that we'll stay up into the wee hours rigging rods but then carelessly toss 'em in a pail.
Here are a few smart ways to organize and keep your ice rods and rigs in tip-top shape.
Ice Rod Cases
There are a number of different rod cases on the market, including models from 2BICE, CLAM, Eagle Claw, Eskimo, Lakewood, Otter Outdoors, Plano, Scheels, Striker, and Trophy Angler.
2B ICE Rod & Gear Bags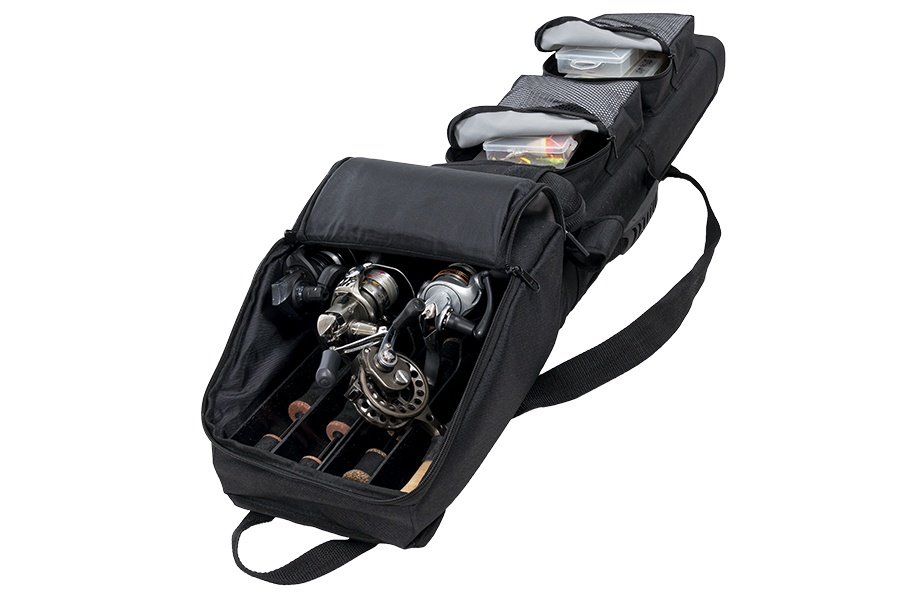 Looking for a lightweight, ultra-portable, but protective ice rod/reel case? The guys behind Elliot Rods and Two Brothers Innovations have done it. Their 2BRGB model Rod & Gear Bag holds 4 rod/reel combos up to 36" long — and their XL Rod & Gear Bag holds 4 rod/reel combos up to 46" long, perfect for big-water/big walleye or lake trout set-ups. Both feature built-in PVC tubes for protection, lots of space for reels, and tackle box storage to boot!
Eagle Claw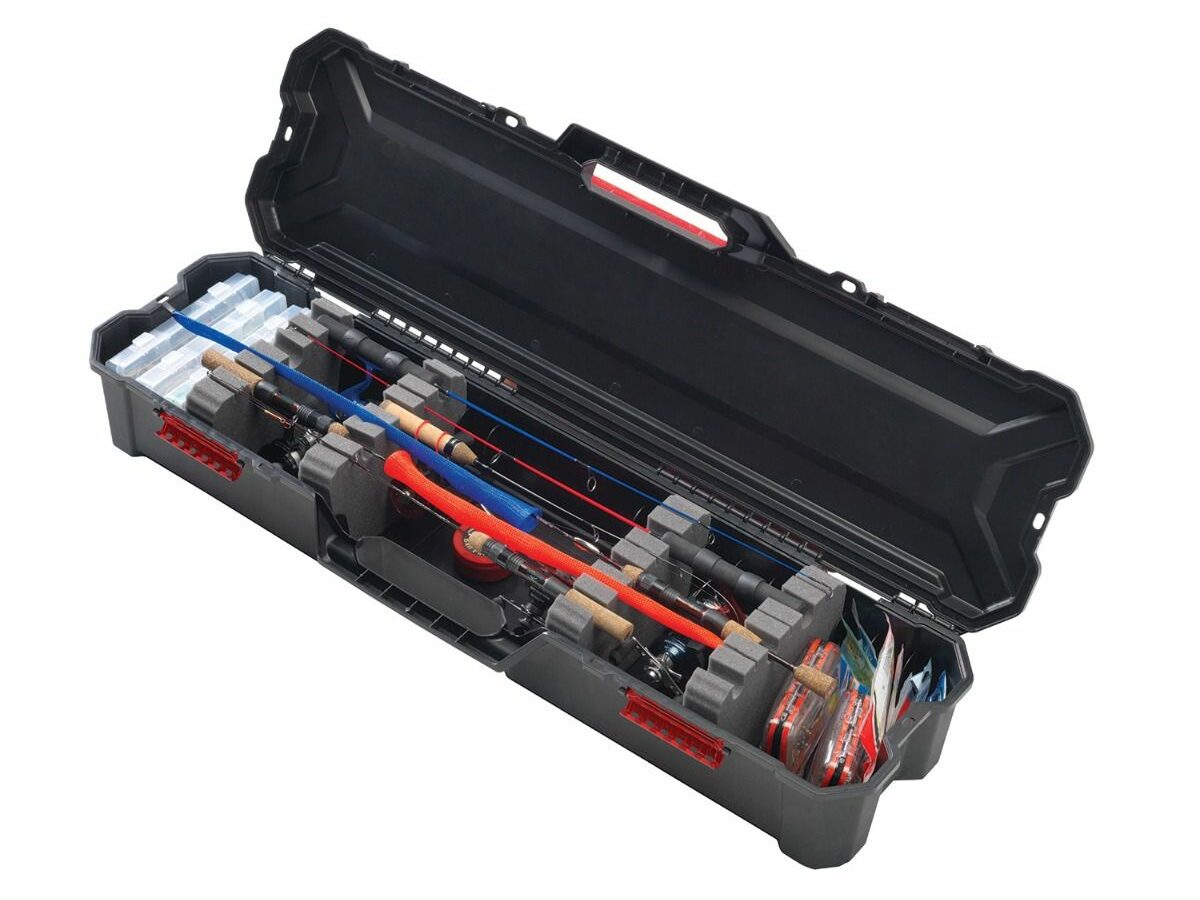 We've been big fans of Eagle Claw's hard case over the past couple of seasons. First, they're inexpensive and simply get the job done. Their Ice Rod Case features four foam inserts and measures 43" x 12" x 7" – and will hold 6 ice combos. Features six double-hinge latches, adjustable foam inserts, and plenty of space for small- to medium-size ice tackle trays.
Eskimo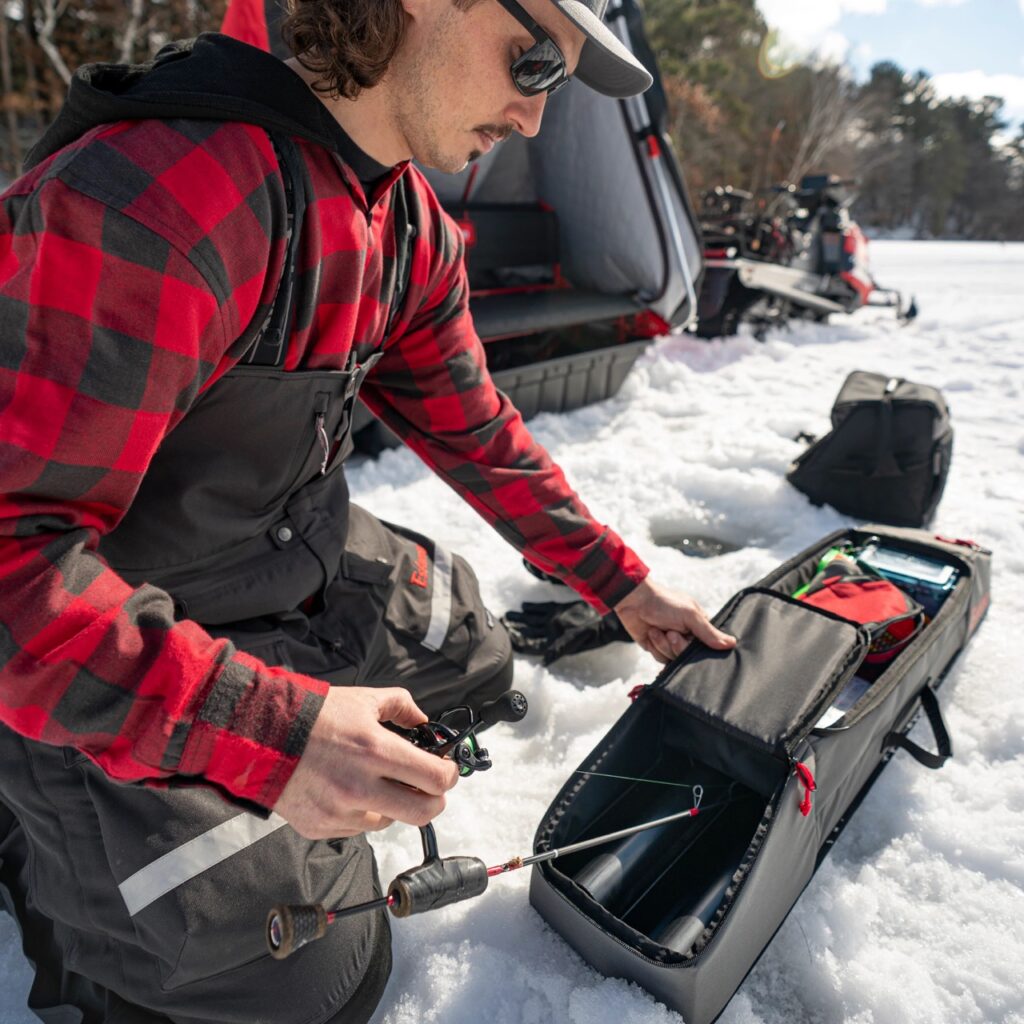 Available in 32-inch and 42-inch versions, Eskimo's rod lockers are designed to keep ice rods/reels, tackle, tip-ups and gear safe and organized. Rigid sidewalls, and no-snag internal rod tubes prevent broken rod tips during transport. A spacious, zippered middle gear locker provides secure storage for tackle trays, tip-ups, hats, gloves, or assorted gear. Holds four rods up to either 32- or 42-inches, depending on which model you choose.
Lakewood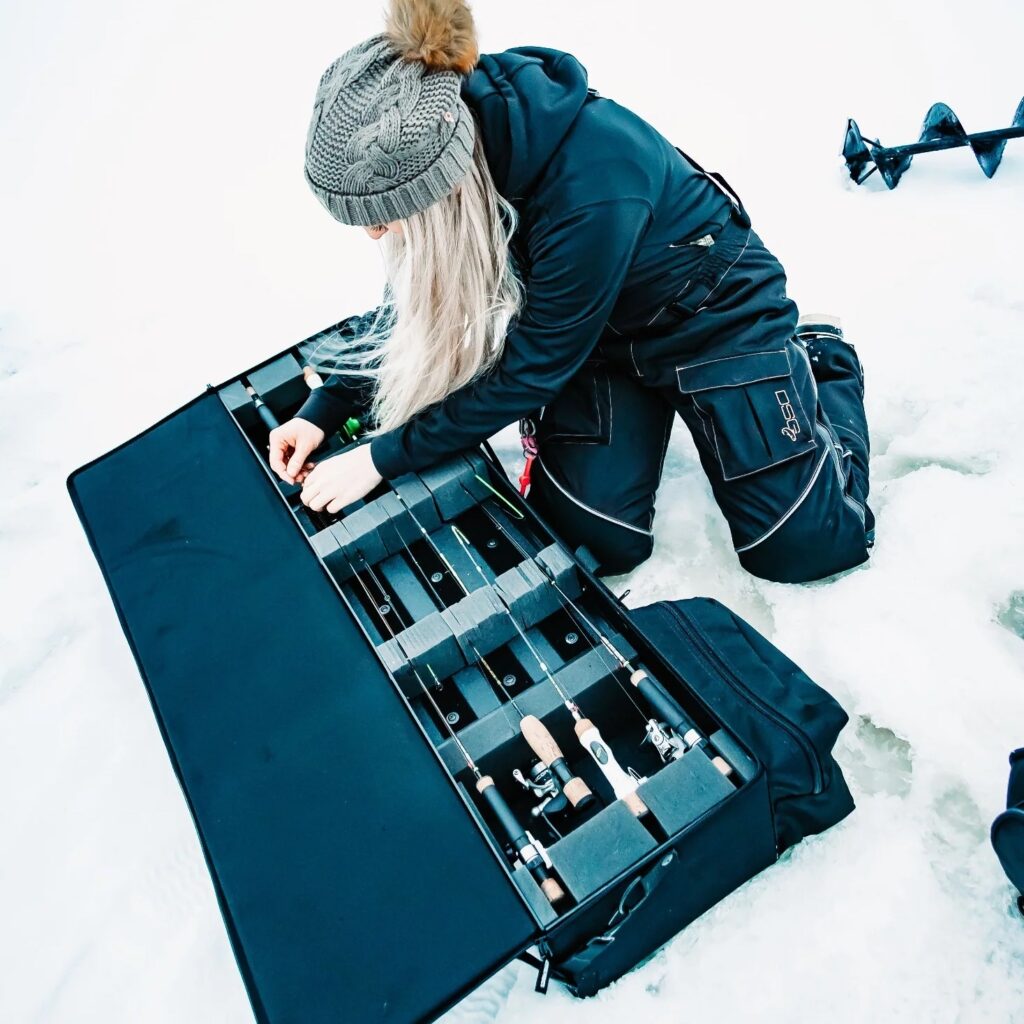 If you plan to hit some big waters this winter like Lake Winnipeg—hardwater notoriously hard on gear—you might want to consider the aptly-named Lakewood Greenback case. While it's not cheap, it is built like a tank.
Designed to accommodate 6-8 rods/reels up to 44" in length, the Greenback is built for strapping down on the back of an ATV or snowmobile. Features customizable foam inserts and ample storage, including exterior, zippered pockets for tackle, line, etc. Measures 45" L x 12" W x 8" H.
Otter Outdoors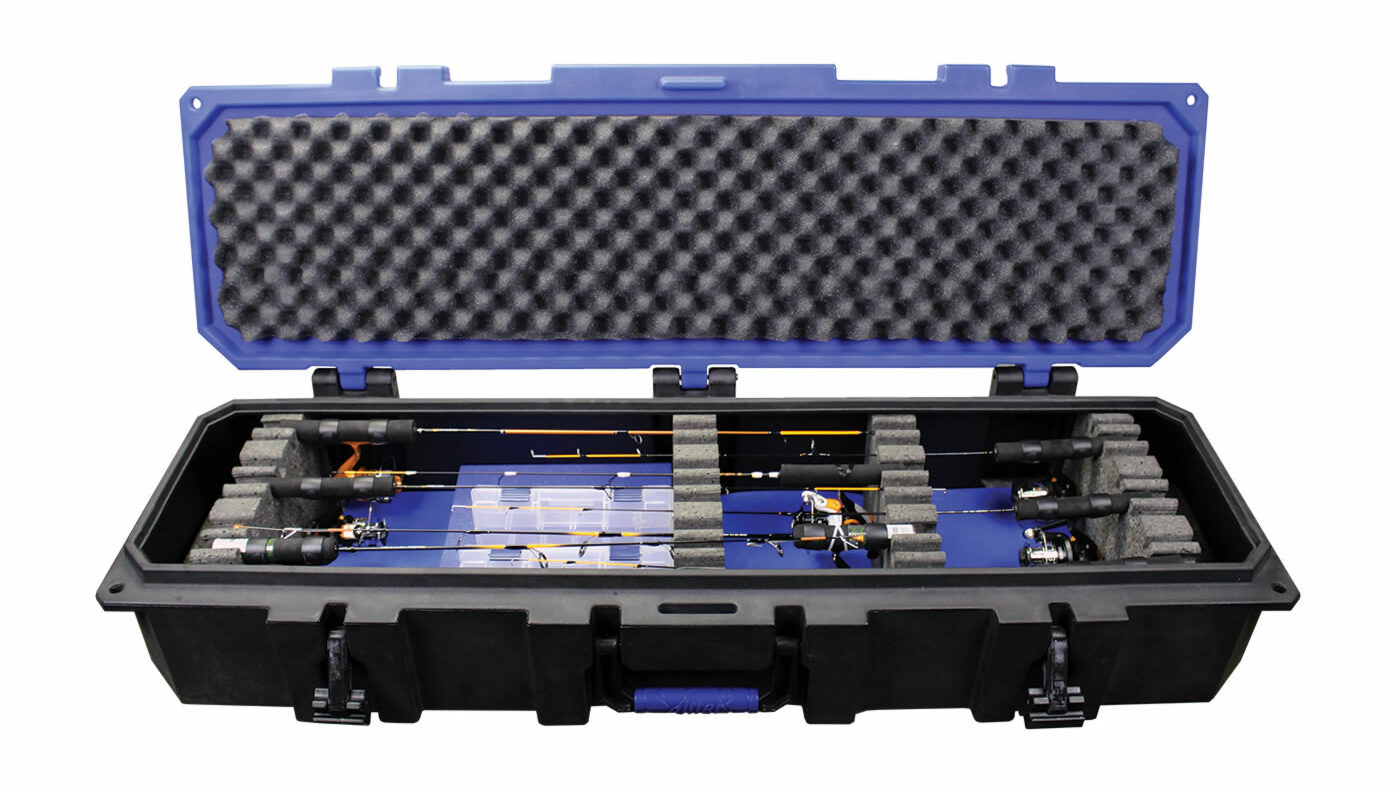 Although Otter offers four models in its current ice rod case series, the "Deep" models look particularly well-designed with lots of room for gear besides ice rod combos. For anglers fishing shorter rods, the Pro-Tech 40 Rod Case might be a good fit; and for anglers fishing bigger fish with longer rods, the Pro-Tech 48 Deep Rod Case is probably ideal.
The Otter Pro-Tech 48 Deep Rod Case holds 8 rod/reel combos up to 46.5", cutouts for tackle storage boxes (3500 size), double wall rotomolded construction, polyurethane foam upper and lower for protection, quick-release latches, nylon handles, nickel plated steel hardware, and a built-in lid ruler. And all made in the U.S.A.
The Pro-Tech 40 is a bit more compact, housing 6 rod/reel combos up to 38" and the same features as the 48.
Plano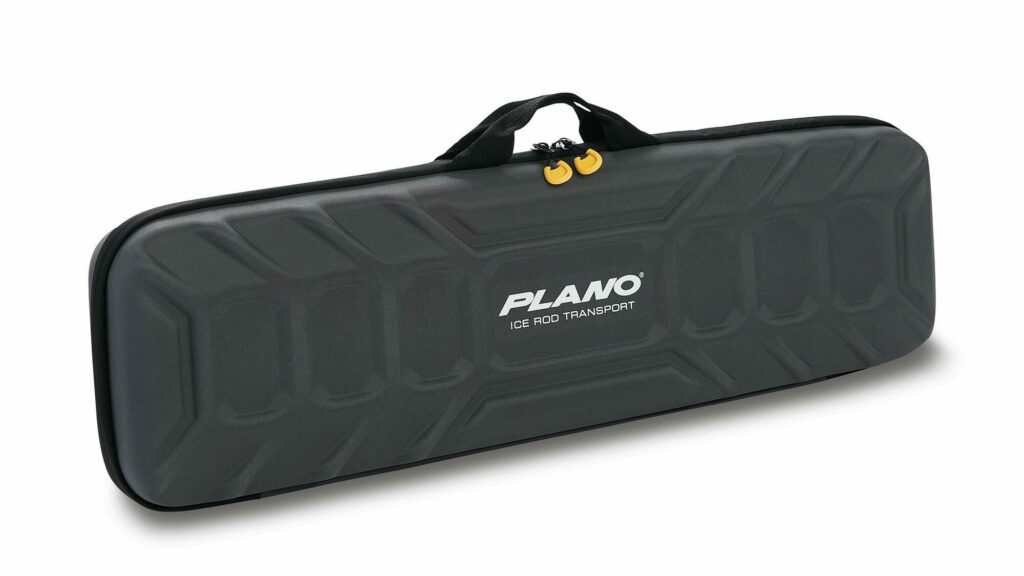 Seemingly a nice "in-between-er" soft meets hard ice combo case design, the Plano Ice Rod Transport 38 promises to keep your gear safe and secure. Manufactured of lightweight and durable high-density EVA and high-density foam, it won't weigh as much as hard cases. And the price is pretty reasonable, too.
Designed to hold 6 ice combos, it features a reverse coil zipper and a convenient briefcase-style carry handle. Dimensions are 39.8"L x 11.8"W x 5.12H to accommodate combos up to 38" in length.
Scheels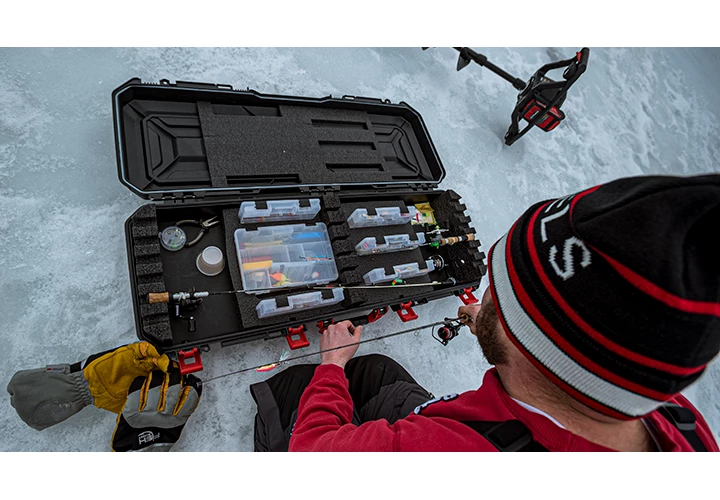 Available in 36" and 42" options, the Scheels Outfitters Ultimate 2.0 Ice Combo Case features a durable hard-sided design with foam-padded interior and secure locking system to protect 6 ice combos and numerous tackle storage trays. The 36" version can hold 6 rod combos up to 36" and includes (1) ice jig box; (5) 3500-size Plano Stowaways; and (2) 3400-size Plano Stowaways. Outer dimensions are 38.4" L x 16.9" W x 6.4" D.
The 42" version can hold 6 rod combos up to 42" and comes with (1) 3600-size Plano and (5) 3500-size Plano Stowaways. Outer dimensions are 44.4" L x 16.9" W x 6.4" D.
Striker

For simple "let's go" ice fishing, this Striker ice combo case might be one to consider. Lightweight and made of a reinforced, soft-sided Endura fabric , it's still protective and will stow 4 rod combos up to 38". Vinyl rod wraps keep exposed tangle from tangling, while secure reel seats with Velcro straps keep everything in place. An oversized handle makes it easy to transport even in gloves. Dimensions are 39" L x 9" W x 5" H.
Trophy Angler

Although this company makes a ton of different ice combo rod case options—including nearly a half-dozen new designs for the upcoming ice season—if you're looking for a way to protect 2-4 ice combos, throw the case over your shoulder and go, their 38" Deluxe Tube Ice Rod Case a well-designed, ultra-affordable option. Features a sewn-in tube for rod protection, snag-proof inner lining, 2 large zippered pockets for ice jig/spoon boxes, and a shoulder strap.
Final Note
Want to doubly protect your rods and ensure they arrive to your spot ready-to-fish? Clam ice fishing rod slicks are designed to cover rods and keep line from tangling or getting nicked. Simply pull out the rod from your case of choice, remove the sleeve, and you're ready to fish!