Brent Kemnitz guides on Lake Oahe out of Mobridge, South Dakota and we would describe him as one of those grinding full time guides who is on the water practically every day.  Brent offers some valuable perspectives on finding fall walleye on Lake Oahe but these sage perspectives can be applied to many different reservoirs in the fall.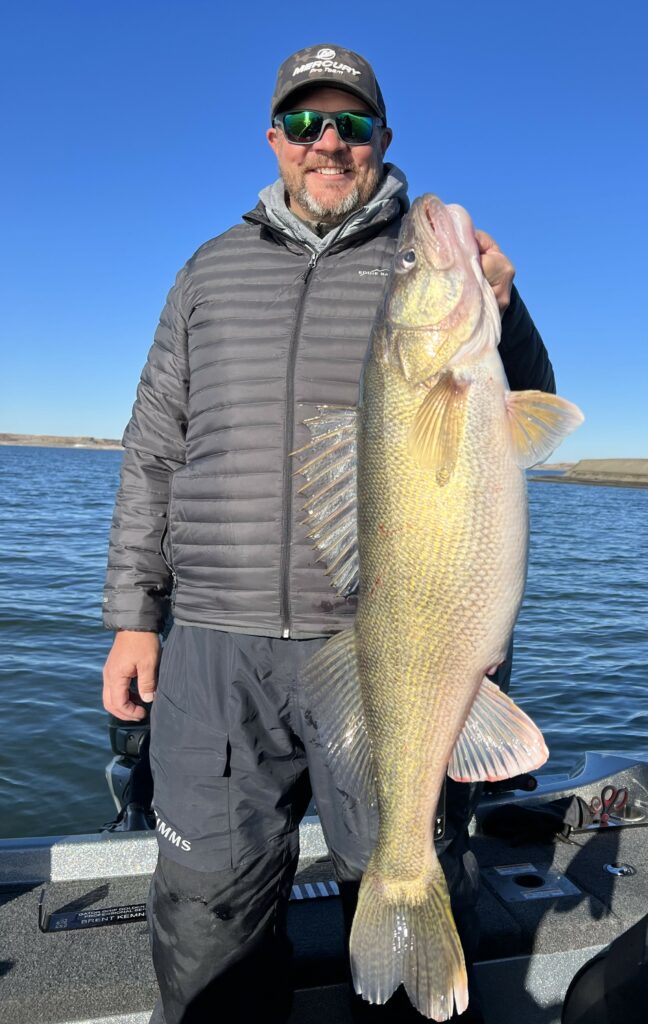 Lake Oahe walleyes can often be found in relatively deeper water as we progress into fall. An average depth to look for fish might be 25-30 feet of water. There are some days where fish will slide out into 35-40 feet of water and times when fish will slide shallow especially with wind. Lake Oahe walleye are often focusing on cisco or lake herring as smelt numbers are currently way down in the reservoir.
Kemnitz stresses focusing on the old river channel.  This river channel provides the deep cool water habitat required by cisco.  Where you find bait fish, you will find predators like walleye.  To fine tune the search further, Kemnitz offers the following advice.  "Focus on the area where large tributaries dump into the old river channel.  This old tributary channel is like a highway for fish to follow.  Most of the fish we find are within a few miles of where this old tributary channel dumps into the old river channel.  Once in this general location, look for large feeding flats that is adjacent to this deep water.  These flats could take the form of a main lake point, reef or shoreline but there has to be a sharp break with deep water nearby."  
Most days, Kemnitz will find walleyes during the fall on the sharper break adjacent to these feeding flats but stresses that wind will sometimes push these fish shallower up on the flat itself. When fish are using this deeper water, use your electronics to find fish. The bigger fish especially will often stick out like a sore thumb. Also look for baitfish activity.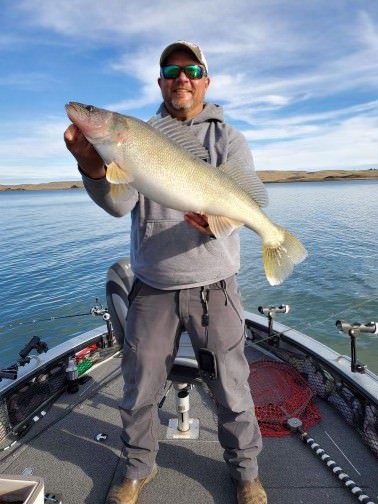 During the fall, Kemnitz strongly advises to bulk up the profile. Larger glide baits like a size 9 Jigging Rap or the size 9 Johnnie Darter are favorites. The Johnnie Darter in particular has a bulkier profile and a rattle and is a local favorite on Lake Oahe. Jigs and minnows or jigs and plastics are also effective. Again bulk up. Kemnitz often uses a 3/8 or ½ ounce jig but will sometimes go as heavy as a ¾ ounce jig. The jig is often bulked up with a four-inch split tail with a single minnow added. Other times, Kemnitz will just use two minnows to bulk up the jig.
The favorite colors reflect the forage base. Kemnitz often experiments with chrome/ blue, purples and whites.
Kemnitz routinely catches some enormous walleye on Lake Oahe each fall and stresses that this time frame offers some of the best fishing of the entire season. There are way fewer boats on spots and these fish can often be found with electronics. These fish are also very predictable. Focus on the intersection areas where tributaries meet the primary river channel and look for structure in this general location.