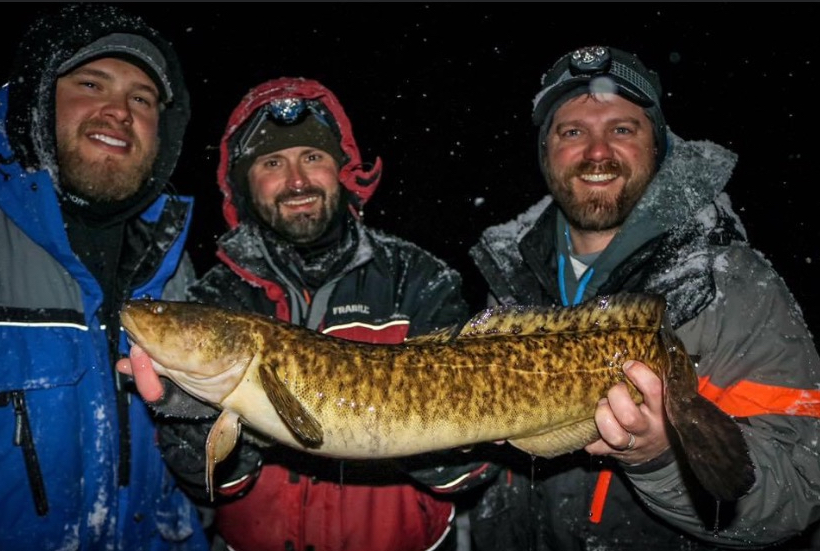 Whether you call 'em "eelpout", "burbot", "lawyer," "Mariah," or "Ling", they're no longer considered the nuisance fish of yesteryear. Many anglers will recall the days of dozens—if not more—of eelpout littering the ice around heavily-visited spots on lakes like Mille Lacs.
These days, anglers specifically target 'pout for both their great fight potential and excellent table fare. Yes, times have changed—and we're better for it.
Bemidji, Minnesota-based guide and fishing fanatic, Jason Rylander, is known across social media and among serious ice-heads as a true eelpout expert.
That said, we got together with Jason awhile back a few miles out on Leech Lake in a rental shack and he shared his burbot-catching wisdom.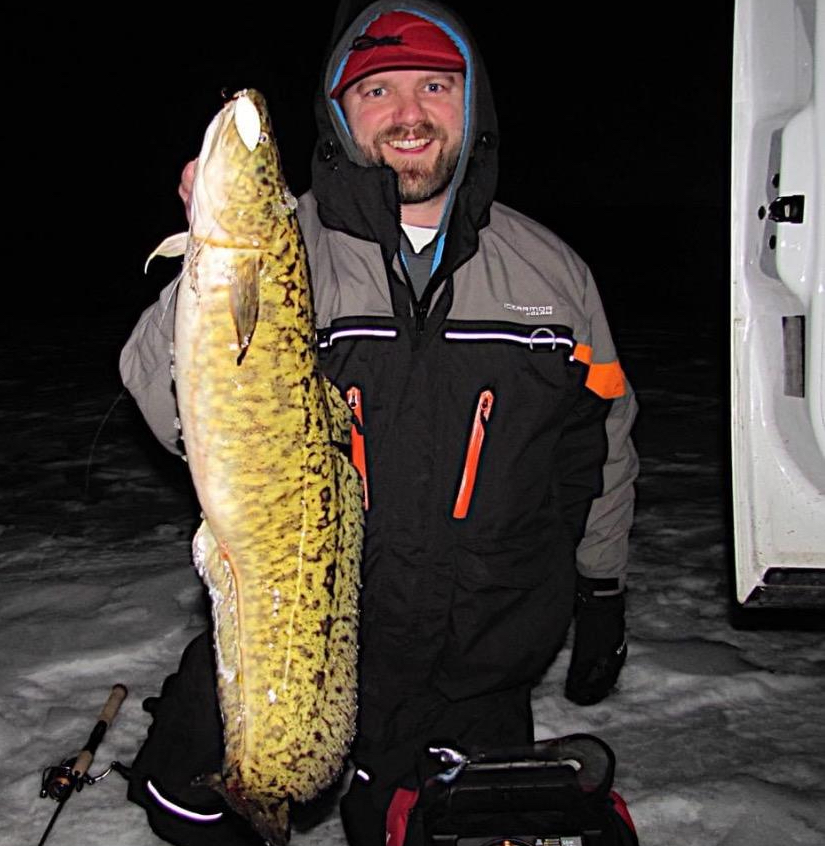 Where do you like to fish eelpout?
Rylander: "Obviously, I'm a big fan of the lake we're on, Leech, but any waters along the Mississippi River chain all have the potential for catchable eelpout populations. Lake Winnibigoshish is a good one. Then, closer to Bemidji, you also have Lake Bemidji itself, and Cass Lake. And there are some lakes around Brainerd—Gull being the most popular, which has some giant burbot in it. And you'll find lakes scattered across Becker and Otter Tail County, too. And both Ontario and Manitoba offer some great opportunities. In general, you're looking for deep, clear lakes that provide better eelpout habitat," says Rylander.
Once anglers settle on a lake, where should they start looking?
Rylander: "I look for hard-bottom areas covered with gravel or small rock, not big boulders. And during the spawn in March, I've seen them doing their business in as shallow as 10 feet. But I've also watched balls of numerous eelpout spawn on Cass Lake in as deep as 22 or 23 feet. It's very lake dependent as far as spawning depth."
Fish The Spawn Right Now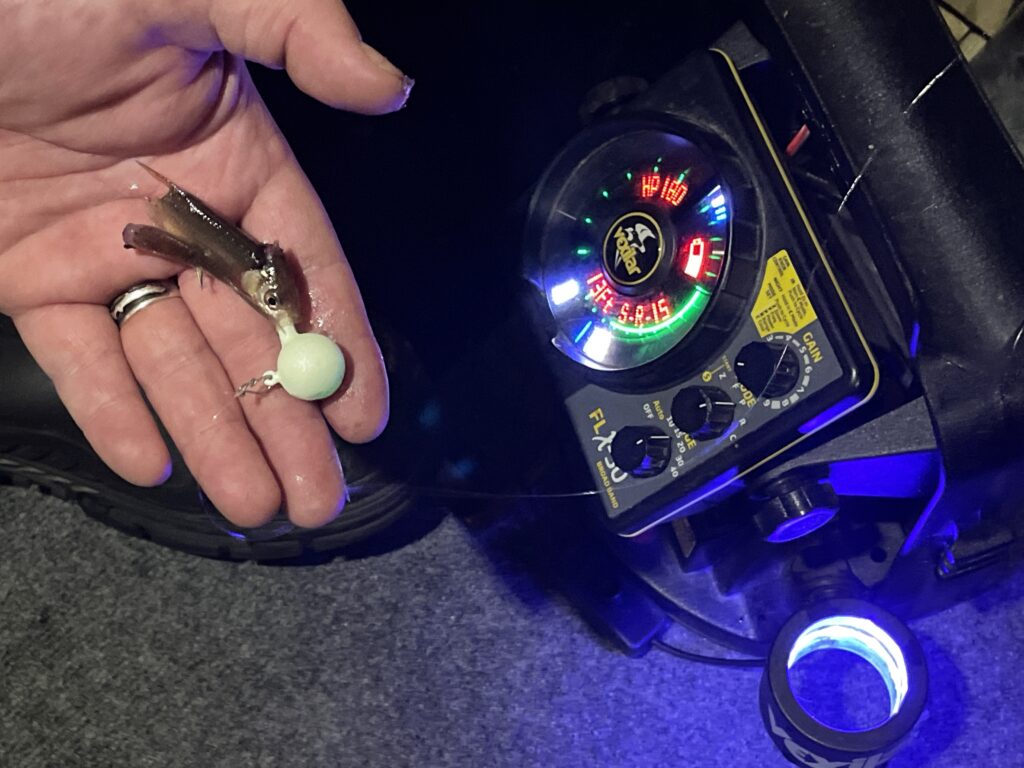 With new technologies like forward-facing sonar, Rylander says he's confirmed a lot of things that he only theorized during his salad years about eelpout behavior and their seasonal movements.

Rylander: "I always thought eelpout ran a trail during their mid- to late-winter spawn. For example, if you catch an eelpout in 18 feet of water and your buddy is 40 feet away and not catching anything, it's because the eelpout are following each other, almost like they're on an underwater game trail. And I think it's all scent-related because they have very poor eyesight," shares Rylander.
One thing Rylander has noticed over the past 18 years targeting eelpout is that they get a lot slimier during their mid- to late-winter spawn, presumable leaving scent—like an underwater game trail—for other fish to follow.
Is the eelpout spawn the only time to target them?
Rylander: "No, you can fish them from ice-up to ice-off, typically at night. But the nice thing about fishing during the spawn is it becomes a daytime bite. Talking with other local eelpout experts like Tim Humphrey in Cass Lake, who's been fishing them a long time—we've narrowed down the eelpout spawn on Bemidji-area lakes to the first two-and-half weeks of March. But not all the eelpout in a lake will spawn at the same time. You'll have different areas happening here and there."
What's the ideal rod, reel, and line set-up for eelpout?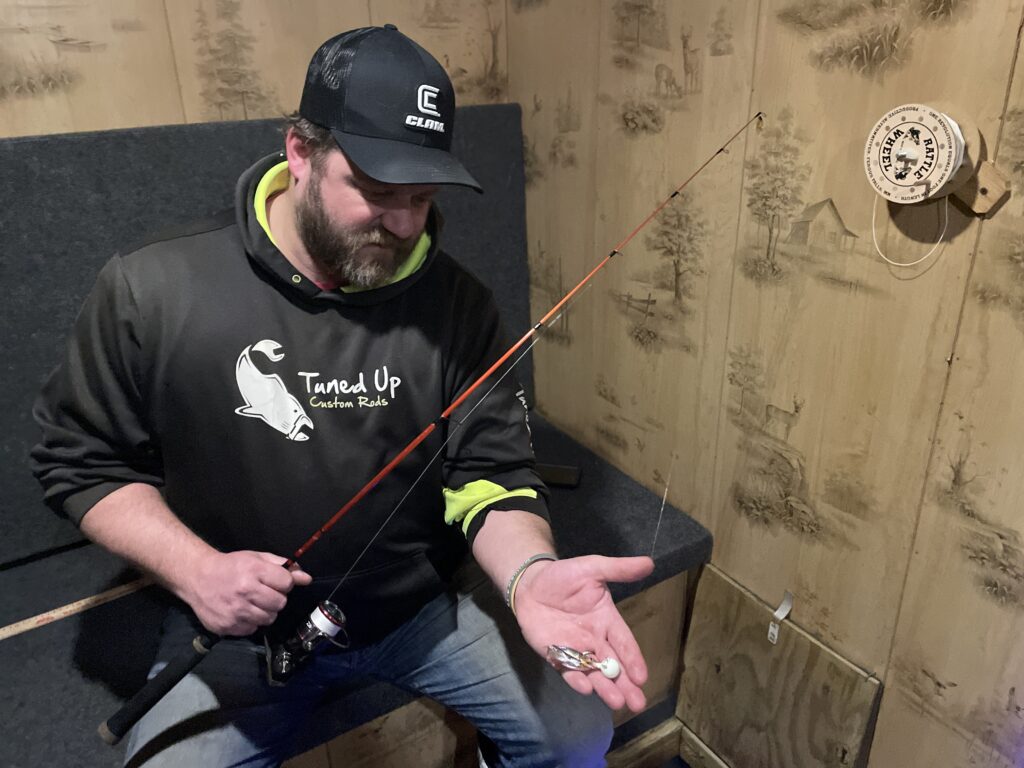 Rylander: "When the weather's decent, I like to stand up and fish outside, hole-hopping with my electronics, so I gravitate to a longer rod; in my case, I like fiberglass. There's not much finesse to fishing eelpout. A 38- to 44-inch Tuned Up Custom Vulcan in medium-heavy power is about the best 'pout stick I've found. You need a rod that will handle a fish that could potentially weigh 20 pounds if you're lucky."
"For line, I use 10-pound braid connected to small barrel swivel and a foot or so of 10-pound fluorocarbon to my jig or spoon."
What are your go-to eelpout presentations?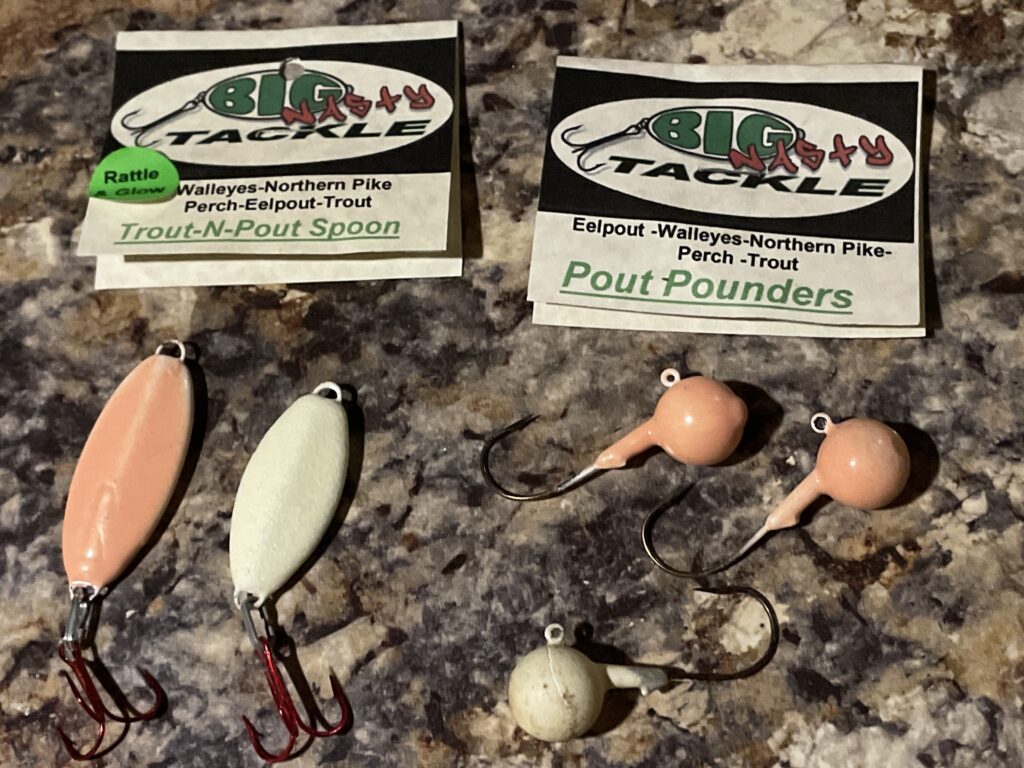 Rylander: "If you look at their eyes, they're not very big," notes Rylander. "There enters the importance of glow lures, which they can locate. And you need to aggressively pound the bottom with your jig or glow-charged rattle spoon so they can locate it through their lateral line. There's a lot of tweaking to both jigs and spoons like gluing on extra rattles and big glow eyes. Every serious burbot fisherman has his favorite lure mod, like the guys I fish with a fair bit, Brett McComas and Jeremy Smith. It's gotta be noisy and glow," shares Rylander.
"Another thing: Eelpout have a tubular barbel under their chin and extending off each of pectoral fin. I always assumed they act as a scent thing, which goes back to their developing more slime and following trails during the spawn. They're definitely relying on a keen sense of smell to find their spawning areas and feed, so scent—besides vibration—should be part of your presentation. I've experimented a lot with various scents, specifically crawfish, because it's an eelpout's #1 forage."
"As far as the actual baits, 99% of the time I'm fishing Minnesota-made 1 1/8-ounce Big Nasty Tackle Trout 'N' Pout Spoons or Pout Pounder Jigs in Original Green Glow, constantly charging them up in the transducer cup on my Vexilar," volunteers Rylander.

What's your favorite meat to tip your lures?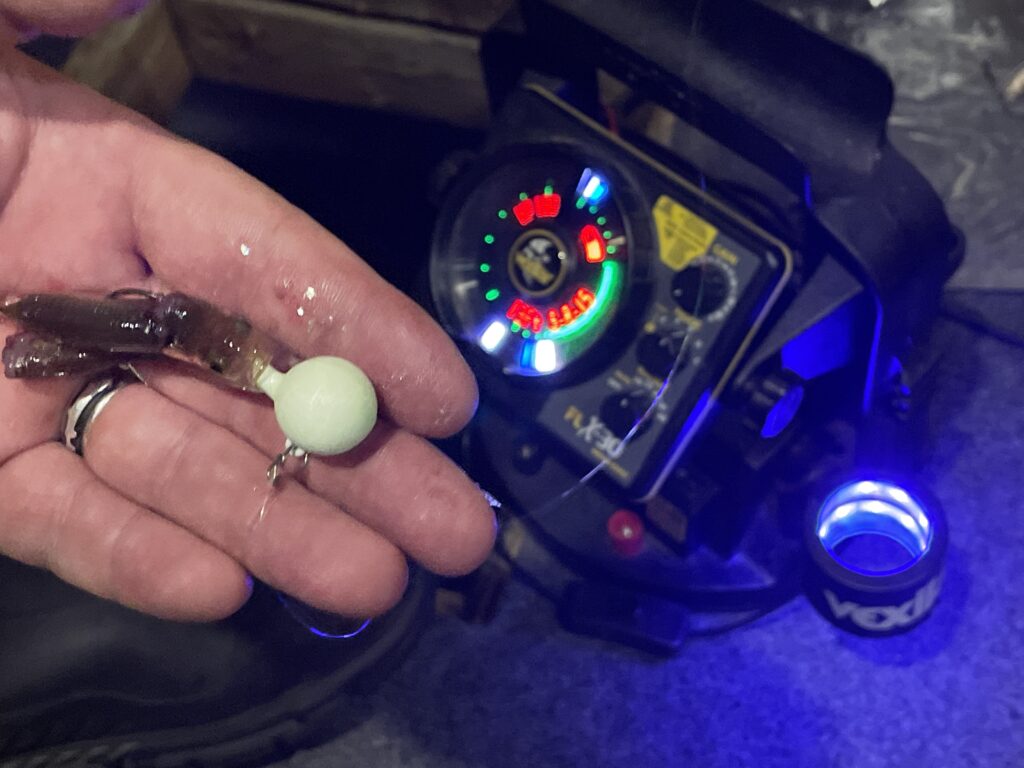 Rylander: "I prefer cut-up golden shiners gobbed onto the spoon's treble hook or doubled- or tripled-up on a jig. While you can use about any minnow, golden shiners are oilier than most and give off more scent. And scales flake and fall off while you're jigging, another attraction. I've tried frozen smelt and alewives but they get mushy and don't stay on the hook"
"In Canada I'll catch a whitefish or cisco, kill 'em quick, and cut their belly meat into strips and use those on my trebles. You can catch 10 or 15 eelpout on a single strip of belly meat; it's hard to get off your hook even when you want to. But that's limited to Canada, it's not legal in Minnesota."
What's your favorite way to cook eelpout?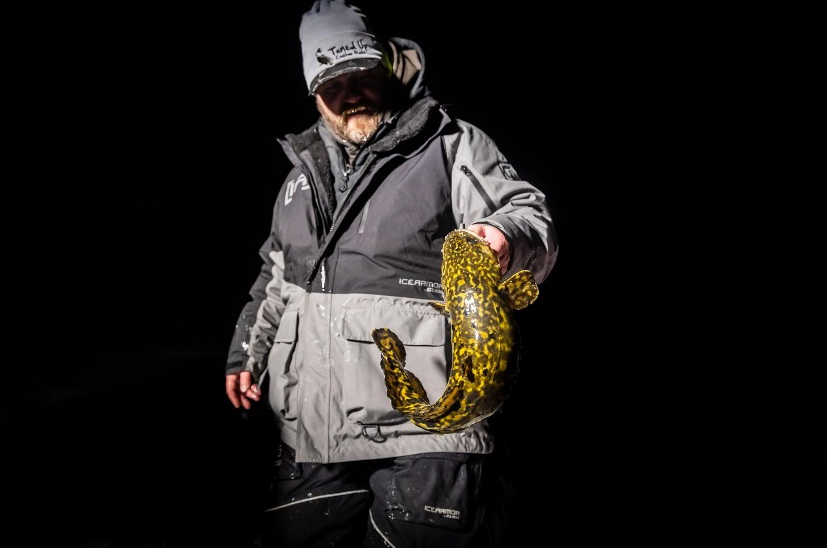 Rylander: "It's hard to beat cutting the backstraps and tail meat into chunks and boiling them in 7-Up or Sierra Mist until they float and then dredging them through garlic butter. But I also wrap the backstraps in par-cooked bacon and throw 'em on the grill. That's really good! And sometimes, just dipping them in a batter and deep frying is also tasty. There are endless ways to prepare eelpout but the 7-up and garlic butter is probably the most popular—it's definitely 'Poor Man's Lobster'."
"And while I'm not a big fan, some of my Canadian buddies like to fry up the livers, which are supposedly a good source of Vitamin A. The rule there is if the liver is white, it's good for frying. If there's any color to it, best to toss out."