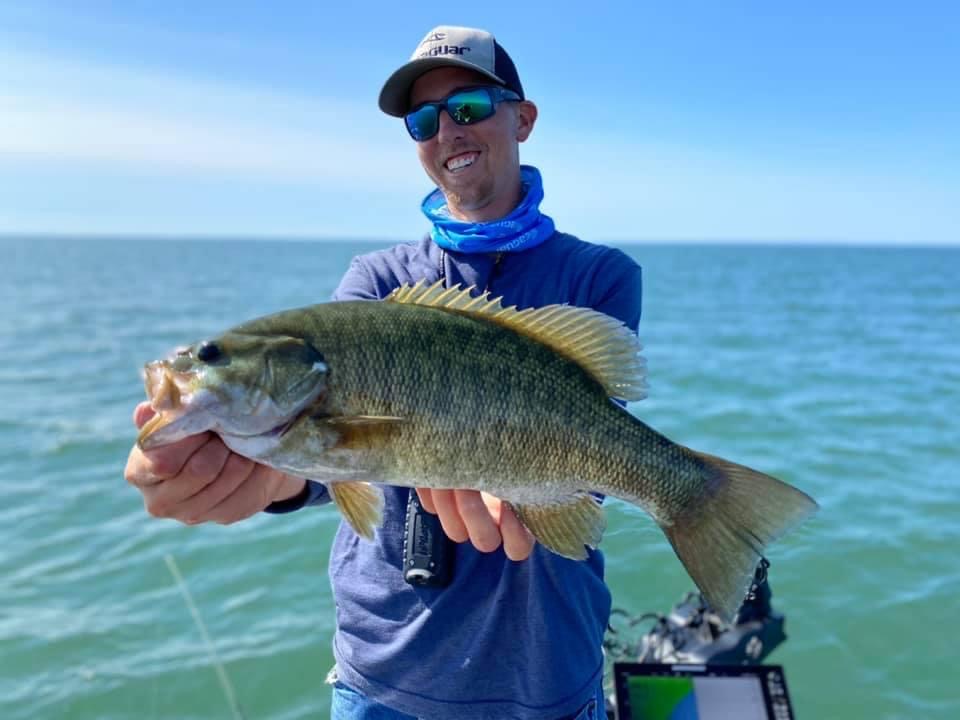 Josh Teigen is a young, astute angler that has been a fulltime guide on Lake Superior's Chequamegon Bay for several years. Josh has been featured in the past on John Gillespie's Water and Woods Television along with Jason Mitchell Outdoors Television. Summer smallmouth bass fishing can be exceptional on Chequamegon Bay and Teigen has the pulse of this fishery.
Summer Smallmouth Locations
The key to catching smallmouths during the dog days of summer is understanding productive locations. These locations include looking for current next to steep break lines or deep wood. Average depths to target smallmouth come late July into August seem to be 15-25 feet. Along many of these steep break lines, there is some deeper weed growth that seems to attract fish. Look for stands of cabbage out to 15-18 feet of water. Sand grass can often be found in 20-25 feet of water. These deep weeds will often hold smallmouths through the summer. Deep timber can also be found scattered around the bay, relics of an old timber industry.
How to Target Smallmouth in the Summer
The current often dictates the bite and on big water like Lake Superior. There is always water moving in or out of the bay. Teigen recommends watching the current by using your trolling motor on spot lock. If your trolling motor picks up speed to maintain position, you are seeing a surge in current. You can also see the affect of the current on your line angle. Josh stresses the importance of setting up on good locations and having some patience for some of these current windows to develop. There will often be distinct feeding windows right before the current gets strong or whenever the current changes. The more the current changes velocity and direction, the better the fishing. Wait out these current changes right now to catch fish on big bodies of water over deep structure.

Summer Smallmouth Setup
Like most bays on the Great Lakes, Chequamegon Bay is often relatively clear with excellent water visibility. Teigen recommends spooling up with straight 6-8 lb. fluorocarbon for many fishing presentations over deep structure. Jigging spoons remain a staple for catching these summertime smallmouths that are often keying on shiners. The classic Kastmaster works extremely well but any silver spoon capable of cutting the current can work to catch fish. Drop shotting can also work extremely well and when all else fails, a lively sucker on a live bait rig right below the boat probably catches smallmouths better than any other presentation.
Be sure to checkout Jerkbait Techniques for smallmouth here.
Smallmouth Patterns Shifting into Fall
According to Josh Teigen, these summer patterns will hold into September when the fish finally migrate to some of the deeper shipping lanes. Chequamegon Bay remains one of the top Midwest smallmouth bass fisheries for overall average size of fish. For anglers looking to target trophy class smallmouth bass, this fishery is a premier destination without a tremendous amount of fishing pressure. The vastness of this bay is part of the mystique in that you can find untouched schools of fish.
Learn more about Josh Tiegen and his guide service here.