Shallow patterns are perhaps some of the most fun opportunities of the entire season for chasing pre-spawn smallmouth.  Fish typically push up onto the shallow rock and gravel reefs and bars when the water temps creep into the mid-forties and this bite only seem to intensify as water temps get into the fifties.  Stable weather or warming trends seem to intensify this bite until bass settle on their beds when the water temps reach the low sixties. Using jerkbaits to catch smallmouth bass is often an effective tactic this time of year.
Get the gear from this episode:
Salmo Jerkbait
Spinning Rod
Spinning Reel
Clam Net
Outerwear
Part of the mystique of this time of year is that these fish are fresh and many of these fish haven't been caught or pressured yet this season. Despite the earliness of the season, these fish can be extremely aggressive with presentations like jerkbaits, marabou jigs, hair jigs, and soft plastics like tubes and flukes. We have filmed this fun bite in the past with the most notable experience on Lake Audubon in western North Dakota which is an impoundment off the Missouri River that has a sizeable smallmouth bass population. Once we found the fish, there were times when we caught ten fish on ten consecutive casts working jerkbaits over shallow rock and gravel bars protruding from the shorelines.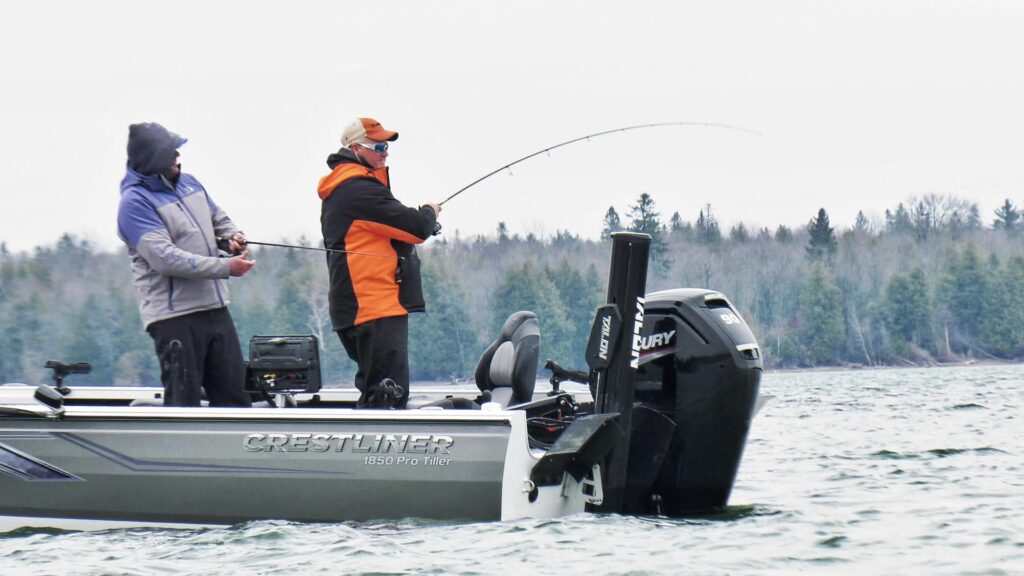 This spring, we filmed an episode with Brett Alexander on Green Bay out of Wisconsin's famed Door County. This particular region of Lake Michigan might very well be home to some of the best smallmouth bass fishing on the planet. Anglers routinely catch smallmouth over seven pounds each year but the number of fish over five pounds is shocking.
Brett Alexander is a renowned full-time guide on Green Bay who spends a tremendous amount of time targeting smallmouth bass. We caught countless bass with jerkbaits and while all the presentations are fun… I'm not sure if there is anything more fun than a great jerkbait bite for these brown bass.
Like many spring smallmouth bass fishing opportunities, finding spring bass is often done with your temperature gauge. When we fished Door County, we targeted bass in the back ends of bays that typically had an incoming river or creek that was dumping warmer and stained water that bumped up the water temps significantly. This pool of warmer water was significant and contrasted greatly with the cool and clear water in the larger bay. Strong winds would push this plume of warmer water around or define it but finding the warmest water was typically the key.
I made a comment on the episode that one of the biggest observations I had while filming with Alexander was the importance of water temperature. You need to find fish with the temperature gauge as fish often won't show up well with side imaging when the fish are over boulders and rock. Shallow reefs and rock or gravel typically concentrated the fish and the fish are too shallow to ever drive the boat over to find with traditional 2D Sonar or Down View Sonar. In some locations, we might have had the boat in five to seven feet of water and casted in shallower. Other locations were only three feet of water and less.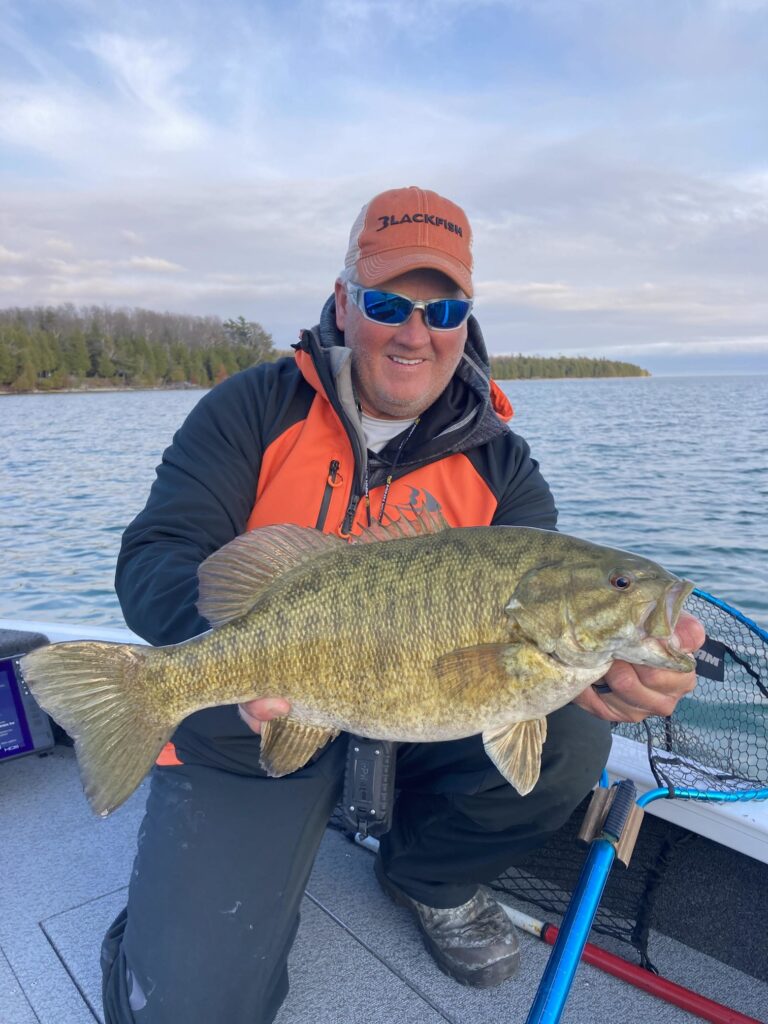 If you drove over the top of fish or got too close, you pushed them off the spot so long casts are important. Many GPS maps will show you the general reefs and contours but much of this shallow water can be expansive and flat. Finding fish during the pre-spawn is often all about finding the harder bottom and scattered rocks and boulders. Fish heads like Brett Alexander often make a point to look through the areas with polarized glasses during calm conditions to mark out the best locations so that they can later fish these areas while keeping the boat off the spot. This general pattern mimics what we have seen across the Midwest but what makes Green Bay and Door County different is the size of water and the influence wind velocity or wind direction can have on water temperatures and fish location.
We would typically creep across these locations by drifting in conjunction with spot lock. We would make long casts ahead of the boat and would spot lock every thirty yards to work a location. We would also spot lock whenever we hooked up with a fish as the fish often ran in packs. Many of the fish would come at the end of the cast as you couldn't get near the fish with the boat.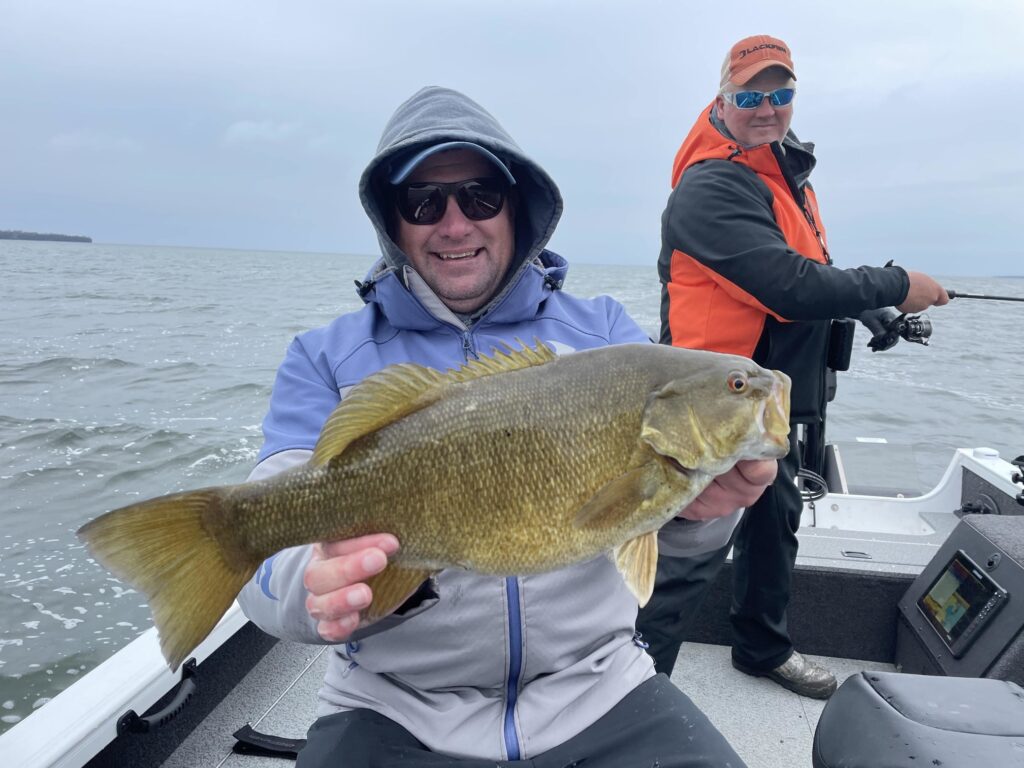 There are many ways to work jerkbaits but the most productive cadence early in the year for bass often incorporates a pause with the lure.  A common cadence is a classic snap, snap, pause.  When fish are aggressive, a short pause is often all that is necessary but longer pauses and a slower retrieve is often necessary to trigger fish in this cold water.  Some of the strikes on the pause are violent.  We had tremendous success using the Salmo Rattlin' Sting which is a phenomenal jerk bait for both smallmouth bass and walleye that is one of our absolute confidence baits.  This lure has a weight transfer system that enables extremely long casts.  Productive colors were predominately natural minnow patterns that incorporated a black or purple back like the Table Rock Shad, Clear Shad or Ozark Shad patterns.  A hard snap will cause the lure to slash out to the sides almost turning ninety degrees while the lure hangs horizontal on the pause.
To enable long casts and getting good action on the lure, I like to use a thin braid like Berkley Nanofil but use a three-foot fluorocarbon leader that is eight-to-ten-pound test.
When working these locations, be conscious of the effect the boat will have on bumping fish. Drive wide around the locations you want to fish when you get set up to make another pass or drift. Attempt to drift or work over new water on each consecutive pass through a spot. If you do take the same line, mix up your presentation by perhaps starting out with the jerk bait but switching up to hair or soft plastics on the second pass to give the fish a different look.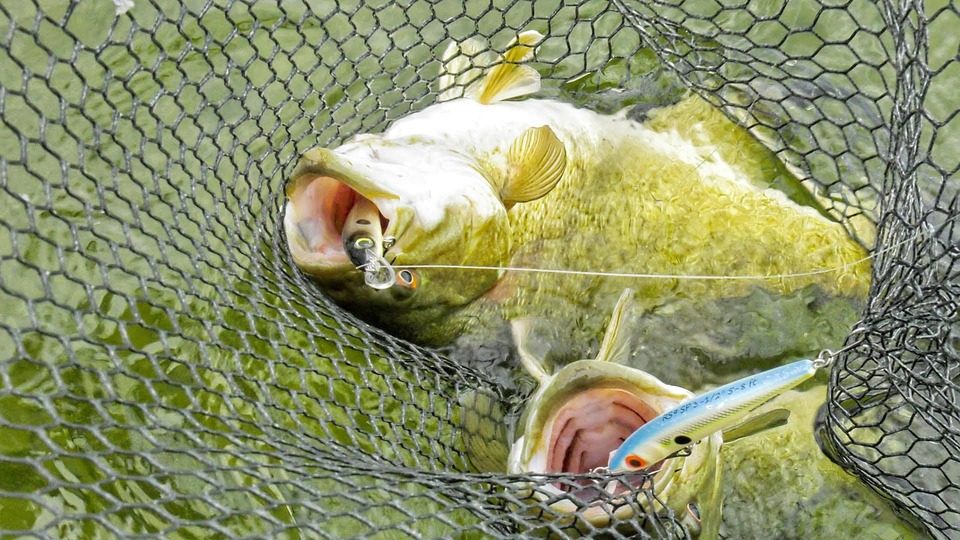 The jerkbait reigns king for covering water faster and triggering aggressive fish but other presentations like hair jigs, marabou jigs and tubes complement the hard baits. The hard baits seem to shine if there is a slight stain in the water.
I bet if you were to poll twenty hard-core smallmouth bass anglers and ask them what some of their absolute favorite bites are each year, I would have to think pre-spawn smallmouth bass on jerkbaits would rank towards the top of any list. A smallmouth bass on any presentation is fun but a good jerkbait bite is about as good as fishing gets.