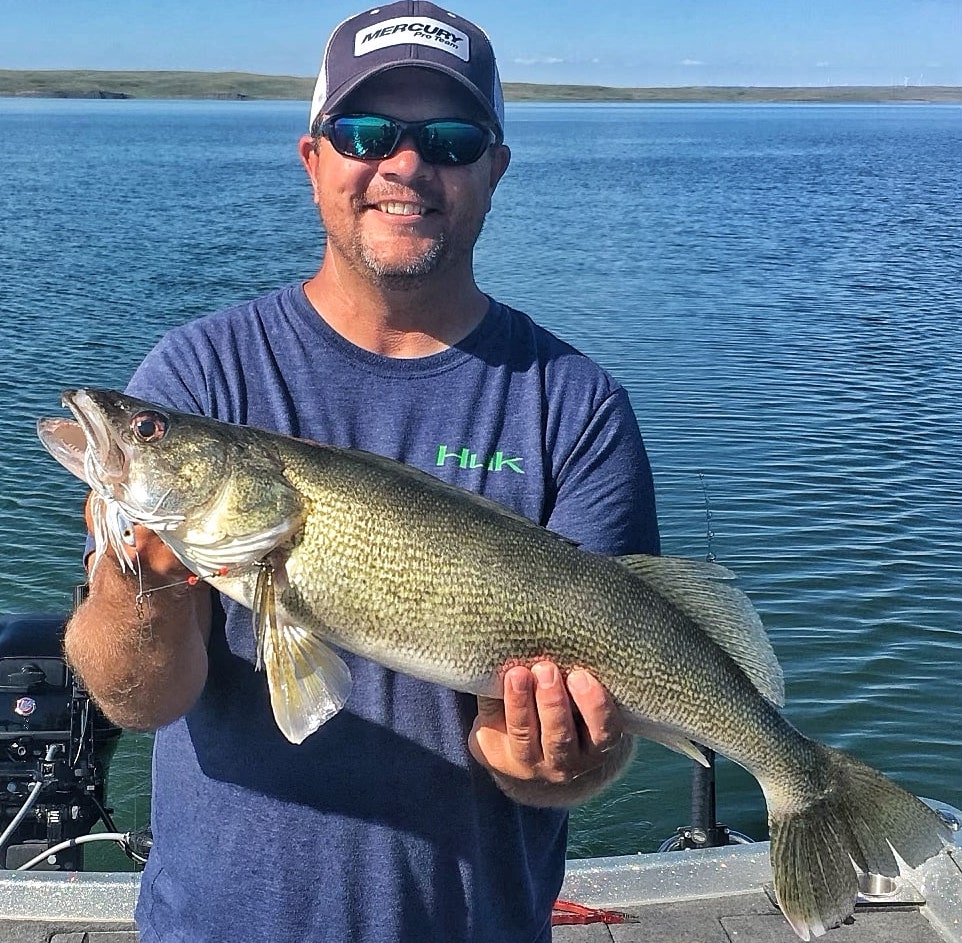 Brent Kemnitz owns the Mo Rest Motel with his wife Kelly in Mobridge, South Dakota, and has guided on Lake Oahe for several years. We picked the brain of this veteran guide on trolling deep timber in Lake Oahe. Over the past decade, many tournaments have been won by anglers trolling the numerous deep tree locations located up and down this Missouri River reservoir. These deep tree patterns can be difficult to fish but often account for some of the larger walleye caught in this particular system.
"Currently, we are finding a lot of fish in 35 to 40 feet of water and these deep tree patterns can be good through the summer and last well into September," explains Kemnitz. Before Lake Oahe became one of the largest reservoirs in the United States. The Missouri River was lined with stands of enormous cottonwood trees. Many of these deep stands of cottonwoods are still underwater and line the old river channel. Many of these old trees remain and often stand 25 to 40 feet tall. How much water that covers these trees can vary from year to year depending on how much water is in the reservoir.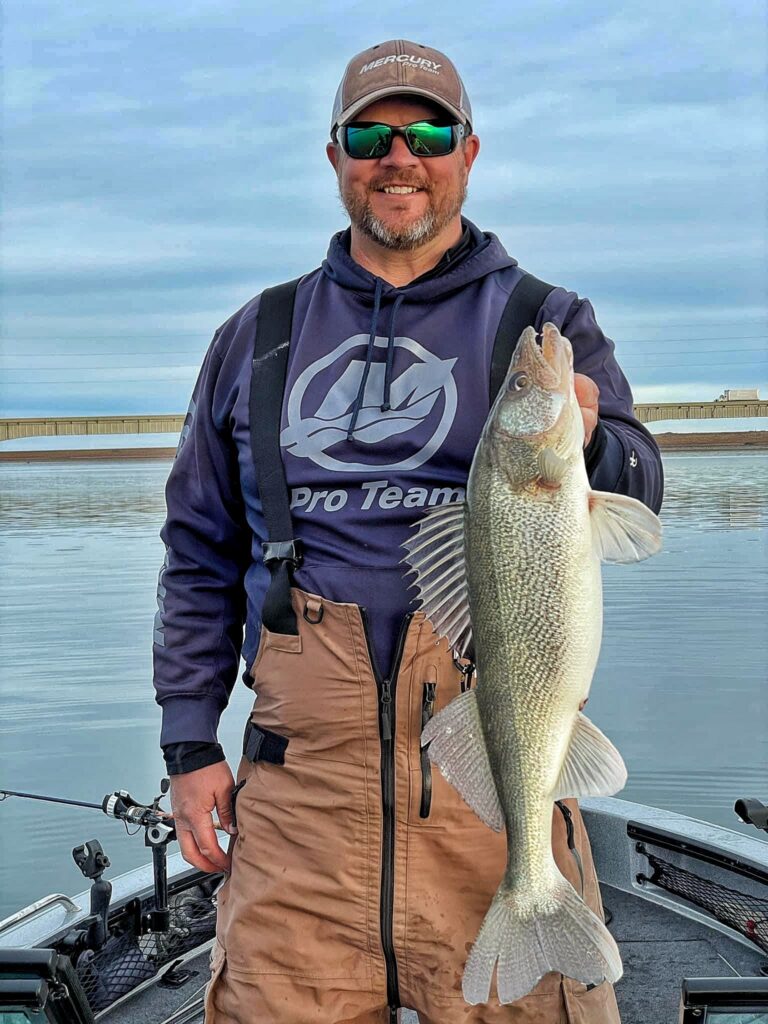 "You will often mark a lot of baitfish around these flooded trees, and we are finding a lot of bait along the trees north of Mobridge right now. Typically, you will also mark walleye with your electronics, and you are basically trying to find the depth where you are seeing the most signs of life, not just a depth but where the fish are positioned in the trees," adds Kemnitz.
This is a situation where down view working in conjunction with side imaging is more useful than traditional 2D sonar. The down view in particular will show you a more detailed picture of the deep timber. Down View will actually reveal the trees and branches in part because the sonar cone is much narrower and more focused. Where as 2D sonar uses a much wider cone angle that can distort the image where trees can look like large schools of baitfish or might not look like an obvious tree. Side Imaging can also be useful for seeing the forest for the trees especially when trying to troll or fish the edges of this deep timber.
According to Kemnitz, anglers can troll over the tops of the trees, but you need to have your trolling program dialed in or you will lose some tackle. The other options include trolling the outside or inside edge of the trees. How fish set up in these trees can vary from day to day and is often influenced by current. Relative to many other patterns happening on Lake Oahe, the average size of fish is often much nicer if you can effectively fish this deep timber. Note however that these patterns are not for everyone. You can lose a lot of tackle and these patterns don't always produce numbers of fish. You have to be comfortable catching fewer fish, but you increase the chances of catching a big fish dramatically.
Kemnitz often attacks these trees with deep trolling tactics by using both snap weights and lead core. Six-ounce snap weights are used to drop a couple of crankbaits right below the boat and lead core is used to get crankbaits deep behind the boat. Popular crankbaits include Flicker Shads, Flicker Minnows, Bomber 24 Long A, Shad Raps, Jointed Shad Raps with popular colors including white, purple and chartreuse themes. Kemnitz also stresses that most days, he catches more fish trolling upstream.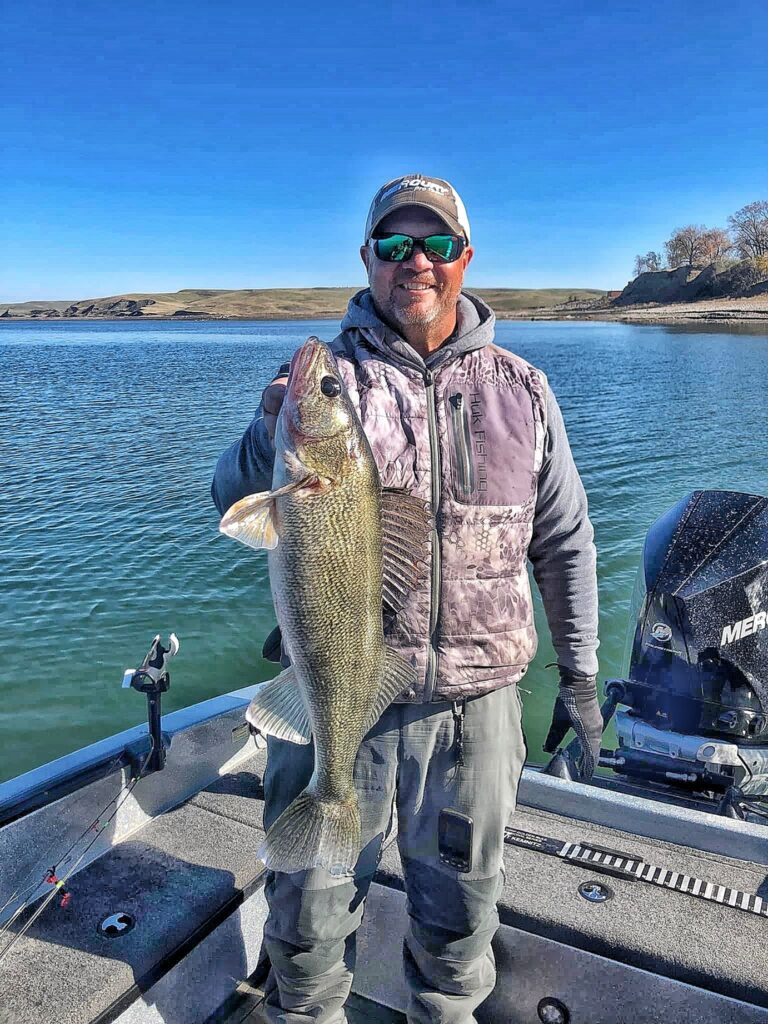 According to Kemnitz, these are a couple of specific tree patterns on Lake Oahe, and he characterized these patterns as new growth trees or old growth trees. The old growth trees explained prior in this blog are the big old cottonwood trees that are typically in deeper water near the old river channel and these trees were flooded during the construction of the dam. These trees are typically big, tall and don't have as many branches. The new growth trees are the trees that are typically in shallower water and grew during low water cycles over the last forty years. These new growth trees can be three-foot saplings or can reach heights of fifteen feet or more but typically have more branches. In some ways, the new growth trees can be more difficult to fish because there are more branches, and the branches are often more flexible.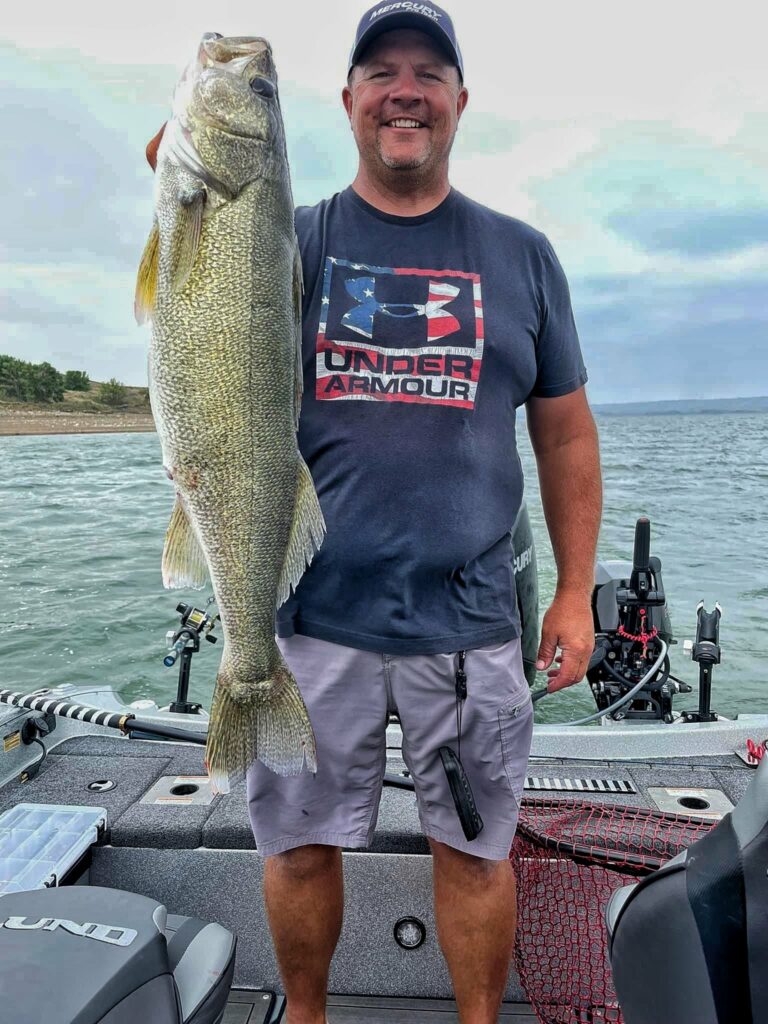 These shallower tree locations can also hold walleye on Lake Oahe. "For myself personally, these new growth trees that have a lot more branches can be much more difficult to troll crankbaits so that is a situation where I have caught nice fish by trolling spinner baits with lead core line," explains Kemnitz. The spinner bait program behind lead core line is often used by anglers on Lake Oahe to target fish whenever the snags get so bad that trolling crankbaits becomes too difficult and expensive.
As a rule of thumb, trolling along the flooded trees on either the outside or inside edge is much easier than going over the top but there are days when anglers willing to troll over the tops of the trees catch bigger fish… just be prepared to lose more tackle when you do so.