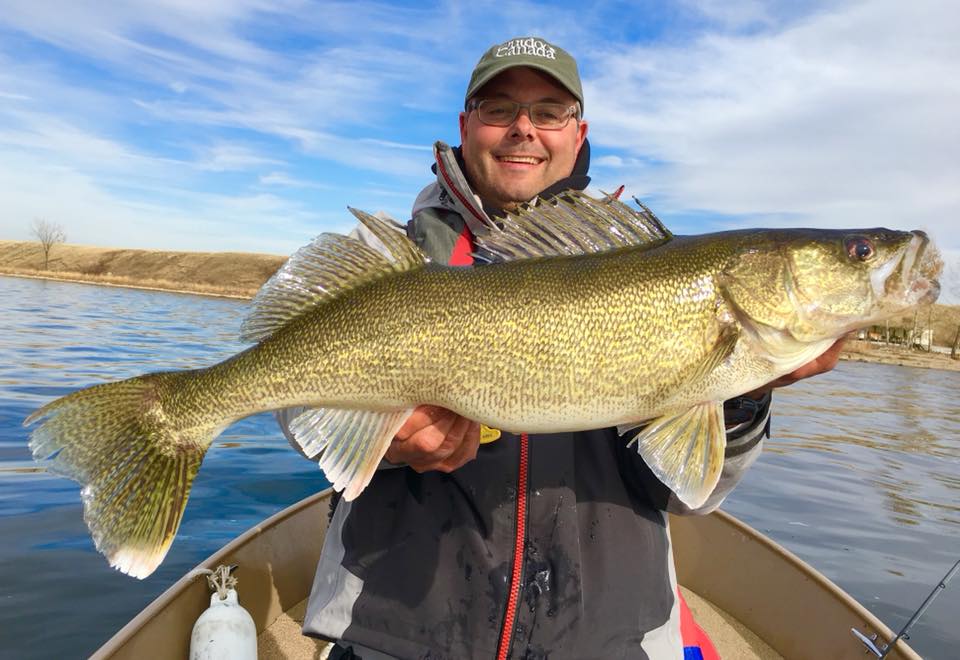 Each year we're flooded with the latest and greatest tackle. Seems like every time you turn around some fishing manufacturer is promising the best thing since sliced bread, typically in language like "absolute fish-catcher".
But there are far too many lure offerings each year to try to them all and gather first-hand experience. Seriously, there'd be no money for groceries. Been there, done that. Gas station beanie-weenies make bad grub.
The positive? Social media has made it a little easier to separate the wheat from the chaff, with everyday anglers offering their opinions—and sometimes catches—on video for the world to see.
So, we cruise YouTube and Facebook looking for the baits nobody's really talking about—or trying to keep quiet. A lot of times, the real gems that emerge are produced in garages and basements by walleye anglers just looking for a better mousetrap.
So, we read the forums, listen to the podcasts and watch videos with serious walleye anglers, keep our finger on the tournament pulse, and listen when skilled anglers talk—guides especially, guys and gals who are on the water and ice 300 days a year.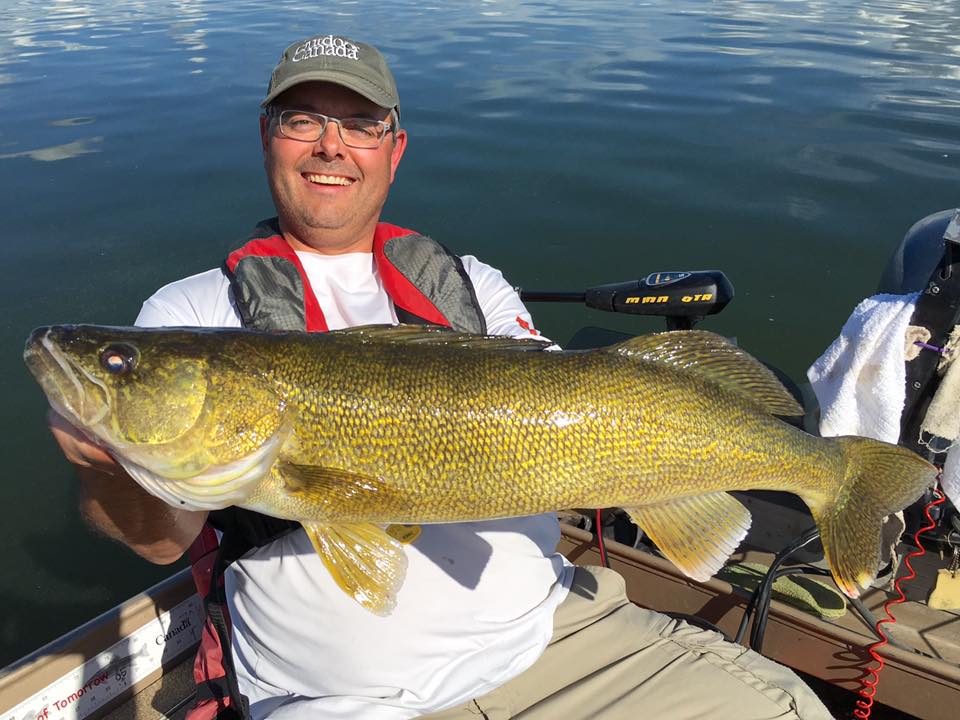 Here are some baits (and techniques) that walleye anglers are talking about, lures and techniques that haven't necessarily gone mainstream yet. Yes, it's an exciting time in history to be a walleye angler.
Are the baits below the next Lindy Rig, Shad Rap, or Tungsten Jig? Probably not.
However, anglers are catching fish on them—which can be a big deal in today's age of forward-facing sonar; clear, invasive-species filled waters; pressured fish; and generally just more angler traffic and anglers competing for the same bites.
In alphabetical order, here are a few new baits and techniques we started playing with last year and a few we've only recently caught wind of, but want to put to the test given things we've heard. We encourage you to do the same.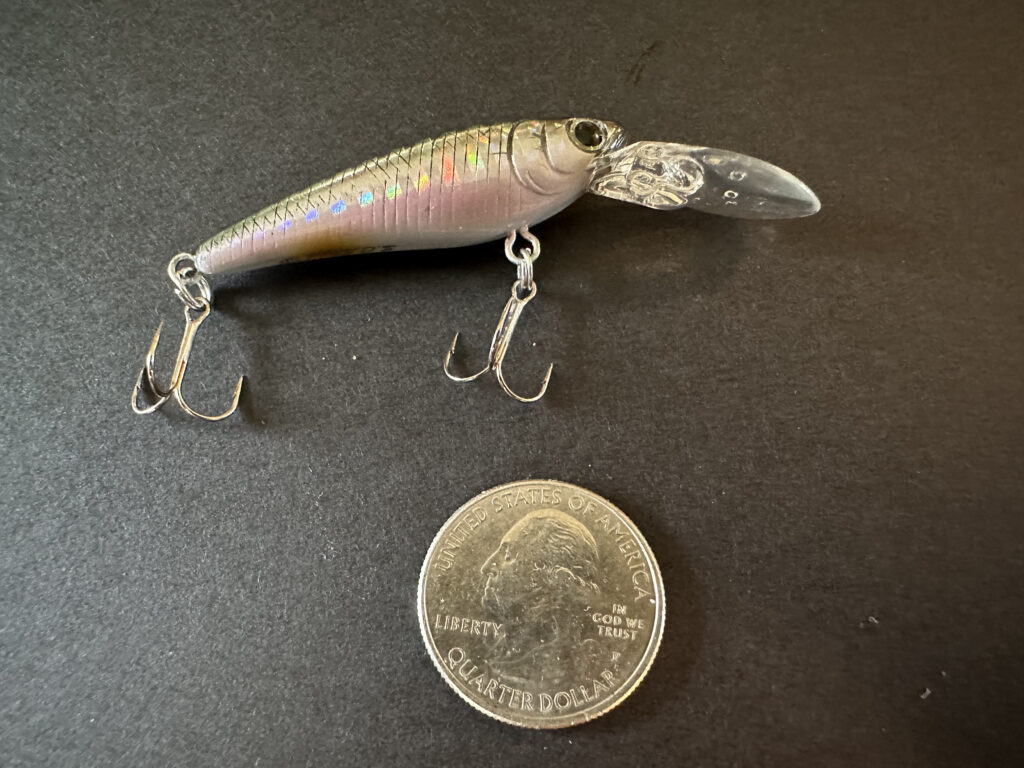 While most of us are used to fishing Shad Raps, Flicker Shads, and various custom shad-bodied crankbaits, there may just be a place for a micro-crank like the new Daiwa SC Shad for tempting neutral to negative walleyes—or fish feeding on small minnows.
Originally designed as a finesse crankbait for use on high-pressured Japanese bass waters, the 2-inch crankbait was introduced stateside earlier this year. Hyper-realistic, the SC Shad comes in six colors (Prizm Shad shown in the pic), dives 3 feet for shallow-water fishing, and features some ridiculously sharp Japanese #12 treble hooks.
We've run into river situations where the smaller minnow you fish, the better. This might just be a good alternative to a jig & minnow or small swimbait when walleyes are hanging right on shore—a lot of times around rip-rap—and feeding on surfacing baby shad or small emerald shiners.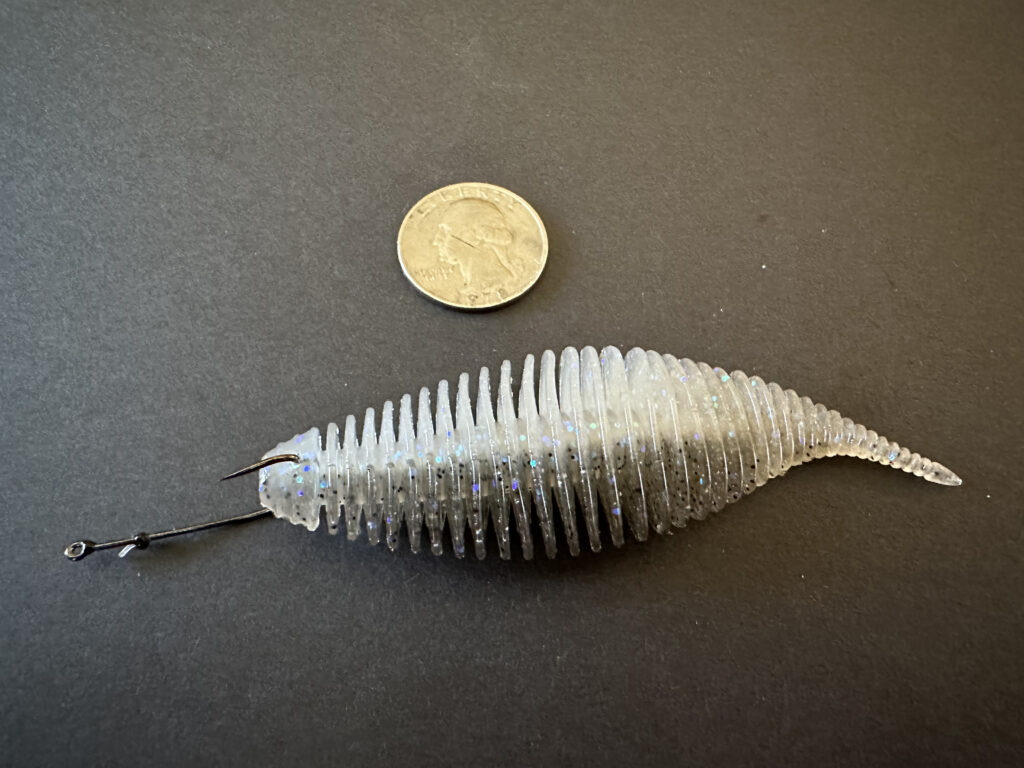 The word's out on this one if you follow NWT/AIM social media and what the pros are talking about. It was this weird-looking Japanese-borne bait in the 2-inch purple/green pumpkin "Bug Bomb" pattern that won the 2021 AIM State Championship on Lake of the Woods for walleye pro Tom Huynh.
Huynh threw the big Bellows Gill in practice (shown in the pic), but says the 2- and 2.8-inch performed better, fished on a 3/16th- or ¼-ounce jig-head.
"These baits are extremely stinky. I'm not sure what they put in their baits but the scent is really good. Plus, the ribs give off a lot of vibration, which was key in the stained water on LOTW," says Hunyh.
Sounds like some anglers are experimenting with the Bellows Gill on a drop-shot, too, fished on a thin-wire Neko Hook, as shown in the photo.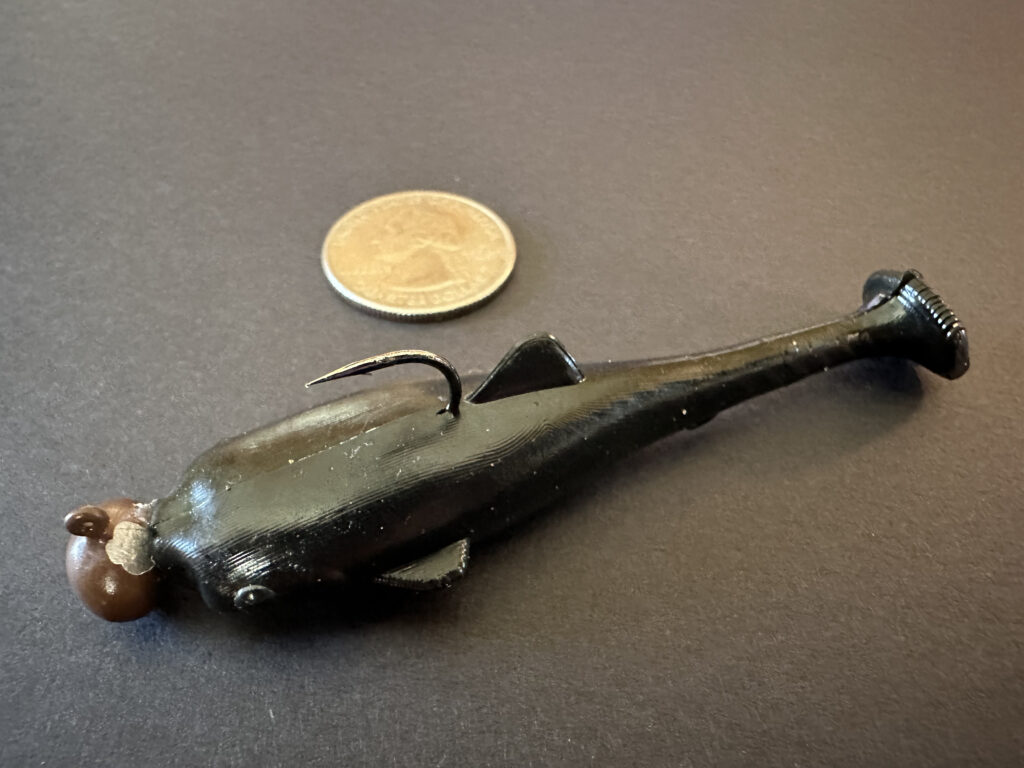 Serious river walleye anglers know that it's hard to beat willowcats for producing walleyes, especially around wing dams, a lot of times soaked on the bottom of inside scour holes.
Problem is: Willowcats are generally in short supply at bait shops, and when dealers do get them in from trappers, they go fast—and for top dollar.
The alternative? Trap them yourself—or consider a soft plastic that mimics a live 'cat—like the Liquid Willowcat Paddle Cat (or Original Willowcat), rigged in the photo on a Northland Fishing Tackle Finesse Football Jig. For even more appeal, dowse them in this scent derived from real, living willowcats.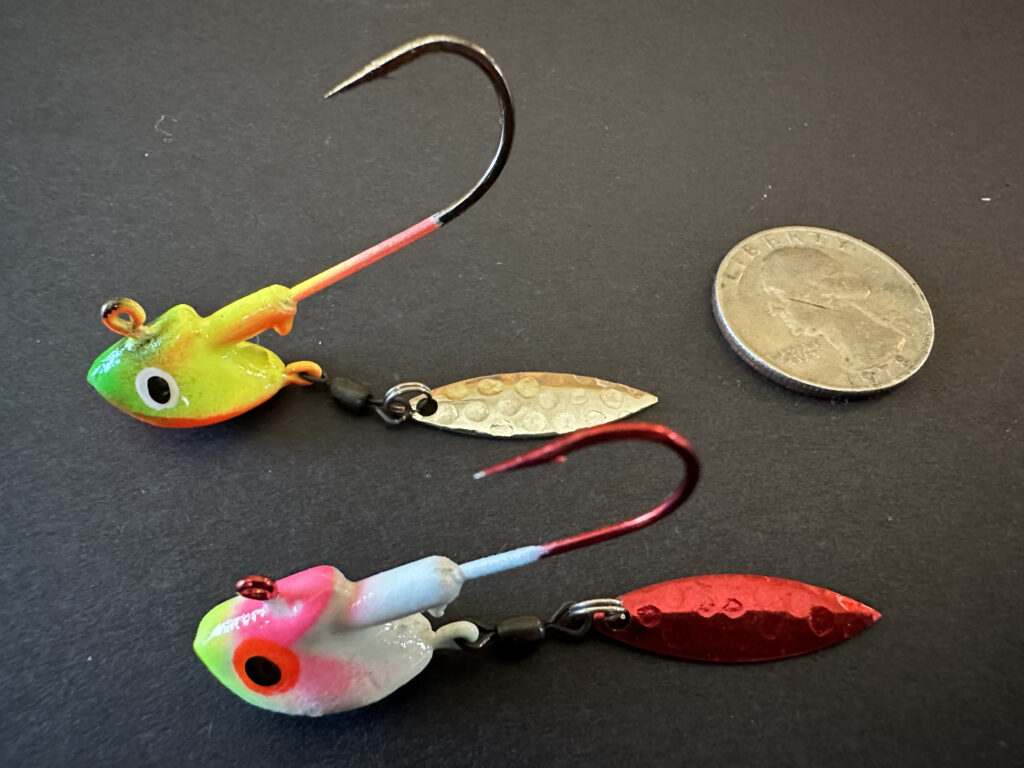 The original spinner-adorned jighead, Nebraska's Al Patterson brought the ReelBait Original Flasher Jig to market after a series of PWT walleye tournament successes spilled the beans on amateur walleye tournament angler Blaine Brown's hand-designed jig innovations back-in-the-day. Brown grew tired of making his own jigs and turned over the design to Al Patterson.
Since, the jigs have been copied by everyone but nothing beats the original—especially his ultra-bright tournament glow patterns, which practically light up the garage. Al is still making them in his home workshop and hand fills orders every day. Al's story is captivating. You can read more about him—and the tackle business—here.
Dressed with live bait or a soft plastic, Patterson's ReelBait Original Flasher jigs just flat-out catch fish. These days, they're still pretty popular in Canada—and through the ice on Lake Winnipeg—and Michigan-based tournament pro John Gillman/partner Kal Ustishen are big fans, too. They've developed a deadly system for dragging soft plastic minnows on Al's jigs to tap big Erie walleyes, letting the stand-up head and willow-blade do most of the work. Another devotee is In-Fisherman's Editor-in-Chief, Doug Stange, who's written plenty about the unassuming jig.
Definitely a bait to add to the collection.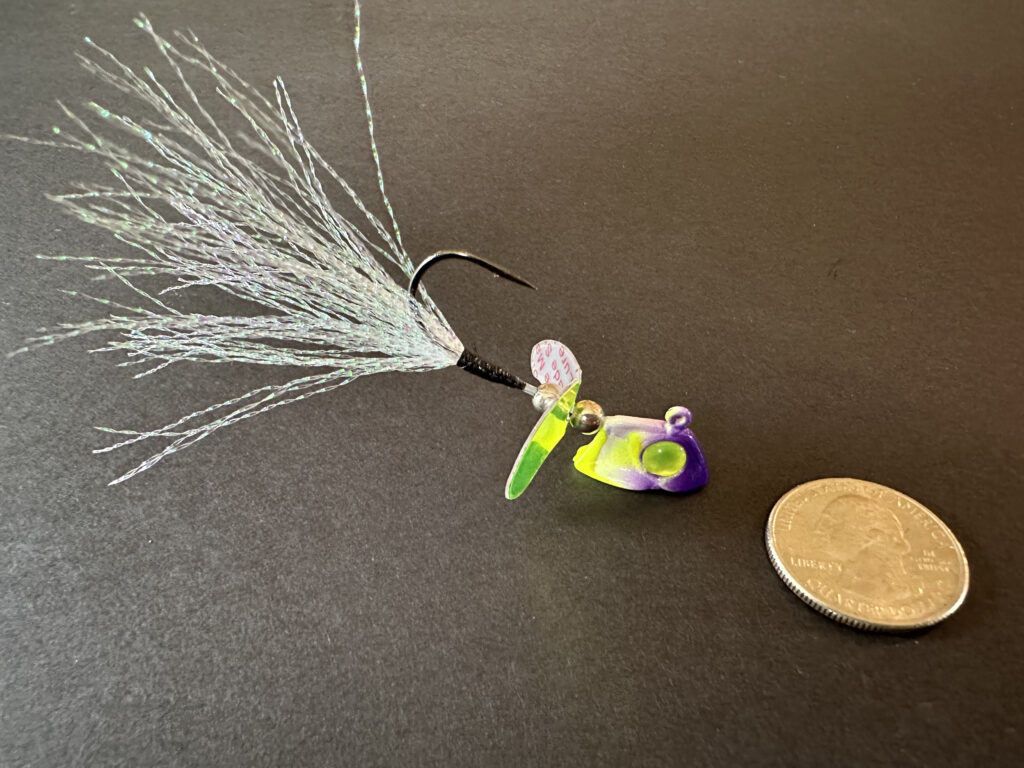 We haven't had the chance to try this jig but it looks pretty sexy. Part stand-up jig, part spinner, part tinsel/flashabou/hair jig, seems like the Ghost Jig could be deadly in certain situations, especially dressed with some meat. But the jury's still out.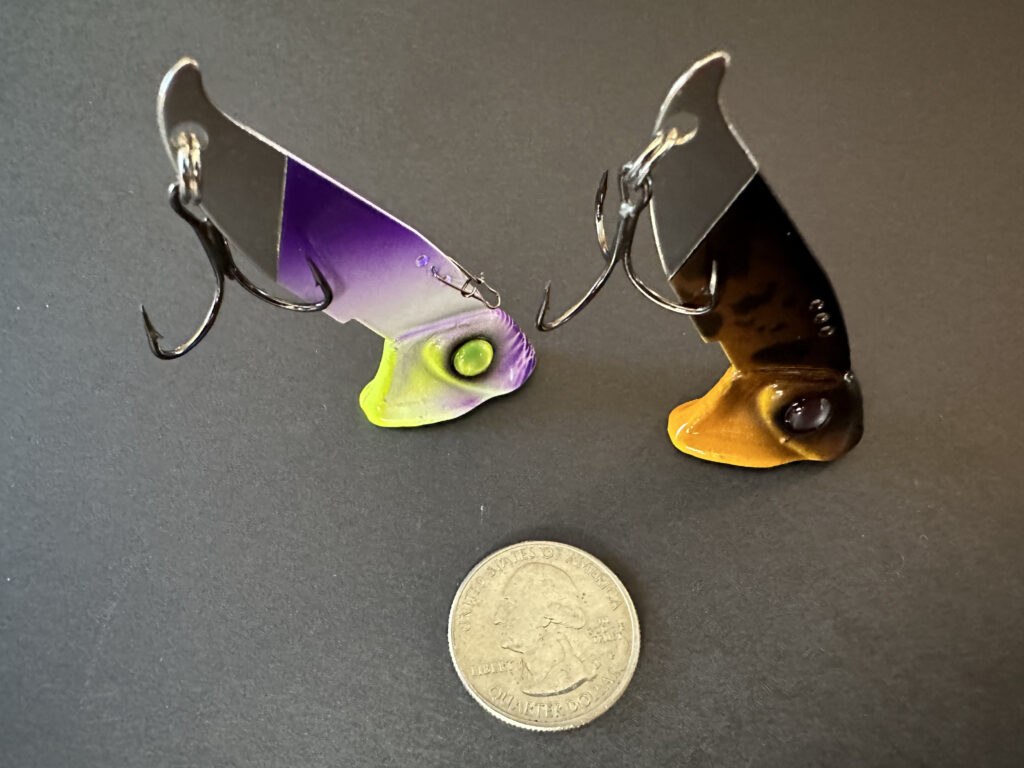 Created by the same company as the Ghost Jig above, we first heard about this stand-up bladebait last fall and checked in on their web site a few times before their fast-selling stock was replenished. Again, we haven't fished them yet, but if sales are any indication, somebody's catching walleyes on them.
BTW, the only place to get the Willowcat pattern in Vertical Minnow is here.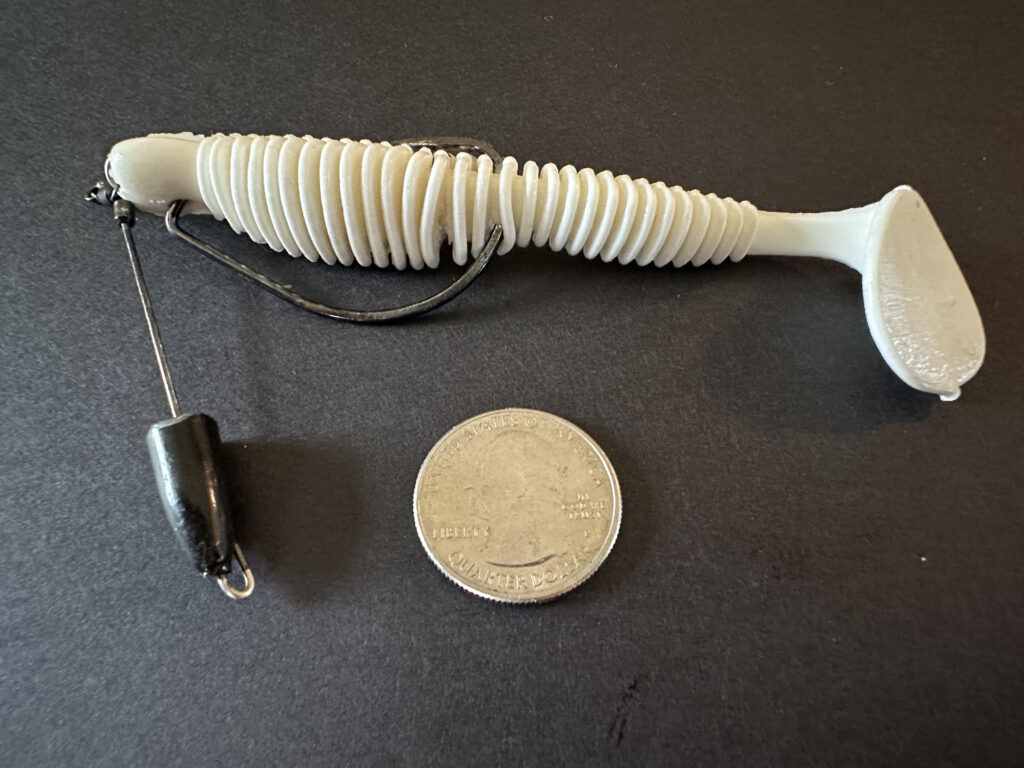 With origins in Japan, what was originally called the "Cherry Rig" and meant as a finesse bass technique with a short, fluorocarbon (versus wire) dropper with weight, was introduced stateside as the "Tokyo Rig" some years ago.
Near as we can tell, along the way, the finesse approach was turned into the weedy-bottom-slithering and cover-punching "Tokyo Rig" by VMC and bass pro, Mike "Ike" Iaconelli.
With many lakes now filled with Eurasian Milfoil and more walleyes relating to vegetation, anglers like Jeremy Smith and Jim Lindner have adapted the Tokyo Rig to walleye fishing (as seen in this video) with great results.
Haven't played with it yet? You might just want to give it a shot this season.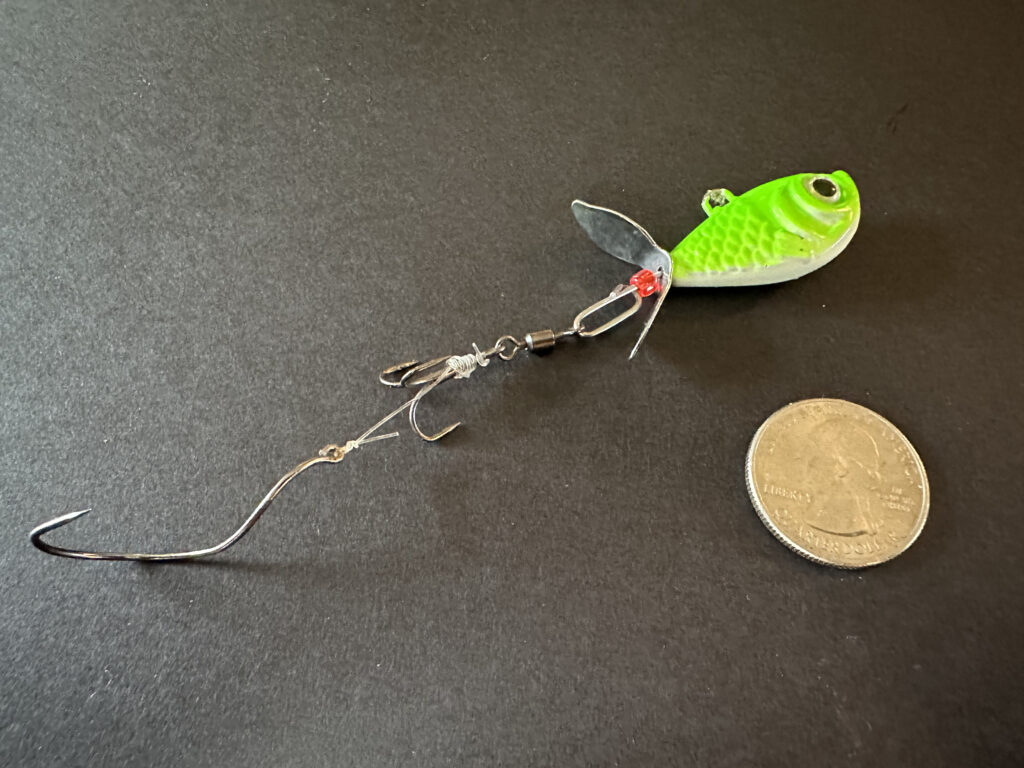 Another hybrid bait of sorts, Walleye Nation Creations' Death Jig seems to be producing walleyes in a lot of different situations. An ol' Erie Dearie-looking combination of jig, Slo-Death rig, and umbrella spinner, we've heard they're catching loads of fish in South Dakota, although anglers are fishing them all over the Walleye Belt.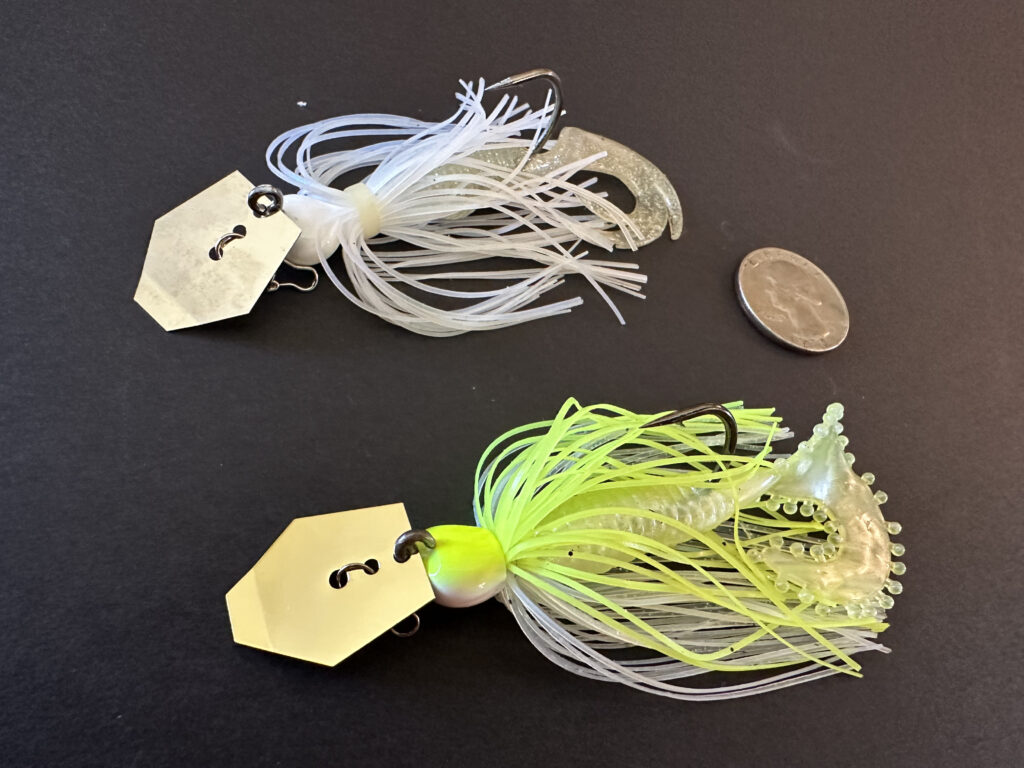 Anglers like Pennsylvania's Dylan Nussbaum (youngest ever to win an NWT event at 20 years old) to Dakota Country magazine's Mort Bank have been throwing ChatterBaits for walleyes over the past couple years with positive results. Watch social media and you'll find lots of other walleye anglers playing around with the ChatterBaits, too.
Rather than fish a full-size ChatterBait or JackHammer, our plan is to put the ChatterBait Mini and MiniMAX to the test this season, especially on stained waters.
What's the difference between the MiniMAX and the ChatterBait Mini?
According to longtime fishing writer and walleye-head, Cory Schmidt (now Z-Man's marketing dude), the ChatterBait Mini is a small, basic ChatterBait available in a few colors and sizes. In response to positive feedback from anglers, Z-Man made a few changes and introduced the MiniMAX, adding a premium hook, better balance overall, and lots of colors to choose from.
While Schmidt throws the lures on a baitcaster, you could fish them on a spinning rod, too, which we plan to do.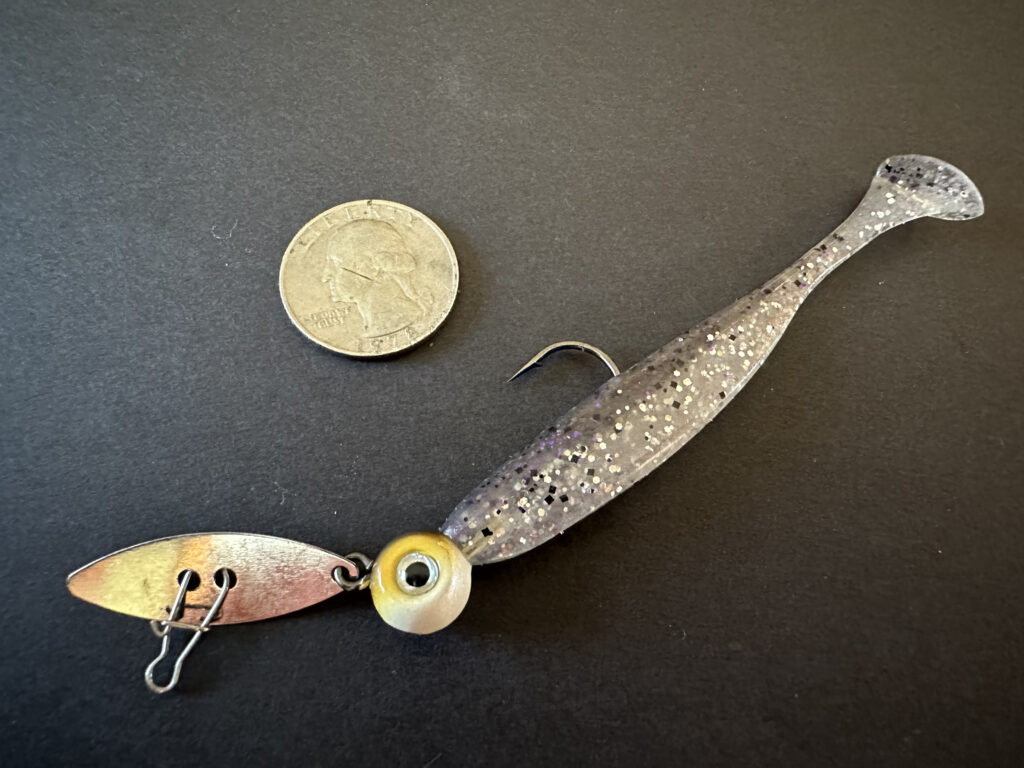 Basically a naked, skirtless bladed jig/ChatterBait—but with a different blade shape—we put the WillowVibe on the Mississippi River last season and caught walleyes.
Once again, young NWT angler Dylan Nussbaum, a self-confessed "bass fisherman for walleyes", is catching loads of walleyes power fishing this Z-Man bladed-jig design.
"The concept of a bladed jig makes total sense for walleyes—a fish known to track the flash and vibration of its prey," says Nussbaum.
"Slowly dragging the ChatterBait WillowVibe with a Slim SwimZ or MinnowZ trailer along bottom—pumping the rod to activate the blade and detecting its vibrations—is becoming a cool new way to trigger walleye strikes. I've been working the 3/8-ounce version in 5 to 10 feet of water, sometimes just straight-retrieving it fast enough to keep the blade humming along. Can't wait to throw this combo in the Missouri River and other stained water environments."