It's no secret the jerkbait is deadly in the cold waters of early spring. The ability to work it very slowly triggers even the pickiest bass. However, pre and post spawn bass can't resist them either, and there's one secret that gives any brand jerkbait the most erratic action possible.
Before getting to that, let's quickly talk about where and when to throw a jerkbait, and what gear to throw it on. The best part about using a jerkbait pre and post spawn is that it's generally fished in the same areas. Mid depth weed edges near the spawning grounds. When beds start popping up and small male bass are up shallow, the bigger female bass will stage in slightly deeper water, out from those spawning grounds. Points, humps, and initial break lines are great areas to fish a jerkbait. Especially if they also have weed lines. Casting shallow, work the jerkbait over the tops of the weeds, being sure to make contact with the tops if possible. A one, one-two cadence is all you need, and adding a one-two-three every now and then. The colder the water the slower you want to work the lure.
The majority of anglers use a baitcasting setup, but some prefer spinning gear. There's no wrong answer here, it's personal preference. A 6 ft 10 inch to 7 ft medium heavy, fast action rod does the job well. 12-15lb braided line to a 10-12lb fluorocarbon leader gives you the sensitivity of the braid, and the invisibility and abrasion resistance of the fluorocarbon. A 7.3.1 reel is slow enough so you won't go too fast, but fast enough to quickly pick up line after working the lure or if a fish really crushes it and pushes it towards you.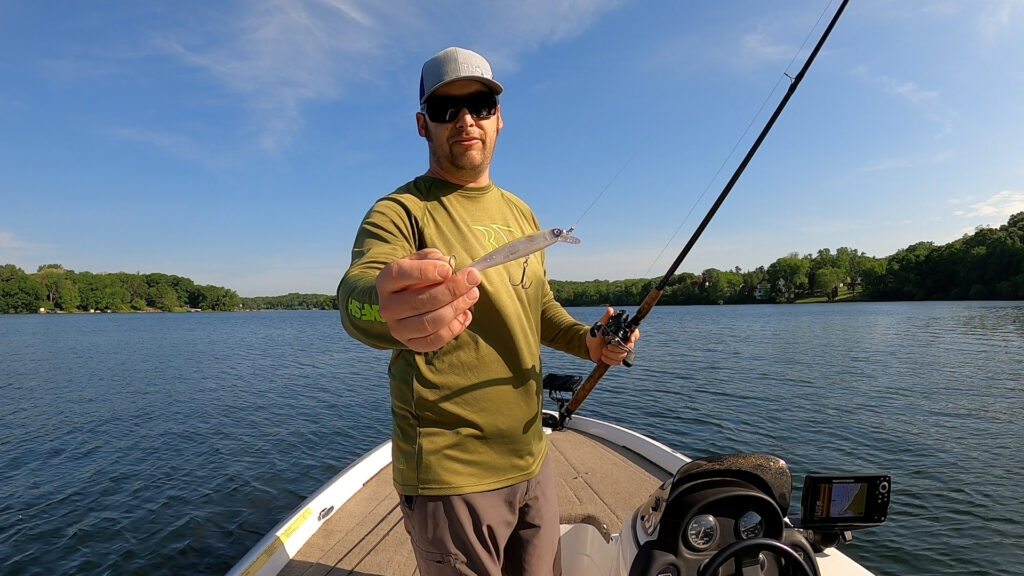 Everybody makes a solid jerkbait these days. Strike King, Megabass, Rapala, Berkley are some of my favorites. In my opinion these have the best action right out of the box. Megabass Vision 110 being the pinnacle and the Strike King KVD Jerk being the best budget option in my opinion.
This next little secret can make all the difference in the action of your jerkbait, no matter the brand. Using a downward jerk, allow the rod to fully recoil or bounce so that your rod tip is pointing back in the direction of the lure. You always want a little slack in your line while jerkbait fishing, but this extra step will give your lure the maximum amount of action possible, slashing to the left, right, and even a full 180 degree turn. Bass cannot ignore a jerkbait with that much action.
The next time you're out on the water, let that rod fully recoil and see how much more action your jerkbait has and how many more fish you catch because of it!