Veteran Northern Minnesota Guide, Tom Neustrom, Talks Summer Walleye Tactics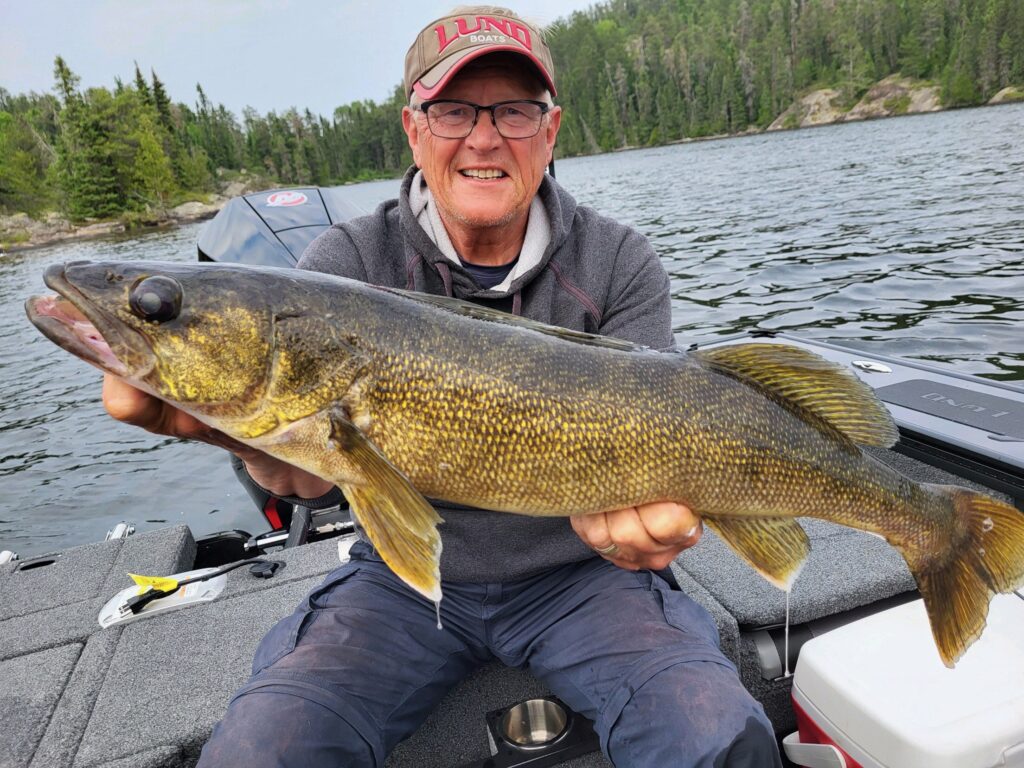 Grand Rapids, Minnesota-based National Hall of Fame angler/guide, Tom Neustrom, just returned from a week in northern Ontario on Dogtooth Lake, a destination he's been visiting early each summer for decades. For as long as he can remember, he's made base camp out of Dogtooth Lake Resort.
"This trip was simply unbelievable," chuckles Neustrom. "One day we had walleye fishing you seldom experience anywhere. And what was incredible was the bite happened at 11:30 a.m., although we'd been fishing since early morning. We hit a spot where I've never caught many big fish over all the years I've fished Dogtooth, and in a short period of time we had eight bites and caught six of them. All were over 26.5-inches up to 30 inches. We caught a 26.5"; a 27"; two 29's; a 29.5"; and a 30".
Neustrom says what was so peculiar was the big fish were all in one area about the size of swimming pool. "We couldn't figure it out. It was pretty strange for all of those big fish to be in such a small area," adds Neustrom.
He says the experience gave him the idea of a walleye theory called the "Edges of Walleye Destiny."
"Edges of all kinds are important to fish, so you really need to pay attention to your electronics. For example, what does the transition between sand and gravel look like on Side Imaging? Or, what's the difference between a mud line and rock? Same thing with various weed edges. These edges are where walleyes are going to be in summer," offers Neustrom.
"The strange thing about catching all these big Dogtooth walleyes in such a small areas was we never marked those fish. I used Side Imaging, Down Imaging, and 2D Sonar and the area looked void of live. sometimes we never mark those fish. They had to be bellied into the bottom or roaming the area," adds Neustrom.
"About every third cast we hooked up in the area or missed a fish, but we didn't have any doubles," notes Neustrom.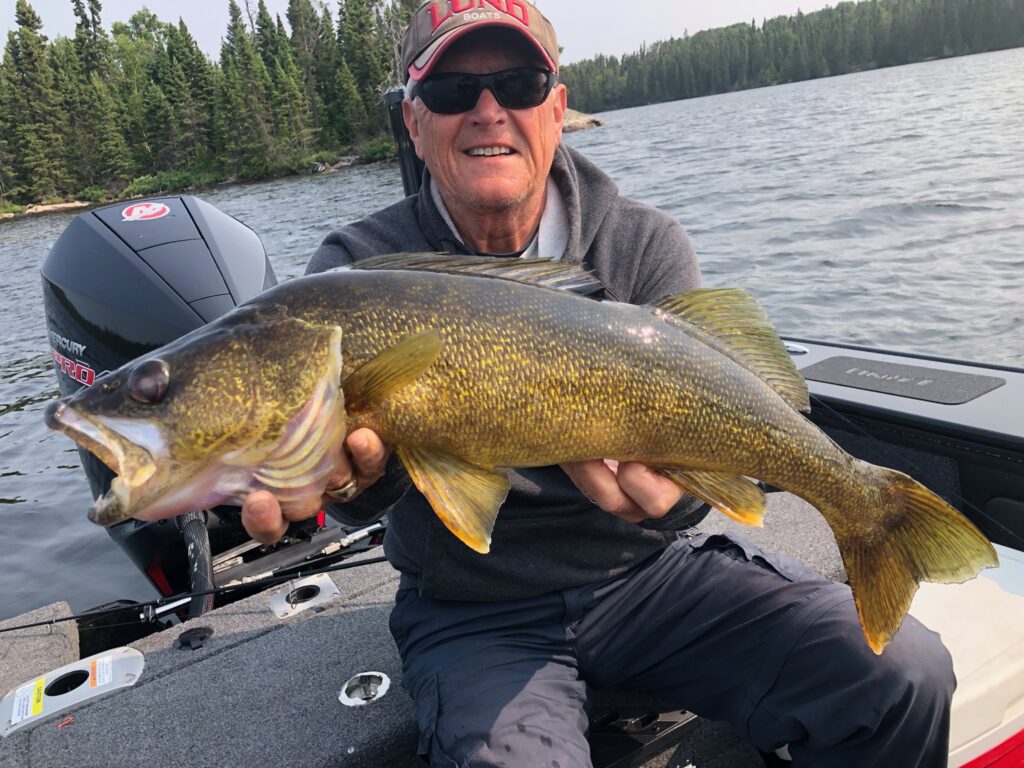 Neustrom's Presentations
Neustrom and his partner caught all the big fish on one particular jig – the new Northland Fishing Tackle Short-Shank Tungsten Jig.
"I think what's particularly interesting about this jig is it has a really small profile so the fish focus on the bait, not necessarily the jig. I started with the longer-shank Tungsten Jig but my buddy, Mike Eilertson, kicked my butt so I switched to the Short-Shank Tungsten Jig."
Besides its compact size, the other thing Neustrom likes about the Short-Shank Tungsten Jig is tungsten's quicker fall rate of fall over lead.
"It gets down to walleyes quickly, especially when fishing deeper, which can also help in the wind. It's the perfect jig to pair with a leech, because with longer-shanked jigs, leeches have a tendency to wrap themselves around the hook shank. I also like the hook on the Short-Shank Tungsten Jig which is super strong and ultra-sharp. It will not bend no matter how hard you try."
Neustrom says that on Dogtooth Lake, "jig color made no difference."
"We were both fishing a lift and drop routine. It wasn't a pop-pop. I fish a jig and leech a lot different than a jig and minnow. pop, pop. I like to just drag it, lift it, drop it, and lift it again, to let the leech swim naturally."
The perfect place to fish this combo? According to Neustrom, edges in bottom hardness.
"The Dogtooth walleyes seemed to be concentrated on the edges of the rocks, but not in the rocks. The rocks transitioned into a flat 5 to 10 yards from the rocks and that's where the fish were concentrated, even though we couldn't see them on electronics. If got farther out than that, we didn't get bit. So you had to be on the edges of the rocks."
In terms of depth, Neustrom and his friend concentrated on 14 to 16 feet, with 14 feet producing the most fish.
More About Dogtooth: Accommodations
Dogtooth Lake Resort is the only resort on the 6200-acre Ontario lake.
"What I really like about it is the walleye fishing is very good, there are some big fish, and you can drive right to their front door without traveling down a bunch of dirt roads," offers Neustrom. "It's only about a half-mile off the main road."
Neustrom adds: "And the owners and staff are great people. This was my 24th year staying at the lodge and fishing. We like to typically go between June 10th and the 17th, but you can catch fish there all year long. We caught just under 400 walleyes for the whole week, including the one days mentioned with six big fish. We've kept a journal over the years and it helps us ech year we visit. One of my buddy's sons has a computer and he writes down how many fish we catch every day, where we caught them, and what we caught them on. We generally release most of fish, keeping a few to eat, but that's about it. we keep a few to eat and that's about it. We're not up there to catch limits; we fish Dogtooth to catch quality walleyes, and it seems like we always figure out the bite."
He calls Dogtooth a "great lake" that isn't all that big, but it's sprawling with a lot of bays and points to explore.
Recommended Gear For A Dogtooth Trip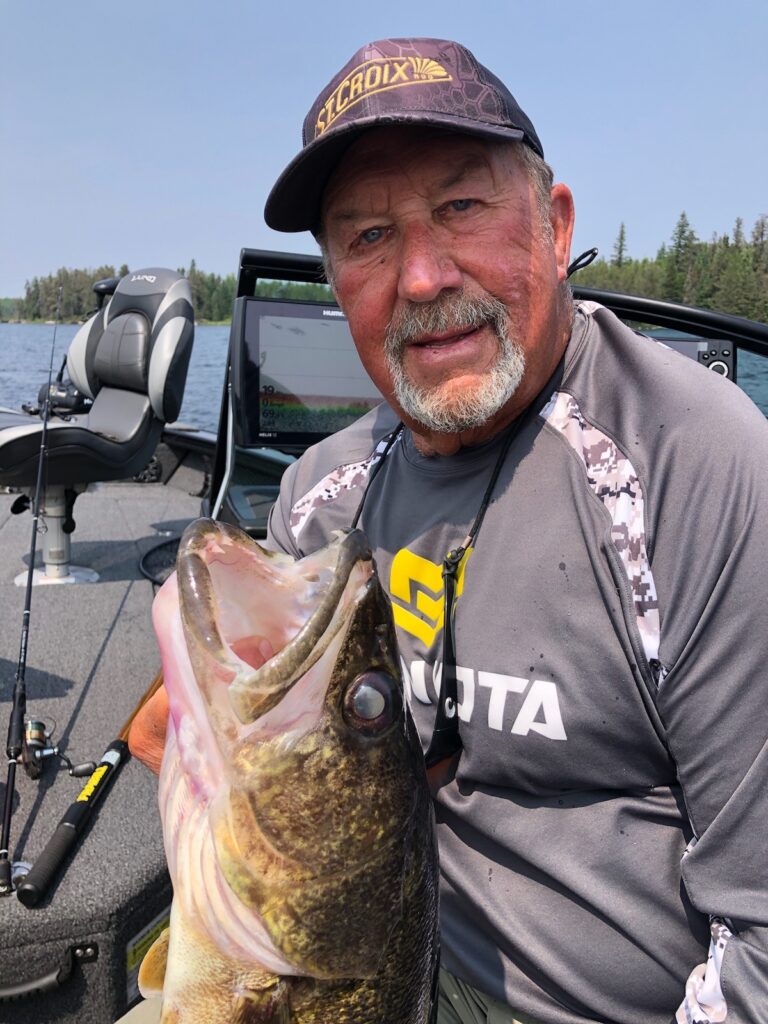 Neustrom generally fishes a 7-foot medium power, fast action St. Croix Legend Elite, which he says is "lightweight but still has a lot of muscle and is good for setting the hook on bigger fish."
He pairs the St. Croix Legend Elite with a 2000-size Daiwa Ballistic spooled up with 8-pound Sufic monofilament. Why not braid and fluoro leader?
"I just like the way monofilament reacts slower fishing jigs and leeches. The only thing is you can bet in trouble fishing rocks," offers Neustrom.
Neustrom adds that they tried fishing Dogtooth walleyes with a slip bobber and leech but "they just wouldn't buy it. We couldn't catch them. We tried it quick, you know, for about probably an hour on two or three days. The walleyes weren't suspending so it didn't really work. They seemed bellied right into the bottom."
They also do a lot of pitching jigs and live bait, not drifting or dragging.
"The really critical thing to have up on Dogtooth is a bow trolling motor with Spot-Lock. That way when anybody hooks up with a big fish—and often there's a breeze—you hit Spot-Lock and stay positioned instead of drifting into the rocks," offers Neustrom.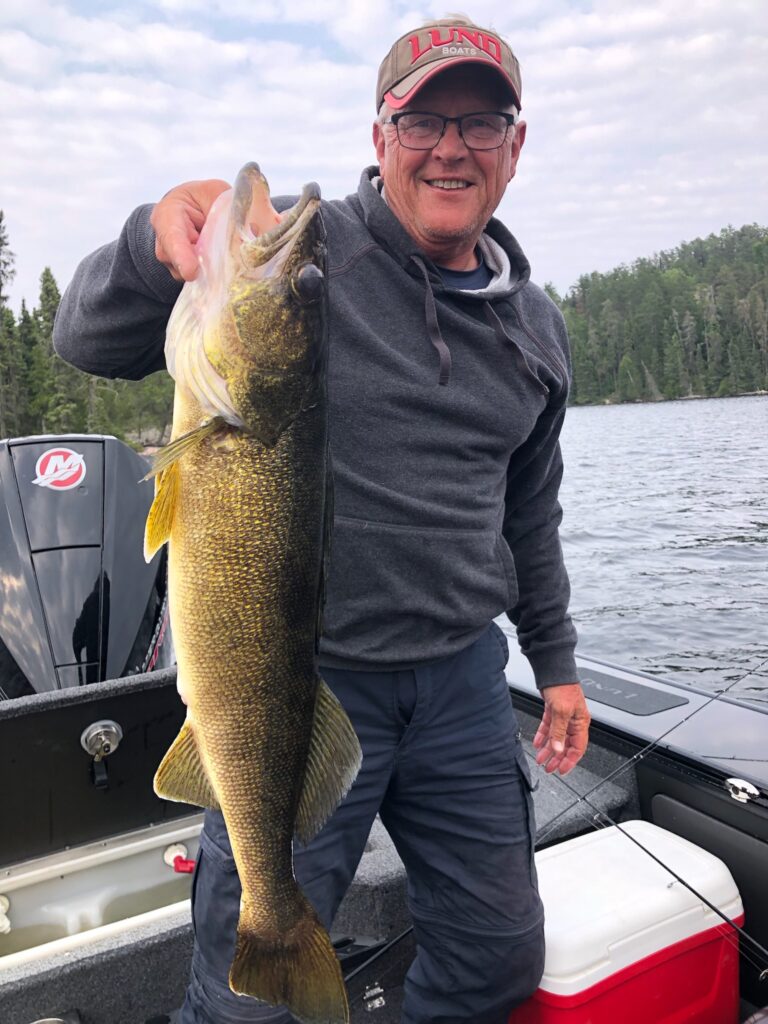 Weed Transitions
"Weed edges are important a little later in summer. Because they're behind us weather-wise in Ontario, that bite doesn't really happen until later than we'd fish it in Minnesota. The weeds grow slower up north," says Neustrom.
"You don't want to actually rip the heavy weed cover on Dogtooth, instead concentrating on the outside edges because the walleyes sit there waiting to ambush anything that comes by. They use the weed edges as an ambush location to feed and also as cover."
"When weed growth emerges, I prefer cabbage weeds. But again, with rocks, sand, gravel, and mud, it's important to waypoint those edges on your electronics and really work over those areas. Even if you don't mark fish, sometimes they'll just lay there and you can't see them. The walleyes might be on the move so a good approach is pitching and working the jig and leech through those areas because walleyes are always on the move along these edges," notes Neustrom.
Neustrom says that edges are "destiny" for catching walleyes.
He adds that after walleyes move away from shorelines in late-spring/early-summer, hatches start to emerge, and fish will move onto humps and bars. And they won't always be on top of the offshore structure; they'll be on the edges, especially on clear waters.
Neustrom suggest anglers look at the edges of bars, points, and sunken islands during summer. Then, if you add wind or some cloud cover, you might find walleyes right on top of the structure.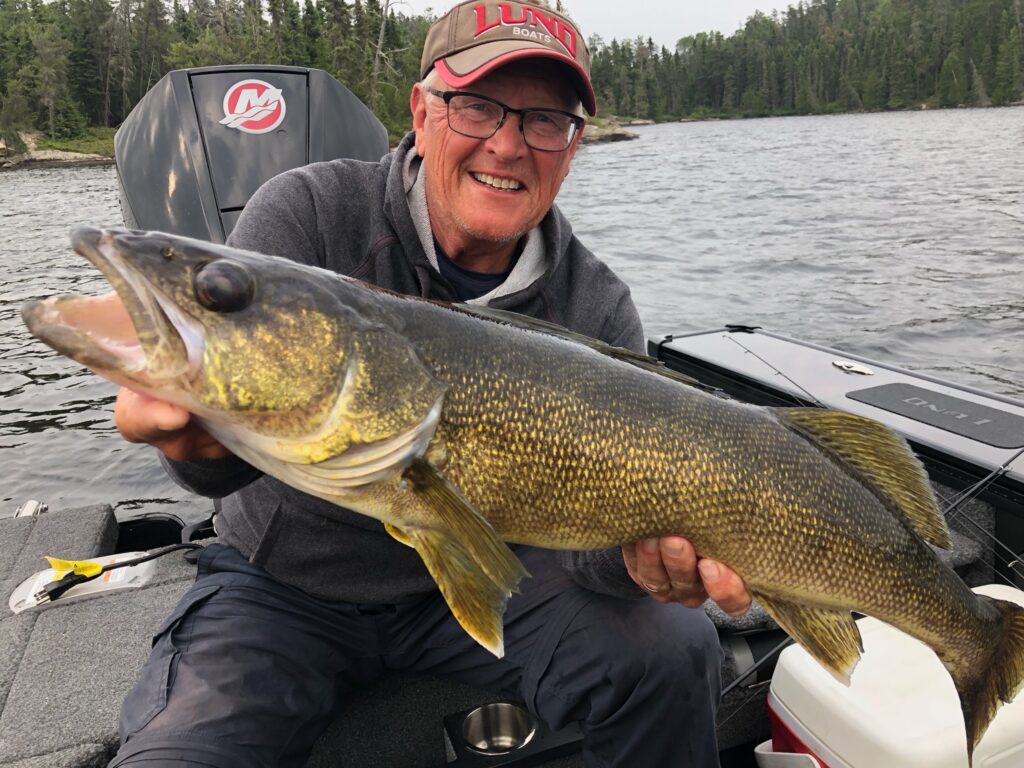 Summary
Take a page out of Tom Neustrom's book, and you might just find that edges are the place to be this summer on the waters you fish—if you haven't been fishing them already.