I'm a junkie when it comes to experiencing world-class walleye fishing. Lake Winnipeg, Rainy River, Leech Lake, you name it… if I get word of a trophy bite I'm there.
That's why when the opportunity arose for me to visit Wekusko Falls a little over a year ago, I took it! I've now been there twice and it just may have topped my favorite ice fishing destination of all time.
MY EXPERIENCE AT WEKUSKO FALLS
My first experience at Wekusko Falls was spent shooting a Gander online episode called "My Great Outdoor Life". I needed a location that would stand out and everyone's suggestion was to visit Wekusko Falls Lodge, a place well known for its incredible views, productive fishing, and great hospitality.
These suggestions proved beneficial as this destination couldn't have been more perfect. From the breathtaking waterfalls to the incredible adventures on the ice, it was the perfect place to showcase the ice fishing experience.
The second time I went to Wekusko Falls was this fall when we filmed with Outdoor Bound TV. Being that it's landlocked and located far enough north, we were able to get on safe ice by mid-November. We also discovered that the bite was insane this time of year – both in the bays and on the reefs.
LOCATION
First, let's talk about location. Wekusko Falls is located in the northern region of Manitoba. It's situated in the Canadian Shield, which is vastly different from the prairie land Manitoba has to the south. This area is filled with rock, lakes, and incredible fishing.
It's also roughly an 8-hour drive from the North Dakota/Manitoba border, where many people cross into Canada.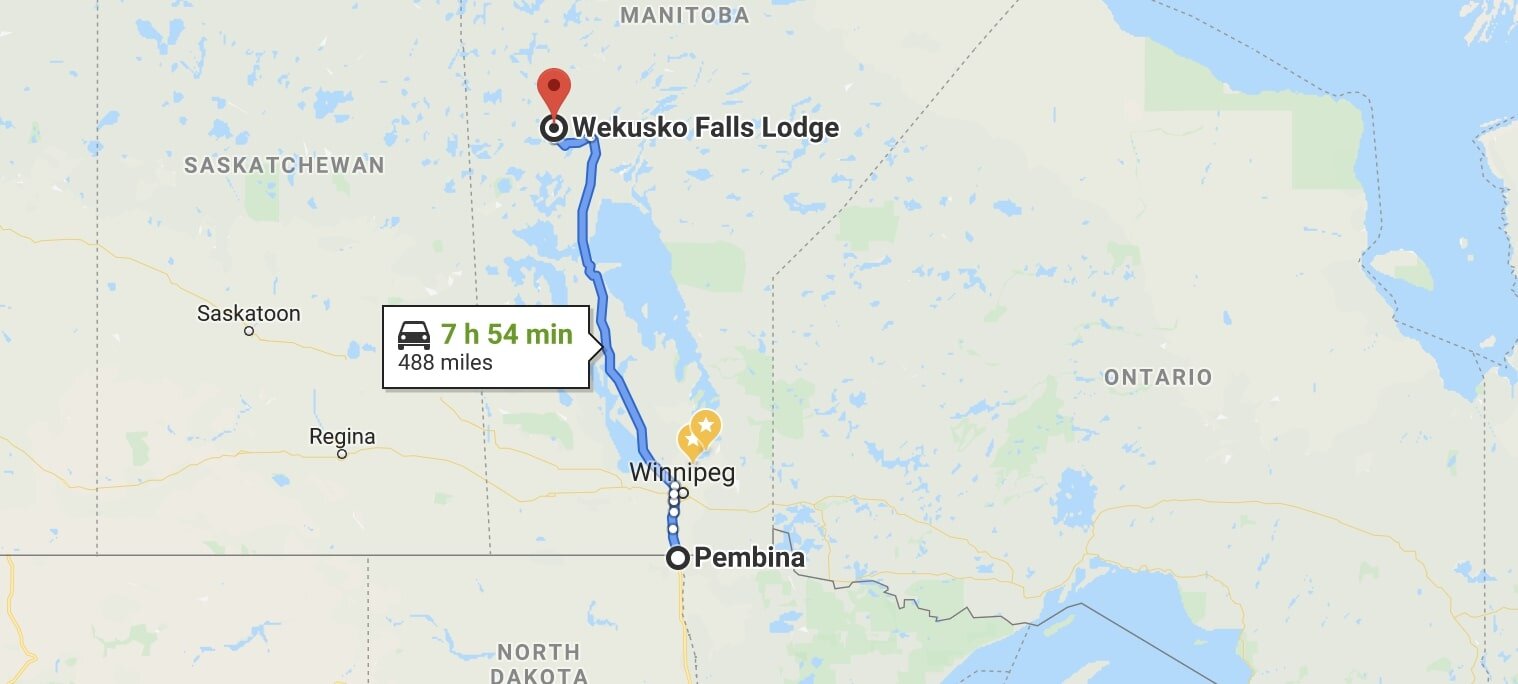 The trek from Pembina North Dakota to Wekusko Falls Lodge in Manitoba.
THE DRIVE
Let me start by saying that yes, Wekusko Falls is a long drive, but it's worth it. After you surpass the Red River Valley, Manitoba turns into a wilderness paradise. The farther north you go, the more pristine your view will be. It's filled with pine trees, lakes, and plenty of scenery.
It's also important to note that the ENTIRE 488 miles from the Manitoba/North Dakota border to Wekusko Falls is pavement. There are plenty of conveniences along the way – making the trek a breeze. After Winnipeg, you will be rolling through some small villages that have gas, snacks, and the occasional subway. It's nothing fancy after this point – but you have plenty of resources for the majority of the drive.
This will be the case until you hit the town of Grand Rapids, where I highly recommend you gas up to make the round trip. There isn't much between Grand Rapids and Wekusko, so between these two distances plan wisely.
PLANNING FOR THE TRIP
Because it was a guided trip, packing was easy. All of the fishing essentials were covered including:
Heated portable ice-fishing shacks
Augers
Rods and tackle (or bring your own)
Transportation
This made packing and planning simple. We brought our favorite items, warm clothes, snacks, and our passports. Everything else was left at home.
However, whether you want to navigate the region on your own, or spend some time on sleds, bringing your own transportation can be an added bonus as well.
Finally, if you do bring your favorite rods, reels, and lures make sure the rods have a solid backbone. These fish have some weight – so length and power are a necessity. Also, keep in mind that your lures will need to be barbless (more on this below).
If you plan on bringing tackle, I recommend you bring plenty of spoons. We spent most of the time using rattle and flutter spoons on our trips.
Snowmobiling can be a fun bonus at Wekusko Falls.
Of course, the best way to determine what to bring, you should check out what they offer here.
YES YOU CAN FLY
For those who have an exceptionally long drive or simply prefer to fly, you have a couple of options. You can either fly into Winnipeg (followed by a 7-hour drive straight north) or take a connecting flight into Flin Flon with a 2-hour drive east. Neither one is convenient – but it can definitely eliminate hours spent on the road.
MODERN ACCOMMODATIONS
Contrary to what one might think about remote Manitoba, Wekusko Falls Lodge is actually VERY modern. The cabins are even recently renovated, with modern countertops, floors, and appliances. The resort has wifi and television in each of the cabins, a full kitchen, and plenty of room for all of your gear. There is a heated fish cleaning station on the premise as well.

Meals are also an option. Elissa makes incredible home-cooked meals that can be part of your package – this makes packing and planning as easy as possible.

QUALITY OF FISHING
WORLD-CLASS WALLEYE FISHING
There is nothing quite like hooking into fish, after fish, after fish… and having moments when there isn't a free hand available. If I could describe fishing in Manitoba this fall, that would be it.
There were multiple times where we were hooked into fish at the same time – sometime's each with doubles!
The quality of fish in these bodies of water is high. Your day isn't spent catching 14-inch walleye, instead, you are catching fish that average in the low 20's with many much, much bigger. Because of the consistent size of the fish, you never know just how big the one at the end of your line is. This keeps every hook set exciting.
Of course one of the greatest benefits of fishing in this part of Manitoba is that these waters are primarily untouched. This makes the fishing quality better and the wilderness experience greater. In fact, there are even backcountry adventures to smaller lakes for those who seek it.
Not too mention, have you ever seen saugers like this?!
You might also want to check out my article featuring Bryan here: 5 tips for catching more trophy walleye here.
CATCHING A VARIETY OF SPECIES
Something Ana and I have found surprisingly enjoyable is burbot fishing (or commonly referred to as eelpout in the states). Often times we would look into them in the evening when we transitioned our lures to glow. We also hooked into pike, whitefish, and sauger.
Of course, there is stellar trout fishing in this area as well. You will find master angler lakers, brookies, and browns!
In fact, even their saugers are trophies (master sauger below!)
RUN & GUN FISHING IS AN OPTION BUT NOT NECESSARY
Run and gun fishing is an option but it's absolutely not necessary. People who like to set up a shack and enjoy the heat can most definitely find success on a trip like this. In fact, much of the time Ana and I chose to set up shop for warmth – and it didn't stop us from catching any fish!
Bryan has his locations dialed in, so if you want a guided trip with the family, rest assured your significant others, or kids, will have plenty of action without being cold.
ADDITIONAL FACTORS TO CONSIDER
Of course, like anything, there are a few things to consider when planning:
You are going to need a Manitoba fishing license. This is affordable (depending on the limit you choose – between $30 and $60) and it can be purchased at the lodge.
Manitoba is barbless. This helps keep their fisheries in good shape by respecting the fish. We had NO trouble hooking into fish this way – just make sure your rod has enough backbone because these fish won't be small. To de-barb your hook, simply take your pliers and turn.
It can get really cold. The first time we went up there it was -40. Check the forecast and pack appropriately! The cold won't stop the fish, so don't let it stop you.
FANTASTIC LODGE OWNERS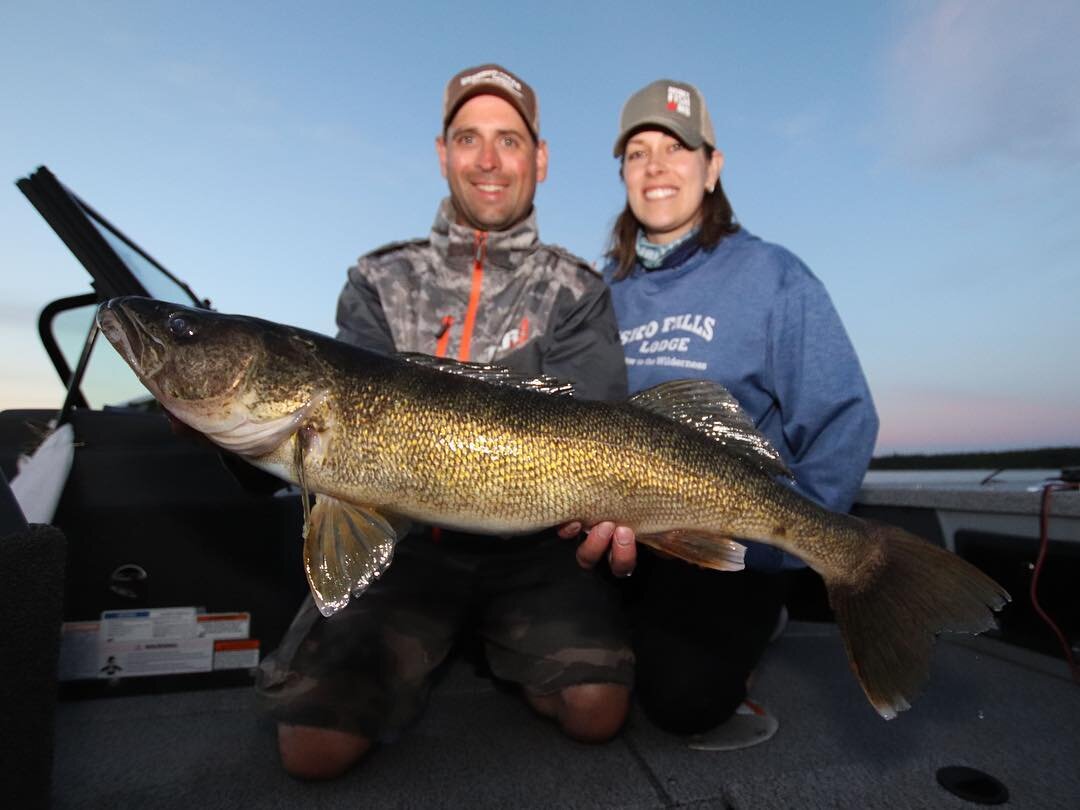 Finally, I should mention the owners Bryan and Elissa Bogdan are fantastic. They have owned Wekusko Falls for over ten years, built up an incredible business, renovated the facilities, and now host some of the best anglers in the country! Bryan is always going above and beyond and Elissa's meals and hospitality are second to none.
A GREAT DESTINATION FOR ANYONE
Often times people think this type of trip is "for the guys" is" too hardcore" or even "once in a lifetime". However, I just want to clear up that it isn't any of those things. Instead, it's an incredible fishery with fantastic accommodations that can allow anyone to experience the joy of ice fishing. Whether you are planning a girl's trip, a guys trip, or a family adventure, you won't be disappointed on a trip like this. Best of all, it's something you can do time and time again!
You can check out all of Wekusko Falls packages and rates here.