One of the newest rod-style tip-ups on the market is Clam Outdoors' Predator Tip-Up. Co-designed by Virtual Angling content contributor, Caleb Wistad, this tip-up features a two-in-one design giving anglers the option of an automatic hook setting or the more traditional flag style tip-up. In this video, Caleb details how to use the Predator tip-up's flag-only (tip-up style) set up, which is legal in Minnesota (for clarification, automatic hook setting devices are NOT legal in Minnesota / updated as of Nov 2023).
Setting the Flag-Only Trigger
Because this tip-up has two settings, you will need make sure the flag-only trigger is in the front position of the device (the position nearest to your line and the ice hole). The automatic trigger can be removed completely and left at home or in your tackle bag (recommended if fishing in Minnesota) or you can leave it locked into the back position on the tip-up (i.e. the position nearest the rod). After placing your desired ice rod in the rod holder, tip the flag down underneath the flag catch, locking the it in place. Then, set the trigger/line guide on the tension arm of the flag catch and thread your fishing line in between the flag and the flag catch so that it is pinched in between the two. Finally, thread the remaining line through the line guide of the trigger and the tip up is ready to fish. When setting your rod, you can either leave the bail open or adjust your drag to a very light setting (don't forget to tighten before the hookset) so that the fish can run with your bait. Once a fish takes the bait, the tension of the action pulls the trigger off of the tension arm on the flag catch, releasing the flag and alerting the angler a fish is on the line. Then it's all up to you to get there to set the hook.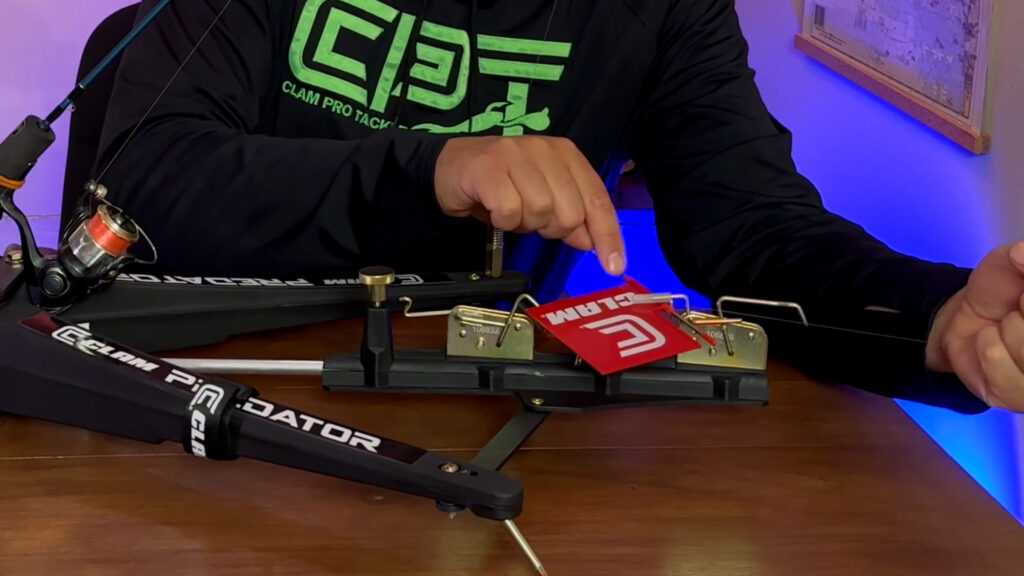 The bite sensitivity can be adjusted by simply moving the trigger forward or back on the tension arm of the flag catch. The sensitivity of the Predator Tip-Up can be adjusted firmly enough to use large sucker minnows without tripping and sensitive enough to catch panfish on the smallest crappie minnows. One of the biggest advantages of the Predator Tip-Up over other rod-style tip-ups is that any rod and reel setup can be used without having to add bobber stops or extra pieces of equipment to the line that have to be removed before grabbing the rod to set the hook.
Experience ease of use with the new Clam Predator rod-style tip-up. Just grab your favorite setup, set the flag trigger, and be ready to set the hook without having to remove anything from your rod or line.