It's no secret that the Garmin Livescope is a game changer when it comes to fishing. However, for many of us who use Humminbird or Lowrance boat electronics, but want the Garmin to complement our setup – finding a practical mounting system can be puzzling. That's why I reached out to Roger from Polar Kraft to help me get it done.
Also, for the record – I'm in no way affiliated with Garmin. I just love my boat and was looking for a way to incorporate a Garmin Livescope seamlessly into my fishing routing (particularly when guests like Roger have it). In fact, we found it so useful I decided put together this quick review and tutorial on the best boat mount for the Garmin Livescope.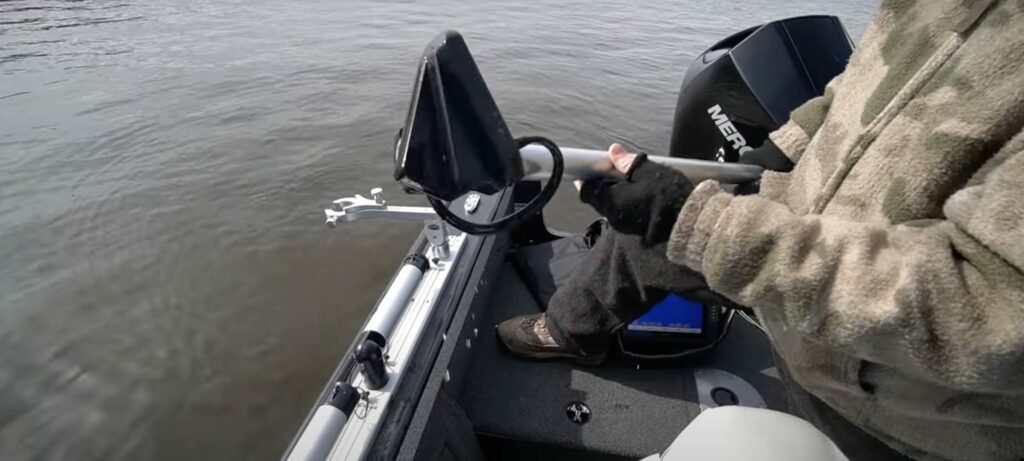 The exact mount we used was the Traxstech-TM-1000. It' setup to work with our Traxstech gunnel system, making it a VERY easy way to add and remove from the boat at our convenience. All you have to do is slide it on and tighten the screws.
Once mounted the handle provides a simple and efficient way to move the transducer when you want to change direction.

Garmin Livescope Boat Mount in Action
Earlier in the year, I was able to try the Garmin Livescope boat mount out on Rainy River. It was a game-changer. We normally would have gone shallow, but after an unsuccessful first day we found that going deeper was key. We marked fish as deep as 35 feet and saw them rubbing their bellies in the mud – all thanks to Garmin. After studying their behavior we nailed it. The mount and the Livescope was the ticket.
You can find the Traxsteck system through your local Polar Kraft dealer or by checking them out here.