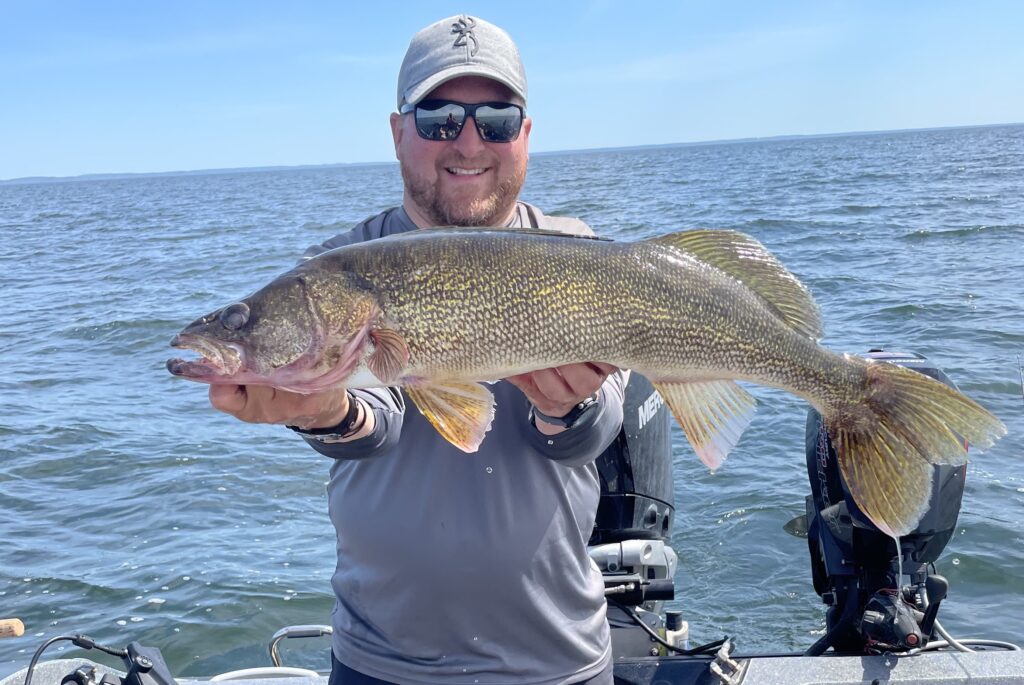 Dusty Minke is a successful tournament angler who lives near Leech Lake, Minnesota and has spent a tremendous amount of time targeting walleye on many of northern Minnesota's walleye lakes like Leech, Cass, Winnie and Bemidji.  When it comes to midsummer walleye, Minke believes many anglers overlook weed walleye patterns on many northern Minnesota lakes and he believes that can be a mistake.
"Many of these northern Minnesota walleye lakes have extremely clear water which can make fishing a challenge," explains Minke. Because of this clear water, many anglers underestimate shallow water patterns especially through midsummer. According to Minke, weeds will hold walleye shallow all summer long. A favorite way to target these weed walleye is by using spinner harnesses with bullet weights to cover water.
"Because the water is so clear, I often have to fish away from the boat. Often making a long cast behind the boat with just enough weight to barley skip the tops of emerging weeds," explains Minke.  The rod setup is fairly simple, Minke prefers a seven-foot medium fast action spinning rod spooled with ten-pound braid.  For most depths that range between 6-12 feet, a 1/8th ounce or 3/16th ounce bullet weight is used ahead of a short snell spinner harness.  For the actual harness, Minke will use traditional metal blade spinners but has grown to love the ultra-light blade options like Butterfly Blades or Smile Blades as they are more forgiving with speed and keep turning on the inside turn.  On a two-hook harness, Minke prefers to pinch the crawler off behind the second hook but will at times thread a half crawler onto a single Aberdeen hook.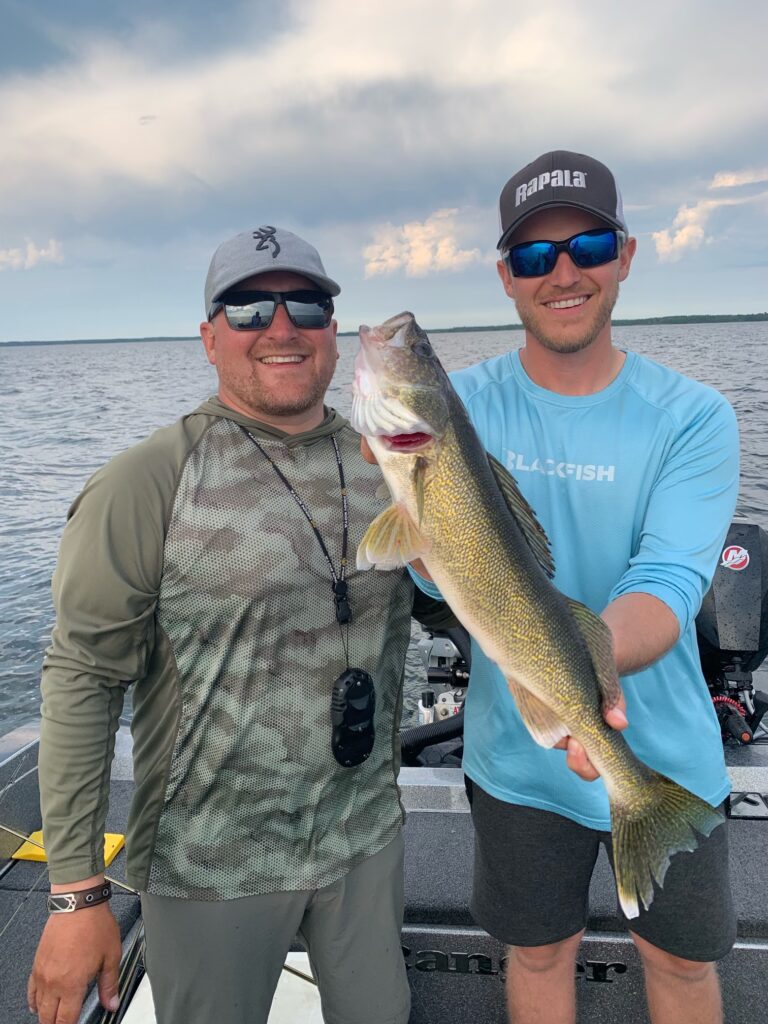 The types of locations that Minke often target for walleye are often expanses of emerging chara or cabbage weed. The perfect location is a mid-depth flat that has clumps of sporadic weed growth reaching halfway up the water column. Spinners are used to skate through the top half of the water column above the weeds. Where weeds are denser and reaching closer to the surface, Minke will run the outside edge of the weed line with this same spinner harness system.
The key take away however is simply getting away from the boat. Minke often pulls these harnesses at .8 to 1.2 miles per hour so the amount of line to cast out in conjunction with weight of bullet sinker determines the depth. You want to make only sparse weed contact and slide above the weeds. Because these fish are often boat shy, inline planer boards can also be an excellent tool for covering water if there are multiple anglers in the boat. Because these fish won't enable you to drive over the top of them, traditional 2D sonar often won't show fish below the boat. To find fish in this shallow water, Minke does often use Active Target and uses it to look ahead of the boat for fish sometimes adjusting his trolling route to where he sees fish ahead of the boat.
In these clear northern Minnesota walleye lakes, Minke's favorite color selections often replicate young of the year perch but notes there is a time around the end of June and early July where the walleye really key on molting crayfish. When the crayfish are molting, you will see the fish regurgitating bright orange crayfish parts and the feces of walleye will be bright orange. You will often see pieces of crayfish shells and claws in your live well if you keep fish. When walleyes do switch over to crayfish, Minke likes to use brown and orange colors to imitate crayfish.
These shallow weed spinner patterns can be solid through much of the summer and many walleye anglers avoid the weeds on many of these classic northern Minnesota fisheries which might make some of these patterns more consistent.   
Be sure to checkout more of our walleye content here.