There is one destination that should be on everyone's bucket list, and that is Lake Winnipeg. Situated in southern Manitoba, Lake Winnipeg boasts some of the best walleye fishing on the continent. In fact, it is going to be one of your best opportunities at breaking that 30" mark.
However, it's out-of-this-world fishing isn't the only thing that stands out. It's accessibility and "fishability" as I like to call it, is easy. It's not a tough lake to break down. With just a little bit of mobility, you can find a lot of success on this lake.
Therefore, when it comes to the incredible Manitoba fishing we all want to experience, there isn't an easier destination to tackle than Lake Winnipeg.
PLANNING YOUR LAKE WINNIPEG TRIP
Over the course of the last 4 years, I've fished Lake Winnipeg well over a dozen times. The vast majority of these times (including my first time) has been DIY (Do it Yourself).
The first time we tackled the lake, we had no idea what we were getting into. Broken augers, flat truck tires, and being stranded on the lake were a few of the hard lessons we learned our first time out.
In the end, we discovered it was all about preparation. That's why I've decided to create the ultimate Lake Winnipeg DIY guide.
Below I go through all of the details you want to know, including:
Where to Stay
Where to Access the Lake
Gear You Should Bring
How to Break Down the Lake
Lures You Should Use
Where to Get Your Bait and License
Why Anyone Can Conquer It
There is also plenty of information in between.

ICE FISHING LAKE WINNIPEG
It only takes a quick glance on the map to realize how large Lake Winnipeg is. That's why the scope of this article focuses only on the southern basin. This is primarily from Gimli to Balsam Bay and down to the Red River. Due to location, accessibility, and accommodations, this is by far the most commonly fished area of the lake.
DECIDE WHAT TIME OF YEAR TO GO
The first thing you are going to have to determine is when you want to go.
As long as the ice is safe, there isn't a wrong time of the winter to fish Lake Winnipeg. In fact, I've found success on Lake Winnipeg from January through the last week of March. However, it's important to keep in mind that each of these times comes with trade-offs.
When determining when to go, be sure to consider the following:
Colder vs. Warmer Weather Conditions
Day Length
Mobility
Fishing Pressure
How Much You Like Crowds
JANUARY THROUGH FEBRUARY
They didn't nickname Lake Winnipeg "Big Windy" for nothing. Weather can be very tough this time of year. Blizzard conditions and extremely cold temperatures are common, and trying to move in these conditions can be nearly impossible. That's why it's important that you bring plenty of extra equipment.
Despite these tough conditions, there is a big benefit to fishing during this period: fewer people. That means there are more accommodations available and more space on the ice. Sometimes with less pressure means your chance of catching a trophy fish is even greater.
MARCH
With the warmer temperatures, longer days, and the fish starting to pile up before the spawn – March is the most popular time of the year to hit the lake. However, with more anglers comes more pressure.
This, in combination with the warmer weather, also means accessing the lake can become difficult. Muddy, torn up roads, rough tracks, and plenty of commotion are things to expect this time of the year. Some of the muddier roads can't even be accessed.
Both times of the year can produce incredible fishing.
So which one should you pick?
If you have tracks and a flip-over or plan on renting a snobear – earlier in the year might be the better choice. You'll dodge the crowds, and have just as great as an opportunity to catch those trophies as you would later in the year.
If you love warmer weather, being outdoors, and staying mobile – then March is the time of year to go. When I take my friends and family, we almost always choose this time, simply because it's more about the overall experience than just the catch.
Better yet, if you are like me, try them all! Once you catch your first Master Angler greenback, you will want to keep going back for more.
CHECK ON THE LAKE CONDITIONS
After you determine a general time period, the next step is to check lake conditions. Make sure the ice is safe, determine what method of transportation you need, and then start planning on accommodations. One of the best ways to do this is to contact local anglers. Whether it be the local bait shop or your friend on social media, being in touch with someone who fishes the lake regularly is your first step in planning. A few places to find more information include:
Forums (Manitoba Fishing Forum for example)
Locals on Social Media
DECIDE WHERE TO ACCESS THE LAKE
After you check on the ice and snow conditions of the lake, you can determine which access you want to use. This is beneficial in determining where you should stay.
The Red river dumps into the south-central part of the basin – and is a great identifier in determining where you should access the lake. There are plenty of accesses on the west side of the Red, the east side of the Red, or from the Red River itself.
THE RED RIVER
In the past, the Red River has been a great access point when staying at Selkirk. However, it isn't always that way. This year, for example, proved to be nearly impossible with the higher water levels and snowier conditions.
It also tends to be broken up later in the year for flood prevention. Therefore it's incredibly important to contact locals before trying to access the lake via the Red River River.
THE WEST SIDE OF THE RED RIVER
Warner Road: In our latest video (featured above) we went out of Warner Road on the west side of the lake. This access is one of the most popular for truck traffic. It usually isn't as drifted in as the east side. There is even plenty of parking space on the lake. These reasons are why many people will make the truck trek from the west to the east side – despite it being much longer.
Chalet Beach: This is near the Warner Road access but doesn't have as much parking accessibility. If Warner Road packed, it might be worth checking out. However, I've always preferred Warner over Chalet.
Gimli Harbour: Further North, Gimli is a great option for people staying in the city and choosing to fish up that way. Although one issue we have run into in the past is ice heaves. If you plan on traveling south towards the Red, it's a hike and can be very difficult.
THE EAST SIDE OF THE RED
Pruden Creek: This is our most commonly used access on the east side. Great for tracks/quads – it's central location makes it an awesome option for those coming from the south.
Things to consider with Pruden Creek:
The winds frequently blow from the west and Northwest, drifting in this access. Therefore, trucks can be limited.
The creek is also accessed via a dirt trail, therefore in warmer weather conditions, the road can be impassible by snowmobiles or trucks (and people often get stuck). These are two things to consider when choosing this access.
Balsam Harbour Access: A popular access on the east side when staying at the South Beach Casino.I've never used this access but it is common.
Beaconia Access: When conditions have been tough at Pruden we have gone up to Beaconia when fishing the east side.
There are definitely other places you can access the lake from – especially by sled. However, these are a few of the staples that people typically choose when embarking on their own adventure.
PLACES TO STAY
When it comes to accommodations, a great center point is Selkirk. Not only can you reach each side of the lake, but there are also plenty of accommodations within the city itself. Whether you need a hotel, gas, bait, groceries, or a utility store- you are going to be able to find it here. When given the choice, I almost always choose to stay in Selkirk for this reason.
However, there are plenty of options throughout other parts of the lakes.
Options I recommend that you check into include:
There are also plenty of options in the city of Winnipeg as well. It's a bit of a drive, but the locals do it all of the time. If everything else is sold out – this is a good option.
GEAR
After you have your date and accommodations set – it's time to get the gear ready. Just like with any ice trip, you are going to need the basics. The biggest difference on Lake Winnipeg is that you are also going to need spares.
Below I break down what I use when fishing the lake.
RODS, REELS, & LINE
Between the fish being heavy and the hooks being barbless (which is MANDATORY in Manitoba) there is a huge benefit to using a heavier rod.
Anything with a medium to medium-heavy power and faster action tip is a great choice. Keeping that fish pinned is key when dealing with the barbless lures. I've also found longer rods give me more leverage – and playing a big fish becomes much easier.
The why I chose the Tuned Up Custom Commander. With 36" in length, medium power, and a fast action tip – it gave me plenty of leverage to pull those fish big in. I highly recommend it.
As for reels, I've used the Daiwa Revros LT-1000 and a Daiwa QR 750. The LT is definitely a heavier duty option for a larger line, but the 750's collapsable reel makes it great for a hard case.
As for line, I was using 10-lb braid with a 10-lb fluorocarbon leader. It wouldn't hurt to go heavier, however. I run a very loose drag so line poundage is generally never a problem.

TRUCKS OR SLEDS
If there is plenty of ice and limited snow, using the truck is a great option. In fact, we have used a truck more times than not. One of the best things you can do is call ahead and check on ice conditions. It also helps to have good tires.
HUBS OR FLIP-OVERS
Hubs are great for when you want to film and share the space with a larger group of people. However, nothing beats the portability of a flip-over house. A flip-over with a snowmobile can get you through the windiest, and most brutal days on the lake. If you are worried about the weather, I always recommend a flip-over with tracks. This way you can stay mobile and your house isn't going anywhere.
BRING AN EXTENSION
If you plan on heading up to Lake Winnipeg from the end of January through March, I highly recommend you purchase an extension. I use the StrikeMaster 40V when I'm up there and am normally fine with the 12" extension even through March. However, ice gets deep along pressure ridges and having a 20" extension can't hurt. Simply put, always have an extension on hand.
LICENSE & BAIT
As of 2019/2020, you are required to have a paper copy of your license. These need to be bought in Manitoba and can be found at certain gas stations and bait stores (Smoke N Fish is a common one in Selkirk). Generally, you can get your bait and gas in the same place. A quick Google search and phone call will do the trick.
There are two different license options for non-residents:
Conservation (2019):
A Conservation License limits the number of fish you can keep to 4 walleye/sauger.
Regular (2019):
The regular license is good for 6 walleye/sauger.
*As for bait, frozen shiners are a great option. Live bait is allowed, but it isn't as popular as it is south of the border. Often times I won't tip my lure at all.
Remember that in Manitoba, your lures must be barbless.
You can find out more at the Hunt Fish MB website.
*Manitoba has specific regulations on Lake Winnipeg. For more information on bait visit the Sustainable Development AIS page.
EXTRA GEAR IS A MUST
The cold conditions and ice depth can definitely wear on gear faster. That's why I always recommend that you bring as many extra items as you can. A few items that I've needed spares of in the past include:
Auger: You will be drilling through an insane amount of ice. That's hard on augers. Be prepared and always have an extra.
Heater: It can be 30 above or 30 below (Fahrenheit), be prepared for 30 below. In these conditions having a heater that works is a must. Sometimes heaters freeze. Be prepared.
Tow Rope: If you are taking a truck, you might get stuck… a lot. Therefore, it's always good to have a tow rope in this situation.
Flasher: Batteries can fail out in the cold. When you go this far to fish, it's always wise to have backup electronics.
Most importantly, go with extra people.
RECOMMENDED LURES

Aggressive and obnoxious lures work well on Lake Winnipeg. I attribute this to plenty of food and plenty of competition. My staples when I head to Lake Winnipeg often have rattle, flash, or both. A few of my go-to lures include:
Rapala Rippin Raps
Rapala Slab Raps
Large Spoons with Blades (such as PK Lures and VMC)
Lindy Rattlin Flyer Spoon (Use code nicole15 at checkout to get a discount).
There isn't really a "wrong" way to fish Winnipeg, but most of the time I find aggressive presentations turn over more fish than subtle. Very rarely do I find success with dead sticks, but you can use them – and live bait is legal.
What I realized is that even on the slow days, the bite is much more aggressive then even a "hot day" on my home water. Keep that in mind.

HOW TO FIND & CATCH FISH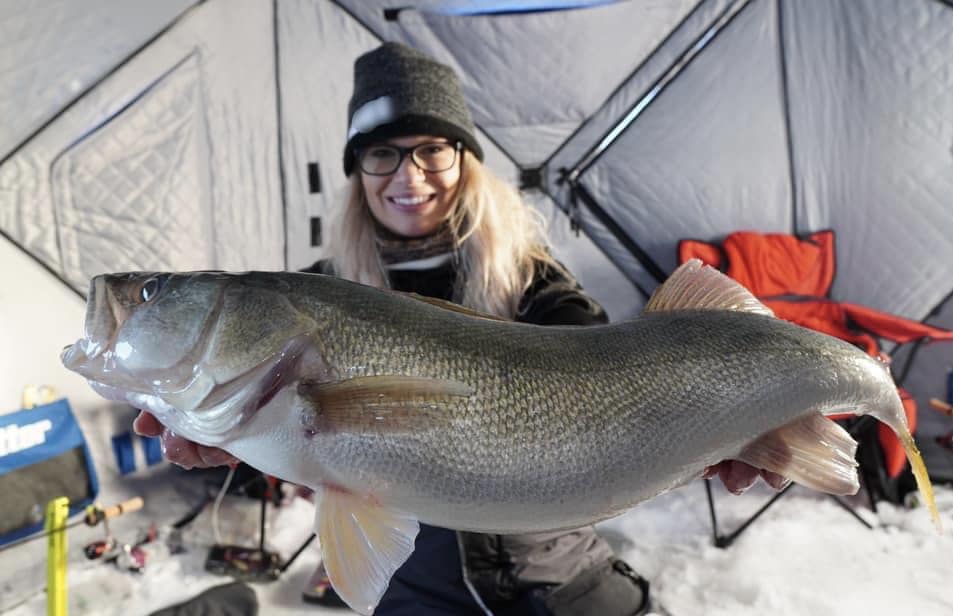 THERE IS STRUCTURE ON LAKE WINNIPEG
Despite what most people believe, Lake Winnipeg does have some structure – albeit not quite like we do back in Central Minnesota. Recently LakeMaster released a map of the entire southern basin. It shows rock piles, break-lines, and a more accurate depth contour than Navionics. If you are looking for a baseline to start your trip with, this is it.
It's also important to understand that fish don't hold to structure like they do in the rock basin Lakes of Minnesota.
According to Mat Hobson from Ice Bound Excursions, the fish tend to hold near, and off of the structure, instead of on it. They will often roam a certain area throughout the day, returning as daylight starts to recede. Sometimes drilling a pile of holes across a smaller area is a consistent way to stay on fish.
If you are like us (with our massive Otter hub and a pile of gear), don't be afraid to hold tight. If you are on them once, they will likely roam back through as the day progresses.
The key is to just initially find them.
PRESSURE RIDGES
Like with any body of water, a great place to start is along pressure ridges. These areas provide extra oxygen and light, therefore being a perfect habitat for baitfish. Where there are baitfish – there are predators. Try shallow ridges earlier in the day and deeper ridges in the afternoon. It's a great starting point, not only to find your trophy fish but large numbers of fish as well.

MOVE DEEPER DURING MID-AFTERNOON
Just like with most bodies of water, fish often move deeper during midday. If you are mobile, you can start shallow (find some structure to set up along or a pressure ridge) and wait to see if you mark. If you mark – set up, fish for a while and see what you are catching. If you pull up one or two big fish over the course of a few hours, that pod of fish will likely be back. It's just up to you if you wish to try to chase them deeper or not.
If you haven't marked much fish (or have fished for half a day without finding any size), then I recommend moving until you do. The goal is to mark a lot – and ideally one or two decent fish – before completely committing.
If the Red River is clear, then fishing the mouth can be a great place to start. If its dirty – adventuring further out is generally a better idea.
Whatever you do, don't leave fish to find fish.
I also recommend you check out:
How to Catch More Trophy Walleye With Bryan Bogdan
AN ICE FISHING TRIP ANYONE CAN CONQUER
Lake Winnipeg is a destination literally anyone can conquer. It will take in-depth planning, extra gear, and some patience, but at the end of the day – there isn't going to be a better place to score a 30.
There are plenty of accommodations, easy accessibility, and if the weather is right, you can even fish from the truck. It doesn't get any easier than that.
Best of all, there are large numbers of big fish on this lake. You don't need to sit perfectly on structure, and you don't need to have a perfect technique. You simply need to put your time into fishing it.
Pack and plan accordingly, be ready to be mobile and hit the ice.