Catch Dozens on One Bait and Gain Added Natural Scent Attractant
Live bait has been the staple of hardwater panfish since the beginning. From waxworms to eurolarvae (aka spikes or maggots), to now hard-to-source mousees, mealworms, small minnows, you-name-it, live bait has always produced sunfish, crappies, and perch come hardwater. Still does.
Then, in the late '90s and early 2000s, anglers started playing with plastics versus live bait for icing panfish– some of the first experimenters cutting up plastic bass fishing worms with a razor blade into panfish bite-sized morsels.
Wasn't long before NAIFC circuit panfish pros really started refining the whole microplastics thing and soon manufacturers got onboard, offering small plastics designed specifically for fishing panfish on ice.
Now, fast-forward to 2023, seems like everybody's pouring some kind of new radical microplastic in their garage – from tiny minnow shapes to copepod and macroinvertebrate look-alikes.
Yes, live bait and microplastics both catch oodles of ice panfish, but one of the problems has always been having to constantly re-bait when the bite is on. This is an especially big deal for the "run and gunners" on the NAIFC pro ice panfish tour where anglers want to catch as many panfish as humanly possible during tournament hours. That means keeping your jig in front of fish as long as you possibly can. Obviously, reeling up and re-baiting means time away from potential bites.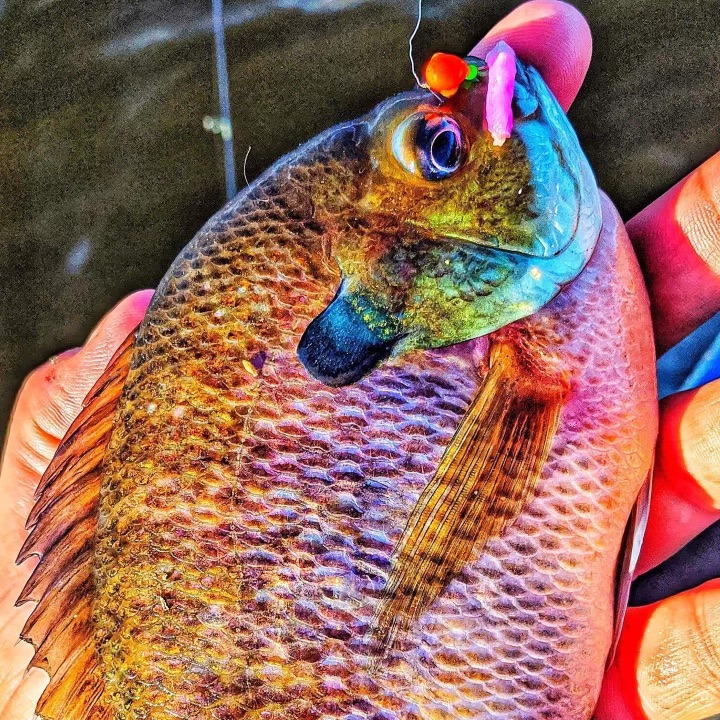 Some of the first guys to experiment with more rugged bait options were veteran tournament ice anglers like Mike McNett and Tony Boshold, actually tournament partners at a few events. And they had picked up the technique from other anglers they'd run into—guys not necessarily fishing on the tournament level.
What they did was take Uncle Josh pork rind – yes, the same froggy-looking bait trailers your grandpa would pin to his Johnson Silver Minnow to catch bass and pike in summer… You know, the fatty chunks of pork in a rusty, metal-capped bottle rolling around in the bottom of gramps' metal, hard-sided tackle box.
Still made today, some ice anglers still like to take Uncle Josh pork-rind based baits and cut them up into tiny, varying shapes to dress panfish jigs. Nearly impossible to rip off the hook, NAIFC anglers quickly took to the system because they could catch dozens and dozens of fish on one tiny piece of pork rind versus having to re-bait with maggots or having a microplastic chewed up after a few fish – even when superglued to the jig-head.
Again, we might be late to the party, but we first heard of beaver tail meat-based baits about a year-and-a-half ago. But sounds like Virtual Angling staffers Nicole Stone and angler/trapper Scott Mackethun may have been fishing them even longer, what with Scott's access to beaver tail meat trapping the waters of central NW Minnesota.
Eric Ingvaldson, a live bait trapper and lure manufacturer based in southern Minnesota, came to market with Liquid Willowcat Beaver Tail microplastics a couple years ago, eventually sourcing scent from fur trapper Andrew Guillickson of Wisconsin.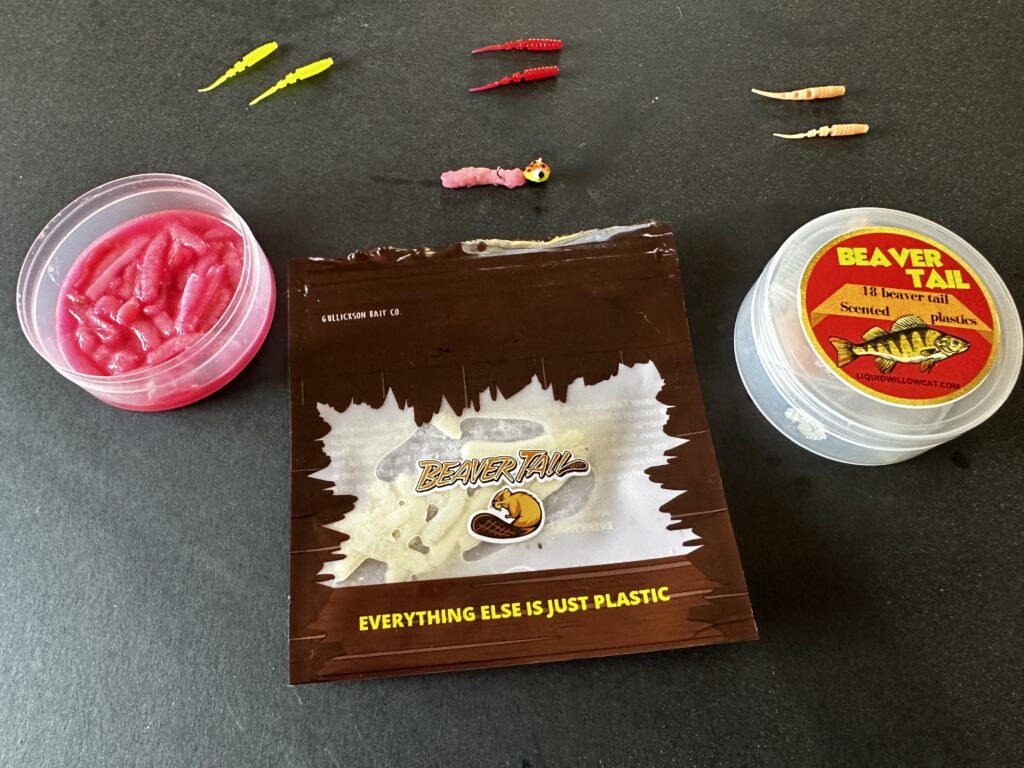 We fished Liquid Willowcat's Beaver Tail microplastics last winter and they definitely catch fish. The combination of a streamlined, trimmable shape that wiggles practically on its own and the beaver tail scent proved effectively on sunfish, crappies, and perch.
FYI, Liquid Willowcat Beaver Tail baits come in a plastic bait puck with in 18 or 30 scented microplastic quantities. Currently, Liquid Willowcat offers them in 16 colors, including some glow and UV patterns.
Talking with Eric at Liquid Willowcat, he introduced us to actual beaver meat baits made by his friend Andrew in Wisconsin. Called Gullickson Bait Co.'s Beaver Tail, these baits come in a variety of colors as well, but are sold in retail-ready plastic bags containing the beaver tail meat-derived baits immersed in natural beaver tail meat juice.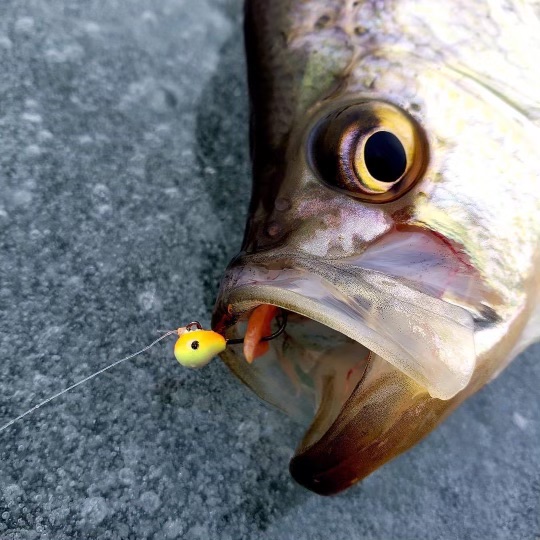 Rugged and good for dozens of fish on one piece of bait, the baits are pretty buoyant and move almost like a floppy waxworm casing.
So, there you have it – looking to experiment with a different panfish bait this winter? Give both Liquid Willowcat's Beaver Tail Scented Microplastics and Gullickson Bait Co.'s Beaver Tail baits a try!