No secret that two top locations for finding crappie through the ice consist of basins or soft bottom bowls that range between ten to thirty-five feet of water and weeds. Over the basins, crappie often roam in packs and suspend. In weed locations, crappie might bury into the weeds with the presence of predators like bass or pike but will cruise lanes, openings and edges during peak feeding windows.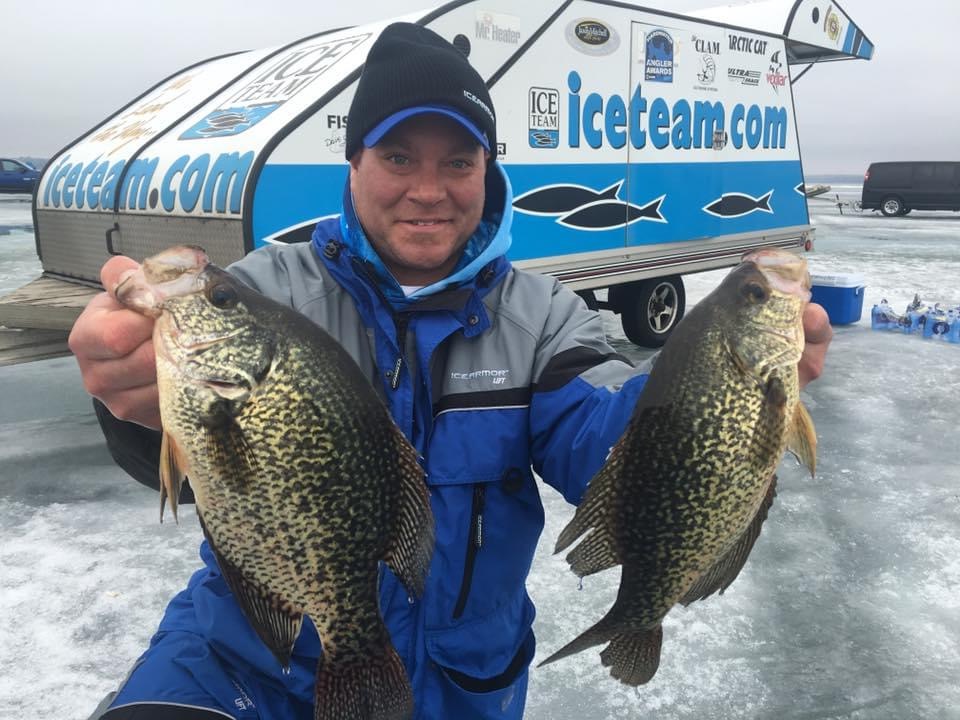 Regardless of location, Tony Mariotti loves to use big baits to find and catch crappie. Specifically, Mariotti has had a lot of success with tungsten jigs that are bulked up with a larger minnow profile. The package includes a Drop XL which features a larger oversized hook that is important for rigging the larger plastics. The plastic is often a Maki Mino XL. This oversize package is Mariotti's favorite because fish can see this presentation from further away.
Imagine a school of crappie roaming across an endless abyss. For finding these fish, you also want to use a presentation where the fish can find you. Oversized soft plastic profiles get noticed from further away. These oversized soft plastics also work great for pulling fish up out of the canopy of weeds. Finding and catching crappie is often simply about making contact. Use presentations where the fish can find you.
What is also worth mentioning is that crappie have the head gear (mouth) to gun down these larger presentations and these larger plastics also seem to trigger the predatory response of these fish. Mariotti also stresses the importance of making fish climb up the ladder… that is make the fish rise in the water column by fishing above the fish. What often happens is that the bigger fish get to the presentation first. The biggest fish in the school are bolder. The bigger fish are quicker to leave the security of the school.
When we pressured Mariotti to reveal his number one, that is the rod he often grabs first when looking for crappie… Mariotti loves to dangle the big plastic. Not to say that smaller profiles, live bait and finesse aren't important or part of the arsenal. There is no presentation that is the best every day for every fish. What is important to note however is that catching crappie is all about finding new schools of fish and Mariotti's system and program absolutely shines for finding and catching big crappie.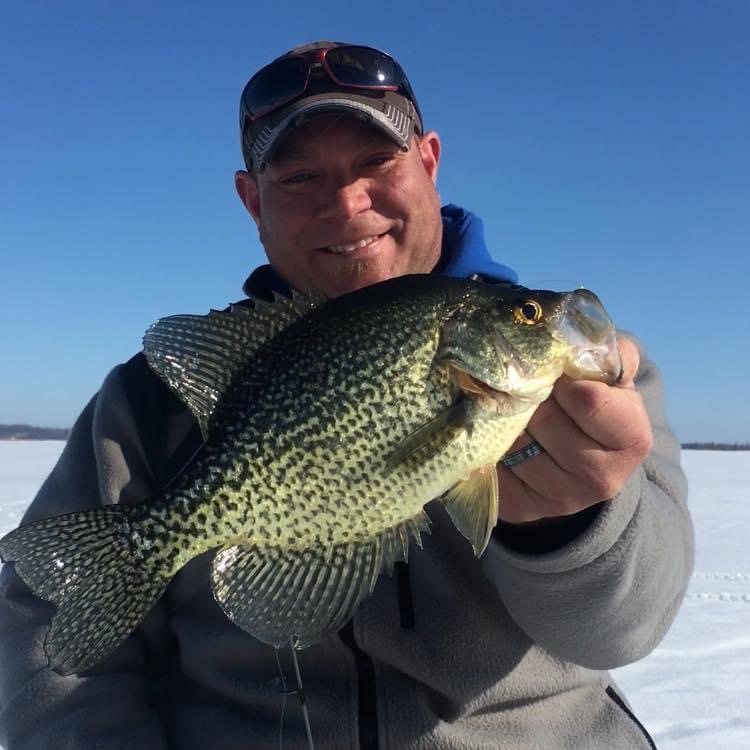 Tony Mariotti lives in Detroit Lakes, Minnesota and spends a lot of time targeting panfish through the ice in western Minnesota and has a reputation for finding big crappie and bluegill. Mariotti is an Ice Team Pro and has been featured several times on Jason Mitchell Outdoors. Mariotti is sponsored by Clam, Vexilar and Scheels.