Angler Danny Vue Shares Tips For Catching Fish at The Shore Fishing Capital of the Midwest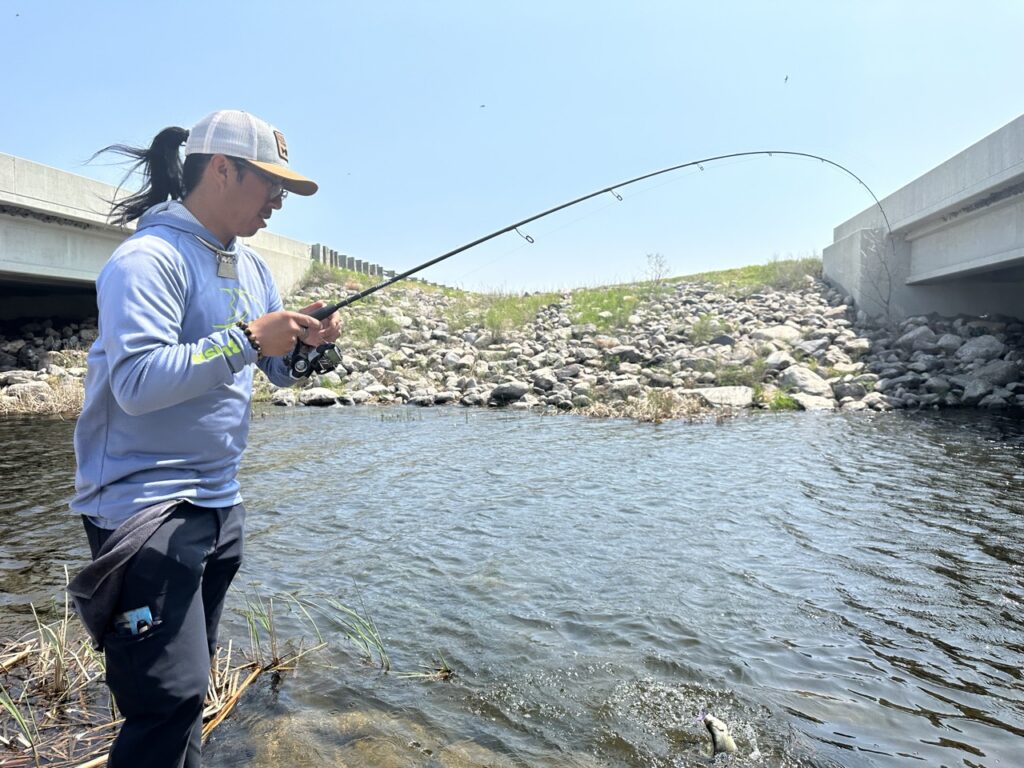 Many of you reading this have probably fished Devils Lake, North Dakota, but typically in boats—either on your own or with the help of the area's plentiful, experienced fishing guide network like Perch Patrol, Perch Eyes, Bry's Guide Service, Johnnie Candle, McQuoid Outdoors, and numerous others.
Speaking of the literal fish factory that's Devil's Lake, Virtual Angling staff recently took part in a media event held by the Devils Lake Chamber of Commerce, which was attended by writers, radio & TV hosts, and social media influencers from around the greater Midwest and Canada.
To sum up the experience in one word? Phenomenal.
In a nutshell, we got to experience almost three full days of fishing not only in boats, but exploring the endless shore fishing opportunities around the massive 200,000-plus-acre lake. Along the way, we renewed connections with notable guides like walleye pro Johnnie Candle, Perch Eyes Guide Service's Jason Feldner, and fished with some newer guides like Bry's Guide Service pro, Jared Pokrzywinski.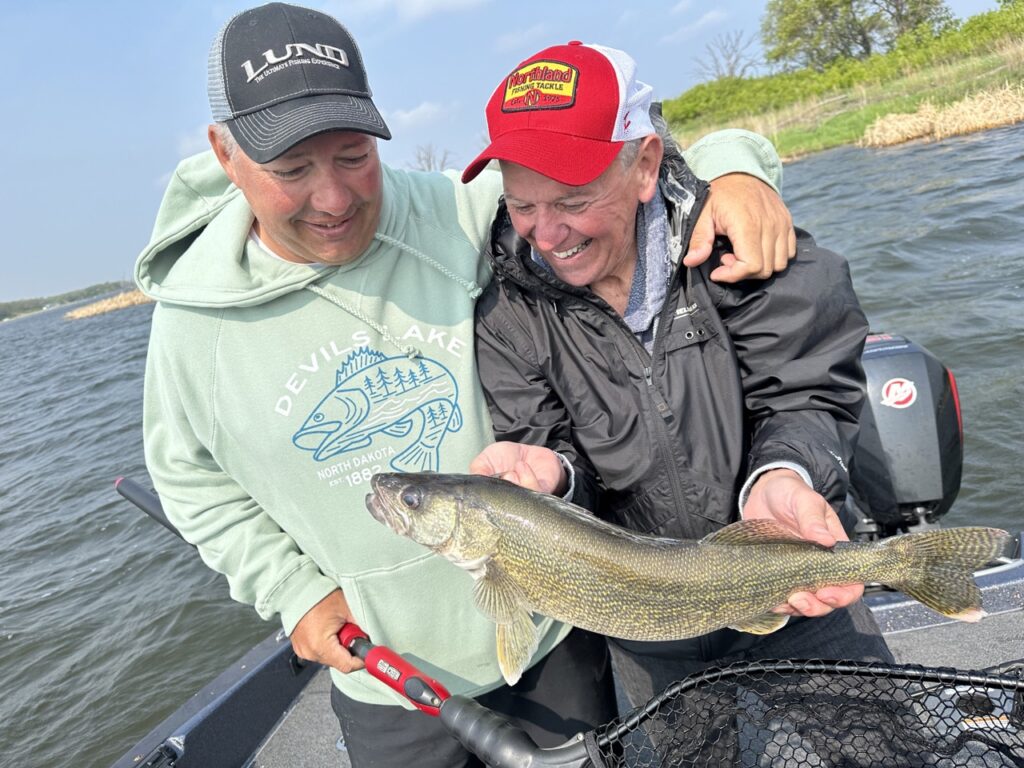 The bite was simply incredible; really, one of those rare trips you always hope for but seldom achieve. With fish loaded up in bays, near shorelines, bridge areas, narrows, and other wind-blown areas, it was literally a fish every few casts—either a chunky walleye (up to 28-inches); pike to just over 10-pounds; and more white bass than you could ever even think of counting, most of these scrappy fighters stocky 2 1/2- to nearly 4-pounders.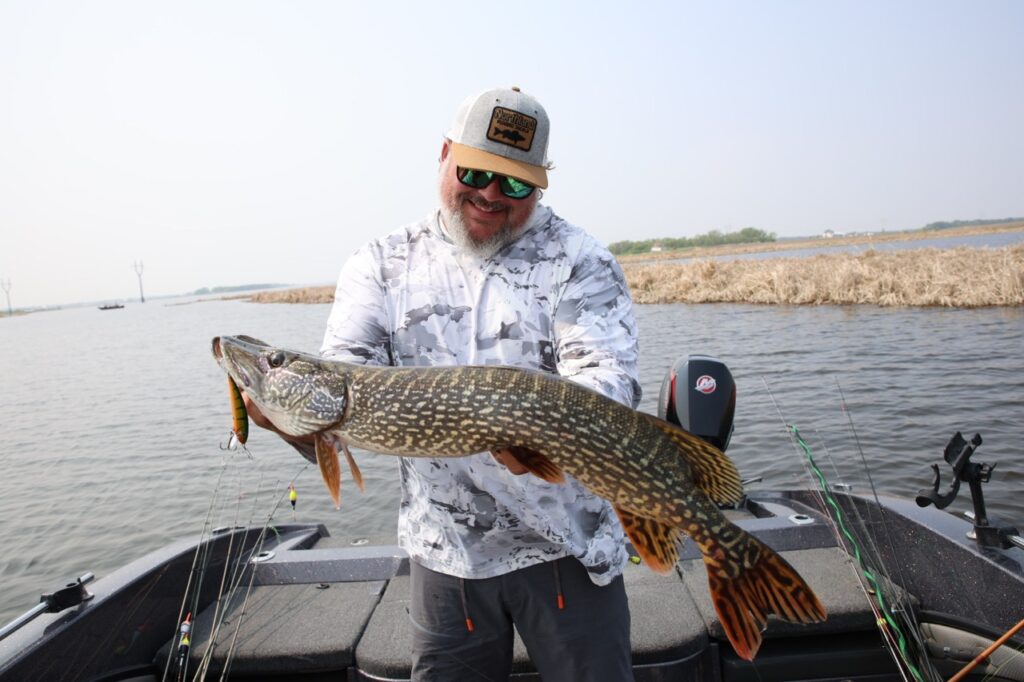 Besides fishing with Candle, Feldner, and Jared P, we also fished from shore, exploring only a few of the countless areas around the lake with great shore fishing easements.
Called the "Shore Fishing Capital of the Midwest", Devils Lake certainly lives up to the description. And that's one of the great things about Devils Lake. You don't need a boat to visit and catch a ton of fish. In fact, there are thousands of people who visit each year without a boat and simply fish walleyes, pike, white bass, and occasional jumbo perch and crappies from shore.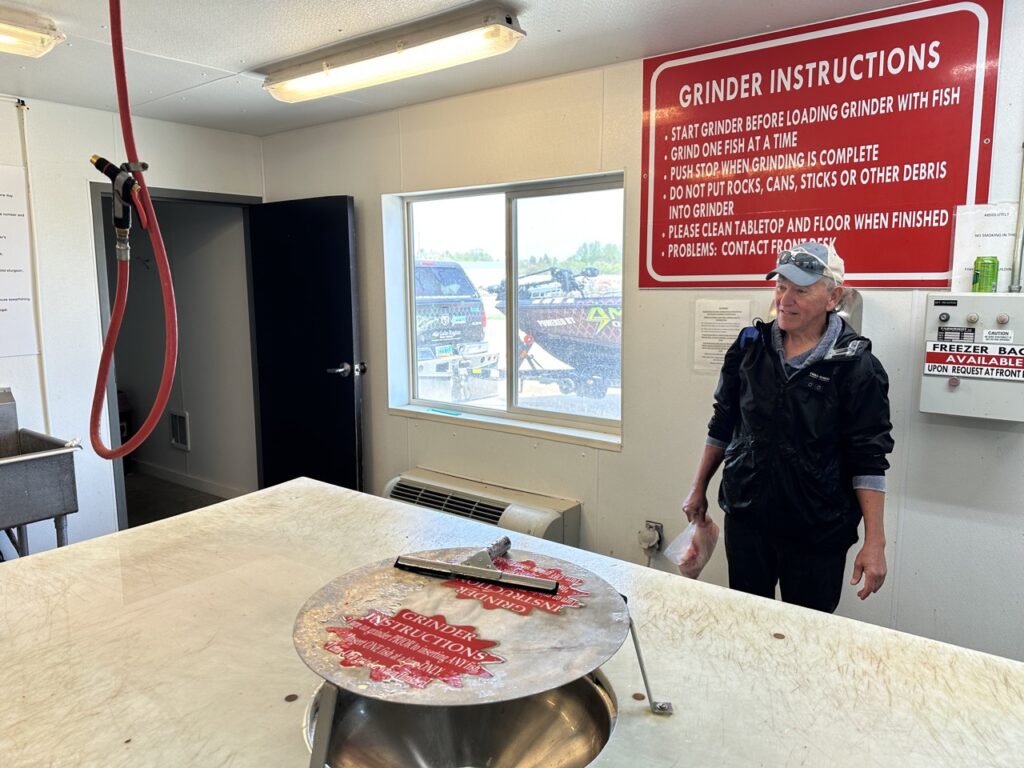 There are affordable hotels, motels, and resorts nearby, as well as primitive and electric camping at Grahams Island State Park with bathroom, shower, and fish cleaning facilities—the majority providing fish-cleaning facilities with stainless-steel tables, grinders, spray hoses, and even freezers to store your catch. Hate to criticize any Midwestern states, but North Dakota is far ahead in terms of investing in their fishing/tourism infrastructure, from boat ramps to parks to fish cleaning stations. We stayed at the Sleep Inn located on the eastern edge of Devils Lake as you enter town, whose rates are around $100 a night for a clean room with two beds, ample parking for trucks with boats and trailers, and also a dedicated fish cleaning building with large chest freezer to store your catch. Oh yeah, and you also get free breakfast starting before the sun comes up – featuring fresh food, including make-your-own waffles, as well as biscuits and gravy and scrambled eggs!
One of the best things about the event was networking with other media—some of which we've worked with for nearly 20 years—and others we'd never had the pleasure of meeting. For example, Danny Vue, an active regional tournament angler, multi-species fisherman, and social influencer within the Midwest's large Hmong fishing community, as well as mainstream angling media.
Now in his mid-30s, Vue has been visit and fishing Devils Lake since he was 13 years old, the lion's share of those trips fishing from shore, either staying at local hotels with his family or camping on Graham's Island.
We fished with Vue and followed his lead, hitting windblown spots that he was confident held fish. The result? Lots of bites—white bass, pike, and even one of Virtual Angling staff's PB Devils Lake walleye – a spawned-out 29-inch walleye – all from shore – the latter while wearing waders and standing in cattails. Thick white bass were also caught nearly every cast on a Northland Tackle ¼-ounce Tungsten Jig in gold and 4-inch Z-Man Scented PaddlerZ, the bait the big female walleye inhaled.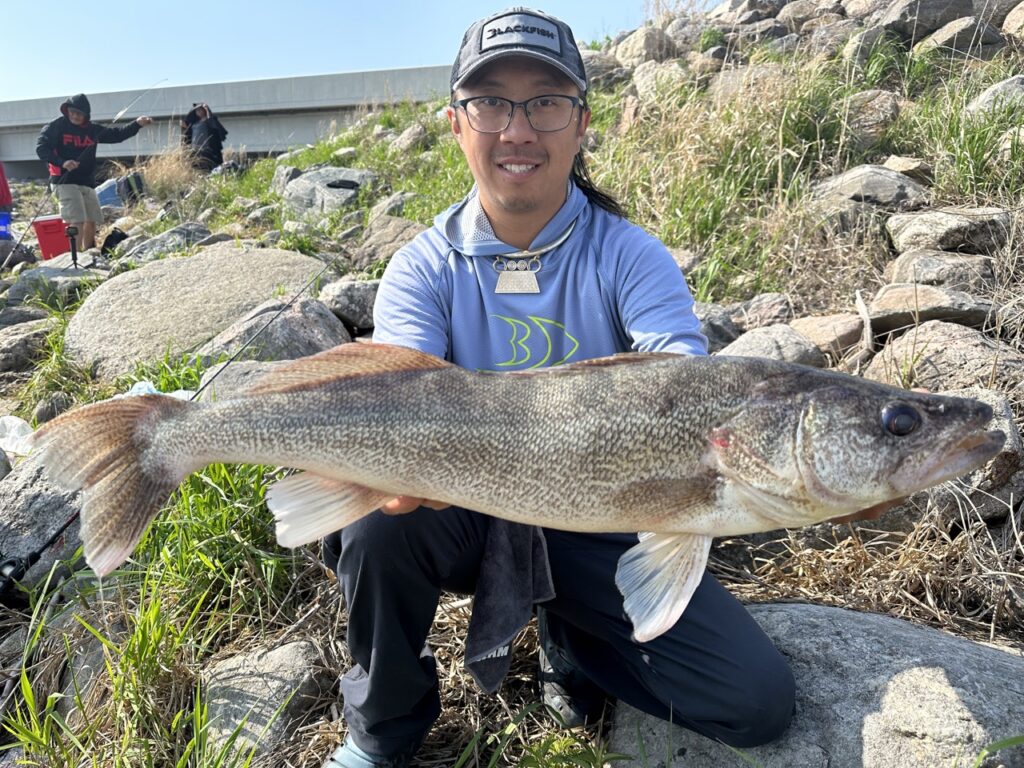 Yes, we learned a lot from Vue about fishing Devils from shore. While we were there the end of May, with walleyes in transition from the spawn, still lingering shallow, and the batch-spawning white bass boiling shallow water everywhere, we asked Vue to walk us through shore fishing Devils from spring through fall.
FIRST THINGS FIRST
Here's a quick list of what Vue recommends each Devils Lake visiting angler keep in mind.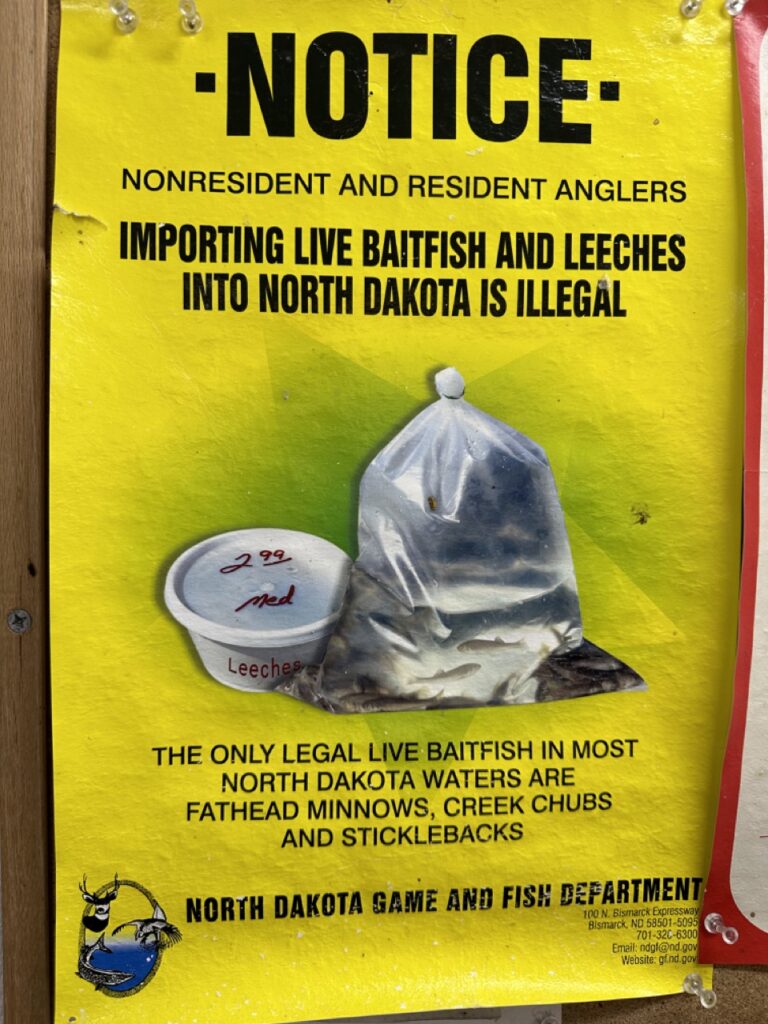 Make sure to buy a fishing license. "Most people don't carry paper anymore, buying their license online and simply screen-saving it to their phone. This is a lot easier than spending time in a bait shop doing things the old fashioned way," says Vue.
Investigate the web and social media to plan your trip and learn about the current bite(s).
And don't be afraid to stop in the area's bait shops, but some tackle or live bait, and ask questions. "The Devils Lake community is fantastic and are willing to help everyone find and catch fish," says Vue.
DO NOT bring in live bait from out-of-state. North Dakota does not allow live bait importation.
Call the North Dakota Game & Fish Department and ask any questions you might have about Devils Lake, fish populations, and other questions about North Dakota's natural resources.
Visit the Devils Lake Chamber of Commerce web site and utilize their visitors' guide. If you have any questions, give them a call!
Know your Daily & 2-Day Fish Species Possession Limits
For 2023, each licensed angler is allowed 20 white bass per day; 40 in possession. Walleyes are 5 per day, 10 in possession; pike are 5 per day, 10 in possession; perch are 20 per day, 40 in possession; and, finally, crappies are 10 per day, 20 in possession. More information about North Dakota fishing regulations can be found here.
SHORE FISHING THROUGH THE SEASONS ON DEVILS LAKE
Spring Shorefishing
"Of all the seasons, shore fishing on Devils is probably best from ice-out through early June. Fish are either in pre- through post-spawn and there are a lot of fish shallow and accessible from shore," notes Vue.
"You'll find fish along shorelines, in backwaters, rocky areas, along culverts, bridge areas, coulees, around shallow cattails/bulrushes, etc. That's where the fish are in spring. It can be really easy fishing," continues Vue.
Vue says water clarity can make a big difference in the bite quality. "Some areas of Devils Lake are clear, others are not, depending on early run-off, rain, and wind. Wind can push the cloudy stuff toward shore. But you can catch fish in both clear or stained water from shore. Even if the wind clouds everything up, the bite can be great."
There are different waves of spawning fish—they don't all spawn at the same time. Some will be early, some will be later. Photoperiod and water temperature does come into play but there are so many fish in Devils Lake that you will have big waves. You'll have shallow shore-accessible fish in all stages of pre-spawn, spawn, and post-spawn.
Top Spring Presentations
"You can keep spring shore fishing pretty simple," says Vue. "I throw Northland Mimic Minnows, but any paddletails will work. Jerkbaits, too, can be productive with all species of fish. And a lot of anglers like live bait, if you can get it at local bait shops, because there is no bringing in live bait from out-of-state. Slip bobbers and Carolina/Lindy rigs are what most live bait anglers use."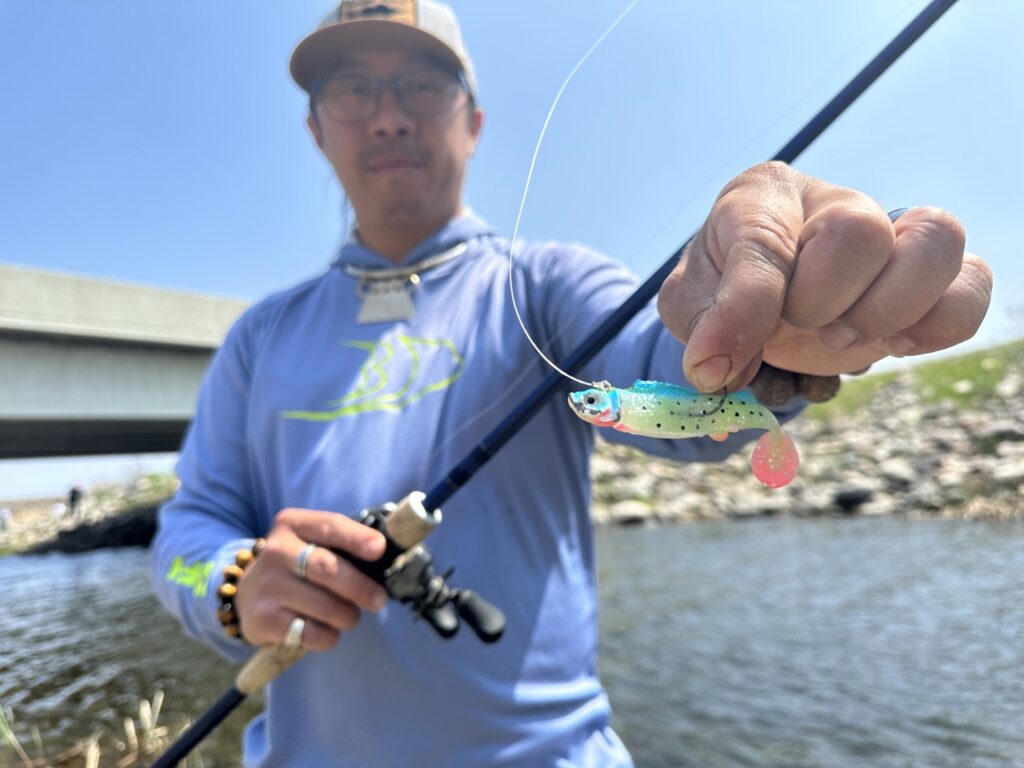 Liberal Fish Possession Limits for Table Fare
"A lot of people travel far to Devils Lake because the fish are in such good shape," says Vue.
"They're quite stocky for their length because of a heavy diet on the lake's freshwater shrimp, which it's full of. That's what makes the fish taste so good. The lake is loaded with protein."
A Transition Period: Spring To Summer
As spring transitions to summer, water temps start to rise and the fish start to push out a bit toward the main lake.
"You're still be able to get shore bites but it comes down to timing, and trying to figure out those shallow areas where the fish are roaming and feeding. Again, wind is key and if the wind's blowing in, chances are it's pushing baitfish shallow; the other fish follow."
Summer Shorefishing
As summer kicks into full swing, North Dakota temperatures can get hot, limiting bites to early morning, late evening, and night-time. During the day most fish are schooled up on the main lake. For Vue, he sticks with fishing after dark during summer months.
Vue offers: "During summer, the shore fishing is an early morning bite or a little later feeding window between like 9 a.m. and noon. You'll catch a bunch of fish for a few hours, and then wham, they're gone. That's usually when we get lunch, go back to our hotel/motel room or camp on Graham's Island, take a nap, and then return for the evening and night bite."
Summer Shorefishing Presentations
During summer anglers can still use the same presentations – jerkbaits, crankbaits, and paddletails—but Vue switches to pitching hair jigs, which he says "a lot of people don't think about."
When asked if he favored marabou or bucktail, he nodded his head and said "both work."
"But many anglers in the Hmong community also hunt so they will keep the deer's tail, and tie their own on jig heads or even as flies on plain hooks," offers Vue.
Vue typically cycles through 1/8- to 3/8-ounce bucktail jigs, depending on the wind conditions and water temps. His favorite colors are purple, black, black and white, as well as brownish-plum colors he says can mimic groupings of freshwater shrimp.
In addition to hair jigs, Vue is also a big fan of 1.0 or 2.0 crankbaits and paddletails, which he alternates to correctly match the forage size the fish are feeding on. "Crankbaits and jerkbaits pretty much always catch fish on Devils all throughout the seasons. Plastics that I recommend are Northland, Z-Man, Scheel's paddletails, Keitechs, etc. Purple and perch patterns are my go-to colors. I like to match the hatch."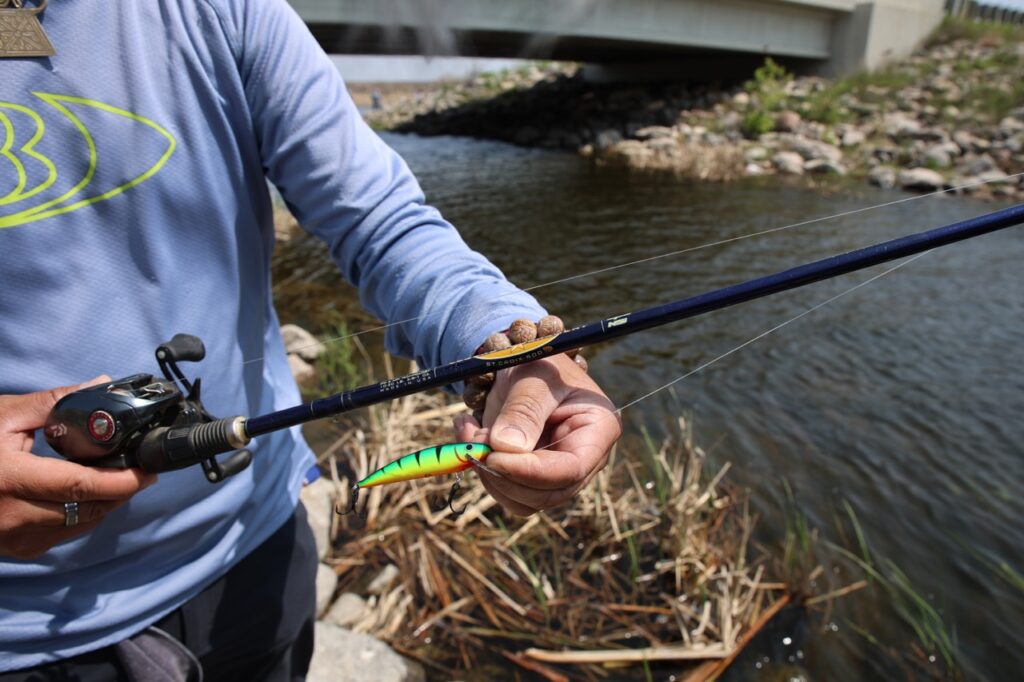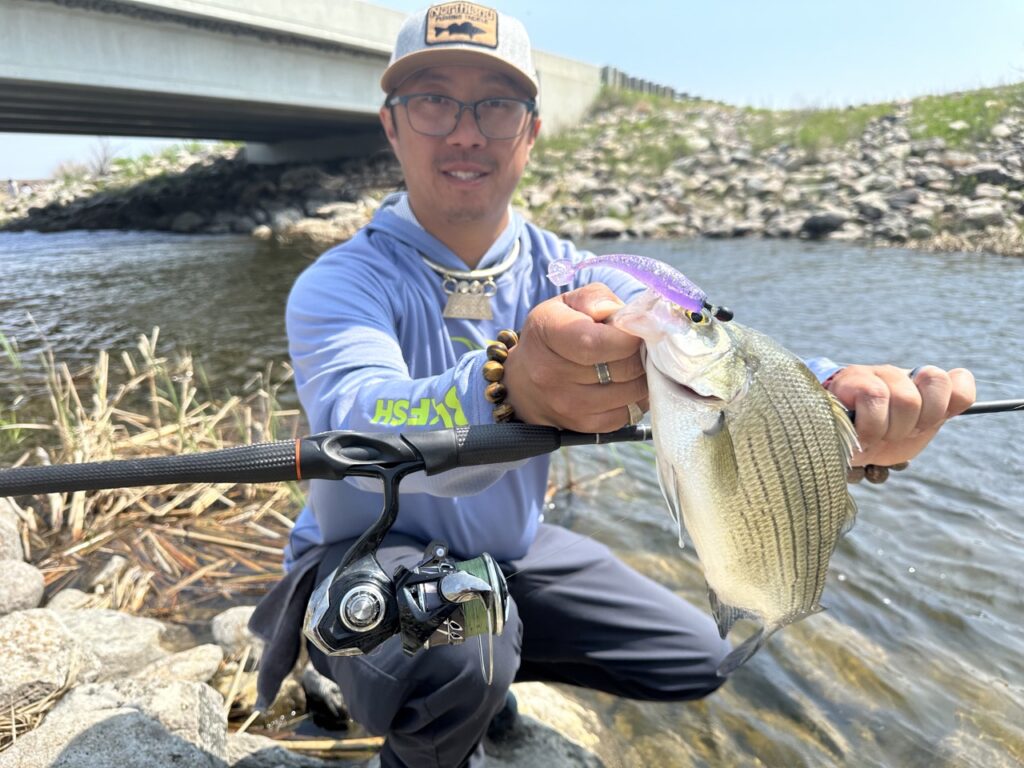 "You can also use live bait – typically leeches – on a lighted slip bobber or Carolina/Lindy Rig. A lot of us slowly retrieve the rig into shore rather than just letting it sit. But like I said, hair jigs also work at night. Cranks work, too. You have to filter through everything to find out what the fish want. They can be picky. You'll catch walleyes, pike, perch, and white bass—and occasionally, a big crappie."
Vue does offer one final word of summer shorefishing advice. "Especially when fishing early morning, late evening, and at night, the bugs can get bad—especially with the addition of a lantern or headlamp. I recommend wearing a hat with mosquito net and bringing plenty of bug spray. Some anglers just ignore it and limit their use of light. Me? I come prepared."
The Fall Shorefishing Bite
"Fall shore fishing on Devils Lake is kind of like spring all over again," says Vue. "The water temperatures have cooled off and fish are coming in shallow to feed. You have to look at the water clarity and wind direction to determine where to fish, as always. I like to look at the reports that Devils Lake guides, locals, and visitors post to figure out a plan. There's some great stuff online. All you have to do is Google 'Devils Lake Fishing' and that will get you started any time of year," offers Vue.
"But fall is probably my favorite season for shorefishing walleyes," volunteers Vue. "There's a day bite and a night bite. A deadstick with a leech is hard to beat. Some fish are picky, while others are not. But live bait is probably best late summer into fall."
OTHER FUN IN DEVILS LAKE
Besides fishing, one of the things Vue really likes about Devils Lake is its wealth of other entertainment. "Devils Lake offers a lot more than just fishing, too, so it's great for all generations of family. There's hiking, casinos, golf, cultural activities, and great restaurants. For me, I really love camping on Graham's Island and getting up to see the area's beautiful sunrises—and toward night, the sunsets. It's pretty spectacular."
As a bass boat owner, Vue does the majority of his fishing from shore when fishing Devils Lake, given how the wind can come up and is really built for deep-v boats.
"I recommend that shore anglers give fishing the main lake with guides a shot, too," advises Vue.
"Their rates are reasonable and being on the boat is fantastic. Typically, you'll limit out on white bass and walleyes within two or three hours with the help of a guide. It's an enjoyable experience and they'll take you any season. Just check out ND Tourism.com for a list of guides. These guys put you on fish and you don't have to worry about finding a spot – or even have the right tackle – they'll set you up. I've fished with retired guide Jason Mitchell, Jason Feldner, Johnnie Candle, and Jared P. They're all great people and really skilled anglers. They really know the lake well and what the fish will be doing on any given day."
"Devils Lake fishing is about as simple as it gets. All you need are a few lures, some live bait, and you're set," remarks Vue.
Vue concludes: "And the perfect time to visit Devils Lake? Pretty much whenever you can go, including winter with the help of their many ice fishing guides and loads of jumbo perch and walleyes. Really, there's no such thing as a bad day fishing on Devils during any season of the year."