Ice Fishing Walleye (Catch & Release – Length Only)
Caught in 2015, a Manitoba construction manager's Lake Winnipeg fish still holds the Catch & Release (length only) record. It would take a 35-inch to break it.
"We made sure our ducks were in a row with this fish before going public back in 2015," said PK Lures sales manager/pro staffer Tim Geni.
Geni communicates daily with big walleye hunters across Canada, many of whom are fans of the company's baits.
Geni's no stranger to big walleyes himself. On January 5th, 2011, he set a catch & release world-record (length) on Last Mountain Lake, Saskatchewan. Fortunate for Geni and crew, they were filming a PK Lures promotional video when the 33 ¾-inch fish was caught. The proof was indisputable.
Since, Geni's record has been officially broken three times, but he has remained an advocate for the big fish registration process, talking with ice anglers who report extraordinarily large walleyes. He's acted as a mentor to some of these anglers, knowing the documentation and application process required to enter a catch with the Hayward, Wisconsin-based Fresh Water Fishing Hall of Fame.
Then, in 2015, a giant walleye caught and released on Lake Winnipeg mid-winter by a construction manager from Brandon, Manitoba. This fish establishes a trifecta of walleyes tied for the longest ever caught and released through the ice.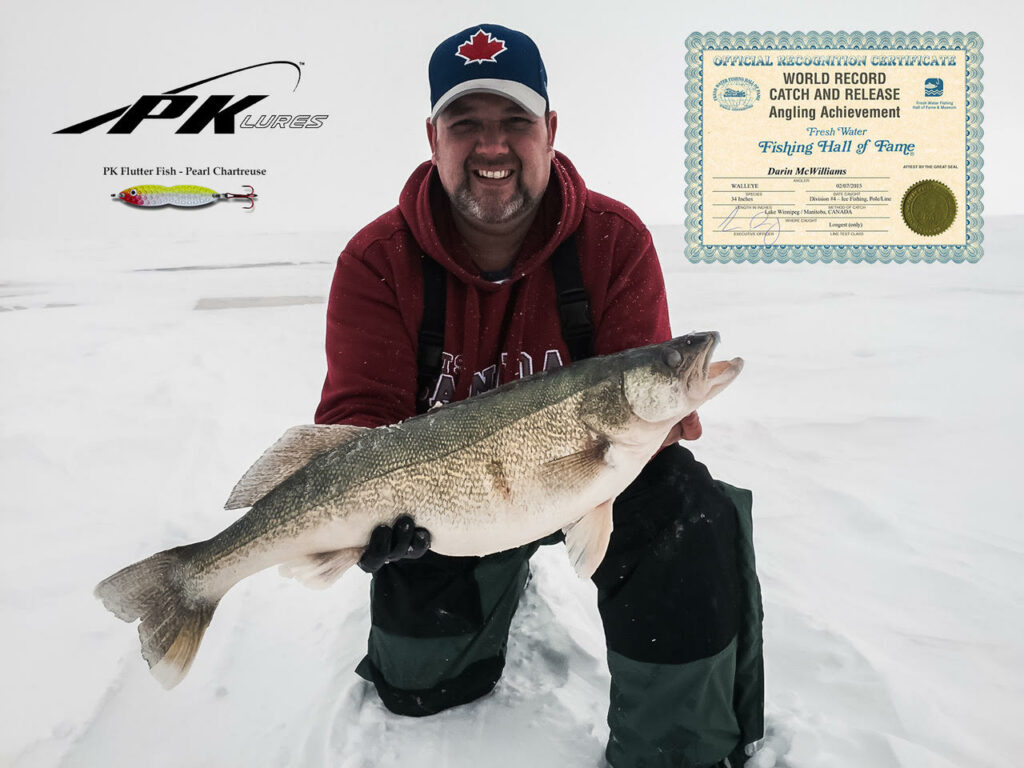 That said, a new name was recently entered into the big fish ledger kept at the Fresh Water Fishing Hall of Fame.
Enter Darin McWilliams.
McWilliams' accomplishment now shares the ledger with angler Jay Millar's walleye, caught and released on January 22, 2011, on Lake Temagami, Ontario; and Jim Manwell's fish, caught on December 22, 2011, on Last Mountain Lake, Saskatchewan.
All three have trumped the 34-inch mark, but since no fractional measurements are recognized by the Fresh Water Fishing Hall of Fame, all three tie at 34 inches for the ice fishing catch and release world record.
McWilliams, who lives three hours west of Lake Winnipeg, has been fishing Lake Winnipeg with buddies three times a year for years. But it was over the weekend of February 6th through 8th, 2015, that McWilliams and four of his buddies scored their biggest fish to date on the south basin of Lake Winnipeg. 
"We didn't start fishing that Friday in 2015 until later in the morning. We were five to six miles from shore and started working shallower and shallower. Basically, we were fishing off pressure ridges. We'd drill around anywhere we'd find a pressure ridge. But we didn't catch anything of size on that Friday," says McWilliams.
The next morning they were met with -30 Celsius windchill, which limited exploration. Instead, they started fishing closer to shore in 14 feet of water.
"We took the snow machines and fished out of our flip-overs. Given the glazed-over ice and wind, Randy and I decided to fish close together near two intersecting pressure ridges; our other two buddies spread out about a half mile away. The plan was to find some good fish and let each other know."
But he liked what he saw. "We were right on one pressure ridge with another that intersected at 45 degrees. We started fishing at 8 am and pretty quickly got into 'eyes around 26 inches. We caught several right off the bat and figured it was as good a place as any to fish for the morning."
Good decision. Around 11 am, McWilliams hooked into a pig.
"I was sitting there waiting and saw a good mark on the sonar. I jigged up a foot, let the bait drop back down, then brought it up a little bit higher. I coaxed the fish three feet off the bottom and she grabbed it."
McWilliams says he had no idea the fish was a potential world-record walleye.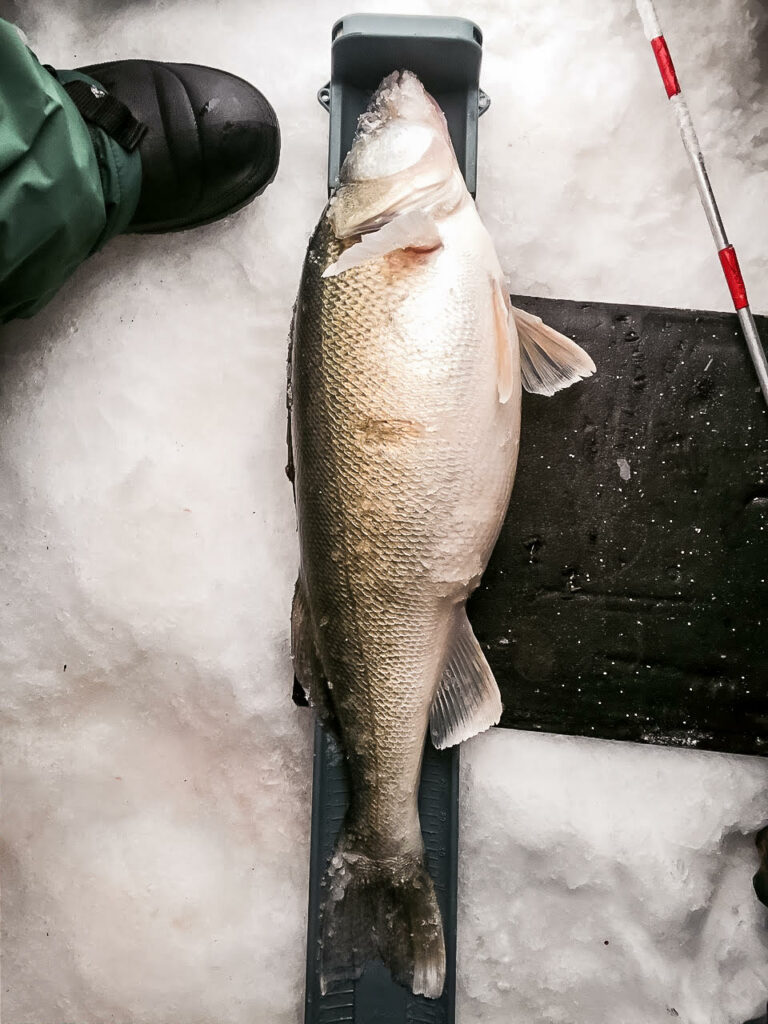 "All I knew is it was a big Lake Winnipeg fish. When we put it on the measuring board it showed 34 ¼ inches. Our jaws dropped. Randy and I had no idea it was a record. We took a couple photos inside and outside the shack and released it pretty quick. If I had to guess, that fish was over 15 pounds." 
McWilliams laughs when asked about the gear used to catch the fish. "That ½-ounce pearl chartreuse Flutterfish was the first bait I grabbed out of my box after we realized rattlebaits were scaring the fish off. I had it tied to a 15-pound fluoro leader and 20-lb. FireLine that had been on the reel for a few years."
Like a lot of other Winnipeg ice anglers, McWilliams says rattlebaits have been the top choice the past several years – worked steady with lots of motion – but admits the bite's been a little different over numerous years.
"Back in 2015, the bigger fish wanted everything on a dead line or with just a little bit of movement. Our program was to wait for a mark to appear and then gently raise the Flutterfish off the bottom, getting the fish to follow off the bottom a little bit at a time."
Like Geni's former record and other recent big fish, a Flutterfish sealed the deal.
"The PK Flutterfish has some flash, color, and I could put half a salted minnow on it. Even though you're just jigging vertically, it flutters off to the side of the hole a little bit. It's what I caught all my fish on that weekend. We had good luck with it."
Besides McWilliams' record walleye, he and his group have caught dozens of master angler walleyes on Lake Winnipeg over the years.
Fishing partner Randy Lewis, a Brandon, Manitoba Police Service officer, was the first to urge McWilliams to submit the catch to the National Freshwater Fishing Hall of Fame.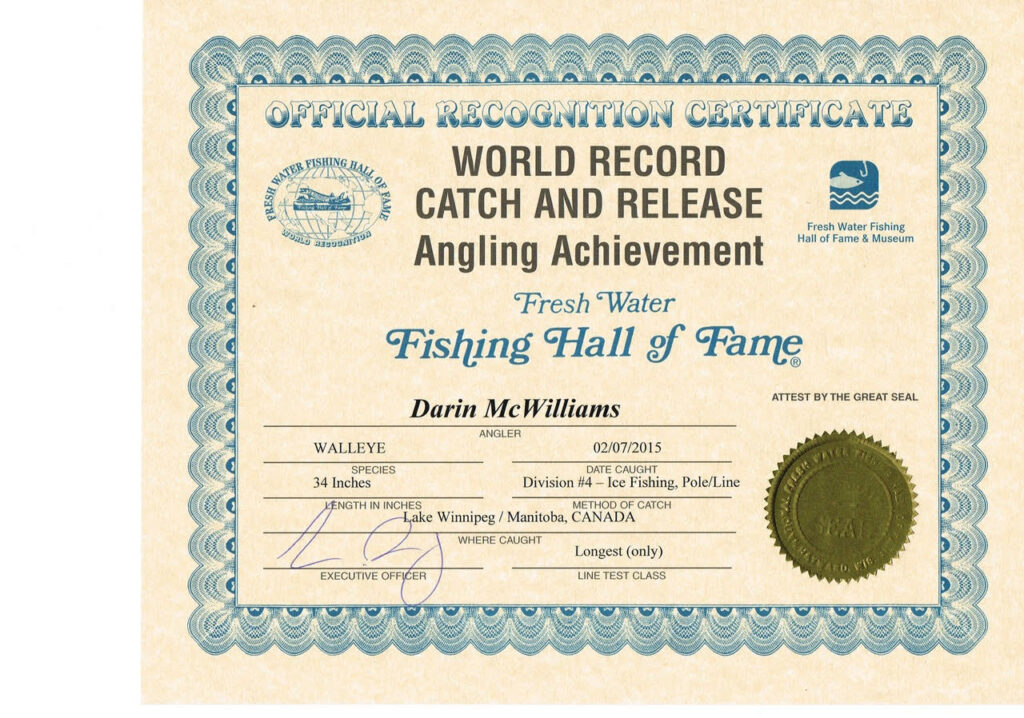 "Randy was the one who got in touch with Tim Geni. Randy runs Generation Next youth angling tournaments and knew Tim through that. Randy and Tim talked and found out that if all the photos and documentation were in order, my fish was probably a new FFHF world-record," says McWilliams.
Since, the fish has been recognized and certified by the Fresh Water Fishing Hall of Fame as a new World Record Catch and Release Angling Achievement (Longest only) in Division #4, Ice Fishing, Pole/Line.