If you want to prepare a whole walleye fillet versus deep frying small bite sized chunks, this is a great way to prepare it as a main course. Pair it with some green beans, corn, or some sort of potatoes, or any type of side and you'll have a delicious meal of fish that is sure to impress.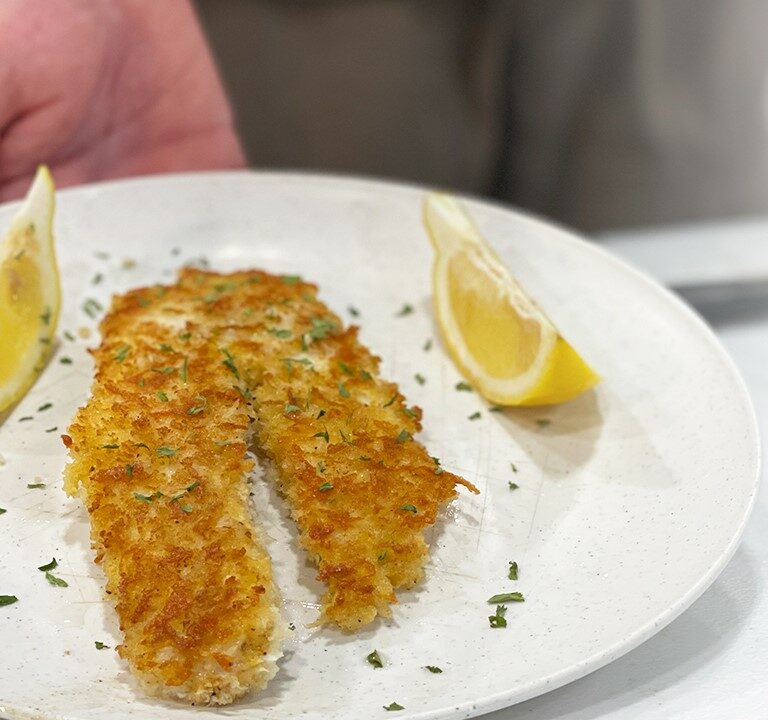 Parmesan Crusted Walleye
Instructions
Prepare the fillets by 'zippering' them to remove the line of bones down the center of each fillet.

Gather 3 medium-sized bowls to prepare the flour mixture, breading, and egg wash.

For the flour mixture, combine the flour and seafood seasoning and set aside.

Next, prepare the egg wash. Simply crack the eggs into a bowl and whip them with a whisk. Set aside.

Then, prepare the parmesan breading by combining the Panko bread crumbs, shredded parmesan, and season with salt and pepper. Set aside.

To bread the fillets, do one at a time and begin by evenly coating a fillet with a thin coat of the flour mixture. Then, dip that flour-coated fillet into the egg wash. Lastly, place the fillet into the parmesan breading and sprinkle and pat the breading on until the fillet is covered. Set aside and finish coating the remaining fillets.

Drizzle some vegetable oil on the top of a flat top grill or a hot pan, and cook each fillet for 2-4 minutes on each side. Just enough time to cook through the fillet and brown the breading. Using a cover or lid can help to keep the temperature of the fish up with steam and also helps to prevent it from drying out.

Plate the cooked fillets and finish them by drizzling the juice from a lemon wedge over the top and sprinkling them with a dash of parsley leaves.