A simple blackend style fish is always a great option for walleye, or any other whitefish for that matter. It involves simply cooking the fish on a hot cast iron pan or flat top grill/griddle until it is charred and flavorful. This blackened fish recipe includes a tasty garlic aioli and homemade coleslaw to take your fish from a basic blackened fillet to a full flavor sandwich that anyone will enjoy.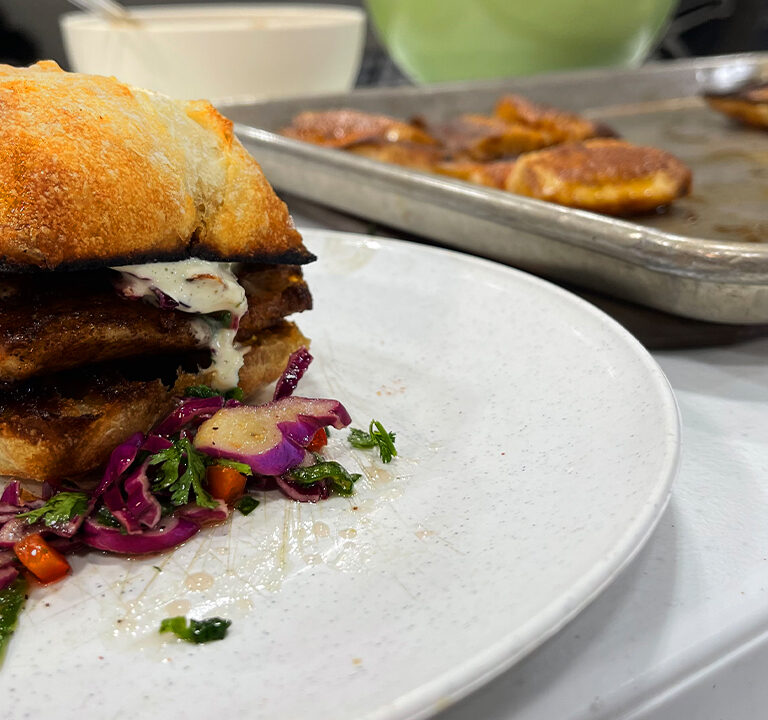 Blackened Fish Sandwich
Coleslaw
Garlic Aioli (Sandwich Spread)
Other
Instructions
Prepare the coleslaw by combining the wet ingredients first (rice wine vinegar, olive oil) and add in the sugar, salt, and pepper. Mix until incorporated together. Then, stir in the chopped red cabbage, red peppers, green onions, and cilantro.

Prepare the garlic aioli. Combine the ingredients in a small bowl (garlic, dijon mustard, mayo, lemon juice, and salt to taste). Put the aioli in the fridge for 15-20 minutes to allow it to set up before cooking the walleye fillets.

Prepare to cook the walleye by heating up a cast iron pan or flat cook top. If you want to brown your sandwich bread or buns, butter one side so they are ready to toss on the grill.

Sprinkle cajun seasoning on the walleye fillets and place a stick of butter on your hot cook top.

Place fillets in the sizzling butter. Place a cover over the fillets so that the steam helps cook the fish all the way through and prevents it from drying out. Cook the fish for about 2 minutes per side. Throw the buttered buns on the grill at this time. To determine when the fish is ready to flip, the color in the center of the fillet should go from clear to more of a white or tan. When you flip the fish, the breading should have a dark brown, blackened color. Remove the buns once they are crispy, just before they begin to burn.

Let the fish rest for 30 seconds and then prepare your sandwiches with the fillets, coleslaw, and the garlic aioli spread.